Some time with the Matricom Arc Home Management system
The Matricom Arc Home Management System is like a Swiss Army Knife of gadgets (4K player, Android 7.1.2, Z-Wave Hub, Dual Band-WiFi, Content filtering and parental control, soon to have NAS capabilities,) all put into one very cool package.
I unboxed it a while back, this has been a fairly long endeavor.
And I didn't want it. I mentioned when I was getting the pitch there were some very very disturbing things on their spec sheet. The first being the ethernet connection is 10/100. This… I don't know how to say this, it's absurdly slow for what I want to do with it. I haven't had a 100mbit connection since 2012 if I remember correctly. My internet connection returns somewhere in the 980mbit range (gig).
I don't think I even have a 100mbit device on my network, let alone was I interested in setting this up as a main router.
OK, maybe I should look at this as an IoT hub for attaching a drive and… what… the USB ports are 2.0? Maths real hard… ok, that's theoretically enough to play a UHD stream but not what I want for a NAS. Err, maybe a NAS for my IoT things… that'll work. Cameras don't use that much bandwidth I could slap that on.
So I started looking at this device as maybe something my IoT devices would talk to (they don't need speed, they barely use any bandwidth,) I'd integrate it with my Z-Wave alarm system and give it a fair shake as not a primary, but more as a spoke in my connected world and… what the hell…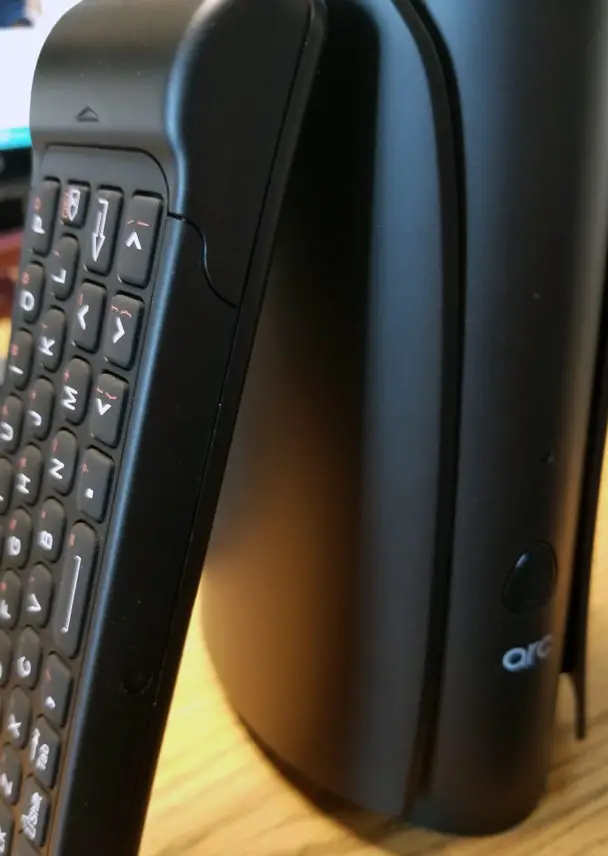 So during setup there's a step where you pair the remote to the box. It's a pretty awesome looking remote, I think I'd love it but it's quite simply not working. PR guys arrange a call with support, I get a call a couple of days later (this wasn't in production and I think I borked on a weekend,) and they've never seen a remote not work before. I swap through several remote batteries that are working in other remotes, nothing works.
I tell the tech it's quite simply not doing anything with any battery I place in it. Side note: this thing doesn't come with a battery and it's retail price is $239.99. We run through a couple of things and he says to mark it broken when I return the thing.
OK, so I'm not getting a remote? OK, I'll deal. Time to grab a USB mouse and keyboard which… oh wait, if I want to use those I can forget about using a hard drive. Maybe attach a USB hub I guess, got one of those sitting around at work.
I got everything ready and was going to give it a fair shake. Plugged in, powered on, and got a warning on my phone my internet was being accessed by a couple of new devices. Oh?
I looked, one was the Arc, and one was from the building across the street neighbor's happy little war WiFi joiner. Wait… what… the … hell…
So the Matricom Arc powered up and has an open WiFi hotspot – I'm assuming their joiner picked it up and they're trying to leech off of me (200+ residents across the street, always looking for free WiFi to pirate off of).
Shut the thing down and disconnect power until I can get my Faraday/Signal Blocker bag (oddly I own one.)
This ends weeks one of the Matricom Arc arc. I'll move on to weeks two and three next week.
[
Matricom
]