One of my favourite network tools and apps just tweeted about something really exciting. For a while now, I have been bothering PR team about the API and 3rd party access to the Fingbox. Guess what? The 3rd party support finally happened. Say hi to Fingbox and IFTTT integration
Fing, Fingbox and IFTTT
My phone just buzzed and I got this tweeter update:
Exciting news today! Fingbox on #IFTTT beta is now ready for testing. Sign up if you'd like to be an early tester: https://t.co/jq2svsRLRj Only 2000 spots available, so hurry! @IFTTT pic.twitter.com/34gKdXYcyG

— Fing (@fingapp) January 7, 2019
I'm very excited as Fingbox is a very capable tool and I'm looking forward to Fing, Fingbox and IFTTT integration. I signed up (although late) for the beta access  – and my email just arrived.
I have logged in to my IFTTT account and loaded the Fing trigger to see the available options. And to my surprise, there is almost anything you could imagine!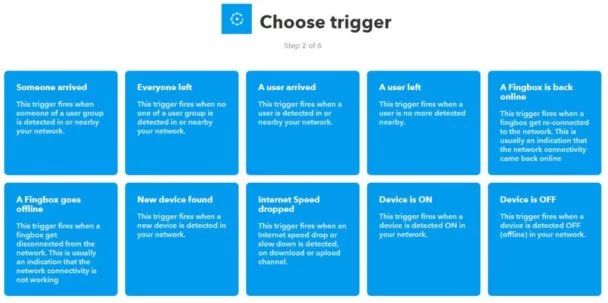 Additionally, Fingbox triggers come with the following modifiers:
User Groups
Active time (the hour and sun-based)
Multiple Fingboxes
Internet speed and threshold
Individual devices
That's impressive even for beta access… Let's see what actions are available, as I'm really surprised that you can not only use Fingbox and IFTT as the trigger but also as an action:

The internet actions can be applied to individual users and adjusted for the specific amount of time.
Most popular FIngbox and IFTTT recipes
Currently, the most popular things to do with your Fingbox are:
Email me when Fingbox detects a drop in internet speed
Have Fingbox record a presence log in a Google Spreadsheet
Play a light effect on Fingbox when a user arrives
Text Alert when Fingbox detects someone arrived
Turn on Hue Lights when someone arrives
These are created by the Fing team and are pretty cool already, I picked the most popular ones from the list of 30 available recipes.
Conclusion
If you were holding off, there is no better time to get the Fingbox now! Plus I'm happy to report that with my referral link you not only going to get yourself the box at a discounted price (-10 $£€  OFF) of $89 but also you will support me at the same time too! So what are you waiting for! You know you want it!
Get Fingbox