Edifier W860NB Active Noise Cancelling Over-Ear aptX Headphone review
The Edifier W860NB I believe may be the first Over-Ear noise cancelling headphone I've reviewed. I believe I've tested many on-ear, but this was the first time my ears have been not sat upon and it's nice.
The W860NB features a touch area for controls, NFC connect, Bluetooth aptX (or wired,) connection, and it sounds really really decent.
Specs
FREQUENCY RESPONSE:20Hz~20kHz
BLUETOOTH VERSION:Bluethooth V4.1
IMPEDANCE:32 Ohms
INPUT SENSITIVITY:100dB
BLUETOOTH PROFILE:HSP HFP A2DP AVRCP
CONNECTING DISTANCE:10m
BATTERY CAPACITY:1400mAh rechargeable battery
WORKING TIME:35 hours
STANDBY TIME:about 800 hours
CHARGING TIME:about 3 hours
CHARGING INPUT:DC 5.0V=500mA
I'll note the working time is actually listed as 25 hours using Active Noise Cancelling, 45 without. So that 35 is dead in the middle.
Onto the problems with it before we get onto the good because that's how Pocketables rolls. You'll want to read on because it's actually a pretty great headset.
Difficulties with the W860NB
Pairing – The first thing I ran into was I was unable to pair with it via NFC. I'd tap my phone, I'd get a "do you want to pair with Edifier W860NB" tap yes and then nothing. Evidently the NFC is on without triggering Bluetooth pairing mode. I had to trigger pairing mode (hold power for 5+ seconds until the lights flash blue and red,) and then tap.
Seems like this could be resolved with a firmware update – if NFC then trigger pairing mode. I was able to pair with no issues when pairing mode initiated. (Judging by the Amazon reviews I'm not the only one who thinks this is a bug).
Touch area hapticless – one of the cool things about the W860NB is that it's got a flat touch area and no visible controls. One of the not cool things about it is when you're wearing the headphones and want to trigger an action are you touching the top of the headphones or are you at the bottom?
It reminds me of the touch-your-nose DUI/sobriety tests except I've never properly learned to press an object dead center of 1.5″ outside of my ear that can ride a little higher or lower.
I ended up not using the fancy touch much as it's a pain.
WYSINWYG – I'm going to post three pictures here. One's from Amazon for the black pair we're linking to, one's from the box of the beige pair we're reviewing, and one is my photo of the item I received and am testing. I'm going to state functionally it's fine, but this is not what's pictured.
Now, I'm going to say having worn a pair at CES that looks exactly like the ones in the box image and having worn these, there's no functional difference I can tell, but it's… not quite what's implied.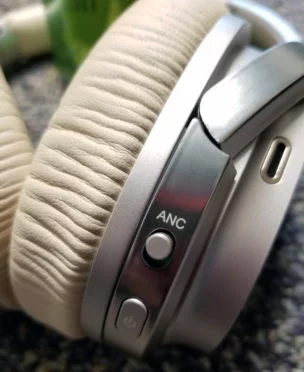 Blu..et..oot…h – I had one issue that kept these from winning the Pocketables coveted Bluetooth Connection Award. If my phone was in my back left pocket and I looked/bent down I could kiss the perfect connection goodbye. I will note I had to be pretty hard looking down (figure 3 feet of flesh and bone between the phone and the headphones) so that's not particularly terrible, but I've had better.
Edifier W860NB, the good
One of the issues I have with most headphones, earbuds, etc, is when I'm walking there's a definite sound pressure change. Sometimes it's booming, sometimes it's just listening to hair rustle somehow amplified 10x by plastic, sometimes it's just a bit of ear annoyance.
These didn't have that. They also didn't have that weird tinny feel when the active noise cancelling was on / no hissing / no random robots talking in the background. No feeling like you're suddenly in Serial Experiments: Lain.
The background roar of my neighborhood (major interstate 1 mile away, major road less than a block away,) went away with the noise cancelling and I didn't feel the need to crank the volume as high.
Audio was… pleasant. They felt a little more balanced toward the bass end but not quite able to achieve migraine thump. The treble side was ok. Worked fine for podcasts but really didn't feel quite right to me (subjective perspective obviously.) I'm unsure whether this is my phone's EQ or them honestly.
I would probably recommend these for someone who listens to audiobooks, pop, and 80's. If you travel and want to ignore an airplane, these probably rule. I think if you're listening to metal, punk, games, classical, you might be underwhelmed.
Extremely comfortable, 25-40 hour battery life on BT+ANC/BT, analog plugs for travel, and a case to keep everything tidy and unsquished.
Overall
I'm pretty impressed. I would advise you purchase them from somewhere with an easy returns policy as the sound reproduction may not reproduce what you're looking for.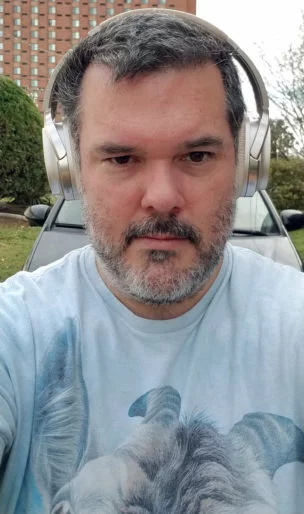 I'd like to see a firmware update for the BT cutouts, NFC pairing logic issues, and perhaps an equalizer app because it really feels like these could pop in the upper and middle. It's got to have updatable firmware these days right?
Checks price – ouch.. oh, over at Edifier's website they're currently $40 off and running $129.99. It's close to what I'd pay for the comfort, battery, and really it's pretty decent.
Looking a little further at edifier's promo it appears you get a MP100 portable speaker with the purchase of the W860NB.
I see no option to get the color headphones I received from Edifier's PR anywhere, if you do drop me a line.
Alternately you can grab them at Amazon, but as of this writing I would skip that and use the savings to just donate to us.