NEX202 by Revonext headphones review
Following up our coverage of the excellent Simgot EM2 as well as their own Rx8S we have another set of headphones in for review. Revonext sent us their NEX202 in ear monitors to review as well. As before we have a target audiance of audiophiles still using a phone with a high end DAC and creative professionals on a budget.
Packaging and first impressions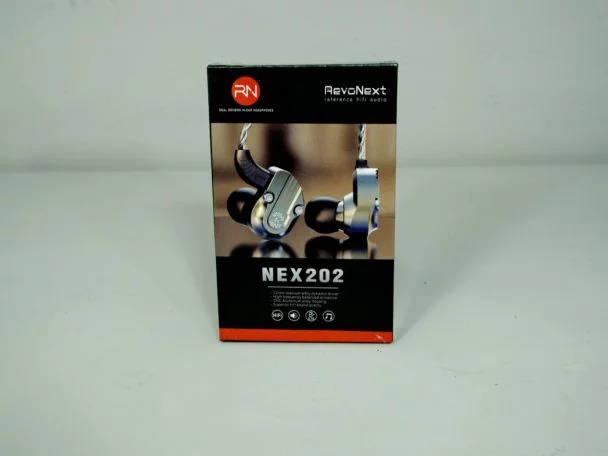 | | |
| --- | --- |
| Model | NEX202 |
| Headphone sensitivity | 105dB |
| Power Rating | unlisted |
| Channel Balance | unlisted |
| Cable Length | 1.25M |
| Frequence Response Range | 20Hz-40kHz |
| Distortion Degree | unlisted |
| Driver | 12mm dynamic |
| Impedance | 18Ω |
| Earpiece Connectors | .78mm Bi Pin |
The NEX202 skips the pouch that we saw on the Rx8S includes a silicone pouch that opens when squeezed. The cable while still right angle seems a bit on the thinner side. Also included is an assortment of earpieces including some memory foam options as well. The metallic earpieces seem more premium than the plastic ones we've seen in other designs and tend to stay cool to the touch. The packaging does list some performance specifications although there are a few holes and no certifications which is to be expected at this level.
Sound quality
As usual for wired devices I did my most extensive audio testing hooked up to my PC. Using both the venerable Delta1010 and an the once popular ADI 1984a in the PC as well as a Motorola E5 plus and LG V40 to represent mobile use. All the audio used in primary testing is in the table below.
| | |
| --- | --- |
| Song | Artist |
| YYZ | Rush |
| Don't stop me now | Queen |
| Ride of the valkrie | Wagner |
| Brass Monkey | Beastie Boys |
Audio was impressive overall with lots of bass likely thanks to the large 12mm driver. Ride of the Valkrie was clear and crisp without any issues we heard in the triple driver RX8s. YYZ also sounded fantastic with lots of punch especially at the low end. Overall if your music tastes include lots of bass you're not going to be dissapointed with the NEX202 and without a third driver to cause problems highs were also well defined and delightful to listen to.
Physical fit
Revonext actually includes the small and medium version of it's improved earpieces with the NEX202 and I did find the memory foam variants were more comfortable than the rubber ones. They also did an excellent job at isolating the audio from external influences. I did notice that the metal earbuds kept cooler than plastic ones would something that could be beneficial for extended use at the gym or similar.
Closing Thoughts on the NEX202
The NEX202 once again impresses at under 50 dollars with or without optional microphone. Just as before however the NEX202 lacks any formal certifications that would earn it a recommendation for studio use. There weren't any obvious deficiencies . Considering their price point of 47.99 and with Revonext offering accessories like improved cables and even a bluetooth adapter that we'll cover soon these are good sounding and very adjustable headphones with an attractive price of entry.