Uniq Surge Mini 100W charging station review
The Surge Mini delivers two USB-C and two USB A ports with the ability to deliver up to 100 watts across the device.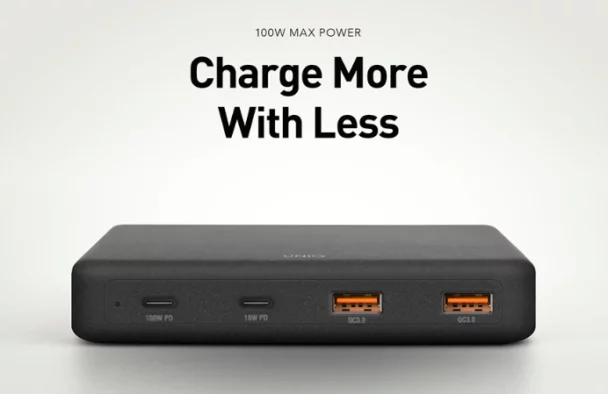 TL;DR – it works as advertised.
The Two USB A ports are Qualcomm Quick Charge 3.0, the first USB C can deliver 100 watts, and the second up to 18 watts.
It's flat, tough, and supports rapid charging of things that support it (Macbook Pro is listed as a two hour full charge.)
For 100 watt power delivery, it runs pretty cool. This particular device feels like it's made to travel and be your all-in-one coffee shop charger, but it lacks something like an easy-fold cable, wrapping spokes, or fold out plugs. Or if you're going the Mac route, being white or silver. The hull material does a pretty good job of hiding fingerprints.
It does the job of a good power delivery system and seems to do it well and without an excessive amount of heat. It can take being tripped over and hurled into a chest of drawers because you had to do a power test on the one free outlet in your house. I can find nothing to really fault with it except that it was hard to photograph.
It works. Priced similarly to others in the class I can find. Can provide enough power to multiple devices at the same time to positively charge you going forward.
You can get the Uniq Surge Mini on the manufacturer's website.