There will be dragons – DragonTouch NotePad K10
I got to play with another budget tablet. This time it's a device aptly named DragonTouch K10. I'm not sure how many dragon powers it has, but I won't be complaining about 5GHz WiFi as I did with Vankyo MatrixPad S10. Granted, it's slightly more expensive, but if you shop wisely on Amazon you may grab it for $99! Let's check what corners were cut to offer DragonTouch NotePad K10 at a tempting budget price.
Enter the Dragon (Touch) experience
Wrapped in an unassuming box, DragonTouch NotePad K10 comes with a cable, charger and factory-applied screen protector (which was promptly removed by me – I hate these things). It's surprising to see an aluminium backplate on the tablet this inexpensive. It doesn't cover the whole back of the tablet, but enough to add extra "dragons" to the feel.
Edges of the DragonTouch NotePad K10 reveal an interesting I/O choice. Apart from the usual volume & power combo, the slate comes with 3.5mm audio jack in the corner (nice!), mini display port, an SD card slot, reset pinhole and micro USB for charging and data transfer. Unfortunately, USB-C didn't make the cut, which is the first corner cut and the cover for the SD card slot is near impossible to remove. My investigative eye reveals a selfie camera (1.9MP) and the main shooter (8MP) and 2 speakers located on the back.
All this is wrapped around 11.1″ ISP panel with a 1280 x 800 (213dpi) resolution. The bezel is on a thicker side, but it gives you a bit of space to rest your thumb on. I assumed the DragonTouch NotePad K10 has its screen covered with glass. Removing the protective film revealed that the screen is only protected by a plastic surface. Don't make my mistake and keep the protective film on, otherwise, you are risking scratches.
On the inside
Since I'm not going to take this apart, I will rely on the app to tell me what keeps this device running. Plus tech specs always looks fancy in tech reviews, therefore:
CPU: 4 Core 1.3 GHz
RAM: 2GB
Storage: 32 GB + micro SD card slot
Connectivity BT4.0, 2.4GHz & 5GHz WiFi
Camera: 8.0MP main, 1.9MP front
Android: Android Pie (9.0)
Extras: GPS, Accelerometer, Flash, FM Radio
Battery: 6000mAh
I appreciate the modest battery size and 5GHz for sure, microSD storage may come handy too.
In use
It's great to see Android 9.0 booting to no bloat apps on the screen. With DragonTouch NotePad K10 you do get near-stock experience. I'm writing "near" as the launcher isn't a Google Launcher, but something that very well resembles one. In the app drawer, I found the typical Google apps plus three preinstalled apps for the camera, FM Radio and voice recorder. It's a smart move.
Screen feels bright enough for most environments, the angles are decent and for the most part HD resolution isn't terrible considering the screen size. Not many tablets can be used with comfort in a direct sunlight, DragonTouch NotePad K10 is not an exception here.
Once you cache all apps (open each one at least once) the tablet gets more snappy. 1.3GHz per core may not be amazing, but it will do the job for most tasks ahead. I have tried my favourite games to put the hardware to a test:
Minecraft: If you lower the chunk rendering distance, the game is fairly smooth and consistent with frame rates set around 22-24. Far from ideal, but considering the choice for the CPU – very much expected.
Don't Starve: Sprite based adventure game renders well and plays very much how it should be. Loading times are on the slow time, but that's the only complaint I have.
As long as you don't mind the loading times, casual games will play just fine. I wouldn't recommend anything top shelf – as you won't like the performance.
Apps and internet browsing is pretty much the same. DragonTouch NotePad K10 has no problems loading the content but due to slow processor, the refresh rate of the scrolled content is much to be desired.
Battery
The battery performance of this tablet is pretty good. Recently I have been catching up on some coding tutorials and after 4h video I still had over 30% to spare. Considering that the video was streamed from YouTube, I can agree with the specification of up to 8h of use.
Camera
I have tried both cameras with both: stock app and open camera to compare the images and videos. Both apps produced similar in quality pictures and videos.
Front: A typical 1.9 MP selfie shooter placed in the centre of the tablet. No bells or whistles, a budget camera that will show your face when needed. The preview isn't laggy but could use more frames to keep the image fluid.
Back: 8MP sensor that is… plain bad. Tested with both apps, the camera sensor is unable to adjust exposure correctly and overexposes instantly when pointed at the sky. The sensor is unable to process pink colour which shows up as white instead. I took another picture with my Xiaomi Mi9 (review) so you can see what the colours should be like.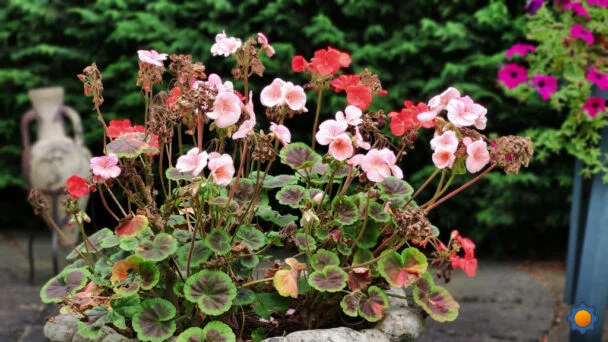 On top of that, despite the 8MP sensor – the video recording is locked to 720p. I tested it with other apps to see if this is just an app limitation. Resolution is locked to 720p regardless of the app.
Frankly speaking, it's the first device ever to have a front-facing camera outperforming the back facing one.
Audio
Have you ever left your headphones on the desk with the music set to the max volume? This is the most accurate sound representation of the DragonTouch NotePad K10 I could come up with. Not only the speakers are bad but they are placed at the back of the device.
At least the microphone is decent. If you want to enjoy the audio, it's either 3.5 mm audio or a Bluetooth speaker/headphones.
Final thoughts
I'm honestly confused at this point. DragonTouch NotePad K10 is a budget option, but they cut the wrong corners to achieve their profit margins. Why waste resources on adding components that don't perform well. Frankly speaking, I'd give this tablet a better score if it came without cameras, speaker, but with glass-covered 1080p panel. It's hard to recommend DragonTouch NotePad K10, unless you are looking for a 5GHz enabled slate for home automation. Would you ever consider a tablet that comes without cameras and speakers?