White Noise issue with Google Home devices
I sleep with the noise of an air conditioner or a fan most of the time. I'm not sure if this is a southern thing, or just me, but it drowns out the random noise from the neighborhood and I sleep a lot better. Several years ago I got a Google Home device and since then I've been sleeping with "ok google, play white noise" and been pretty happy.
TL;DR – yet another Google issue, yet another set of hoops given by people who don't seem to understand the issue.
Unfortunately there have been issues. One night getting to bed well after my wife I asked it to play white noise and it very loudly answered "this is what an elephant sounds like" and proceeded to trumpet. Waking my wife. I've woken her a few times asking it to play white noise, and it's also played White Lines a couple of times.
None of the above have earned me favor with my wife who's usually asleep when I get to bed.
So I decided recently to try and trigger it from another device. Just in case you're not familiar with "play white noise" it plays for X amount of time and shuts off (generally 12 hours,) and about once an hour I guess you can hear it fade out and back in so there's a good hour of nicely randomized white noise.
Once again got into it with Google support (via Twitter this time) – and am on day two at this point trying to get them to understand that once again, it's not me, it's them…
Every time… have you reset everything… like how is a server-side device going to be affected by me resetting it? Do I need to delete the entire home and set it up from scratch? My neighbor's network? Why is this always the hoop?
All I want to do is start the white noise routine, not stream a playlist, on a second device.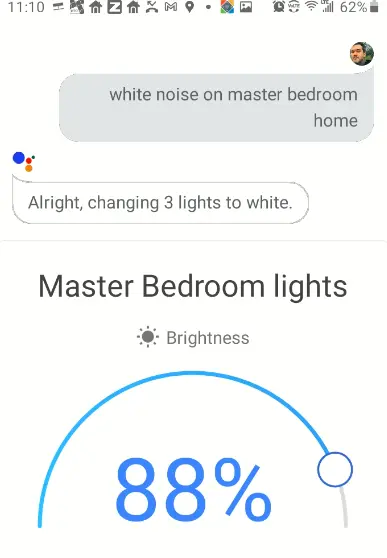 They've asked me to reset literally any of my Home devices, so at this point I'm giving up and expect like every other Google issue it'll just be resolved when some programmer gets to it.
So yeah, they can't answer how to launch "white noise" on a second device rather than playing a matching YouTube Music playlist without telling me to wipe a random device and set it back up.