Hey Google, it's not me, it's you
Over the past year+ I've had some issues with Google and had to open support requests in each instance. Here's what's happened, what was suggested, and what happened.
TL;DR – a whole lot of hoops, 6+ hours wasted, nothing was my issue.
Family Bell
I documented the problem here. It's basically if you've got a Family Bell going off in your home and you have two other devices doing something (playing music/white noise) when you ask the Family Bell to stop it will not stop the Family Bell ringing, it will ask you which device you want to stop that is playing music/noise.
This initially was more of an issue because reasons.
What I was told by Google support:
contact Lenovo as it was evidently their problem (I moved the Bell to Nest Home Hub, same issue a week later)
Video it
Submit a bug report using my phone as there is no way to email or use a keyboard or such to submit a long and detailed bug report I wrote it
Is it fixed? No. Can I reproduce it elsewhere? Yes. It's not me, it You…gle.
Actually, 5 devices don't support that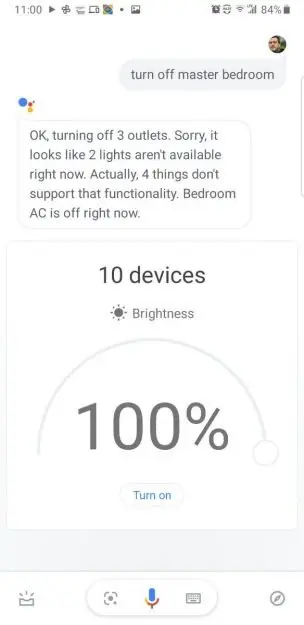 I've got my basement wired with 10 smart bulbs/switches. It's a tech nightmare down there, but basically I tell it I want the lights on, I turn off some energy vampires, yadda yadda. My big thing though is lights.
Pictured is a similar issue from another room.
About a month and a half ago I'd ask Google to turn on the basement lights, it would turn on 10 lights (8 lights, 2 switches I think,) and say "turning on 5 lights. Actually 5 lights don't support that functionality." Basically throw an error message every single attempt to turn on or off.
What I was told by Google support:
Video it (I submitted a screenshot of it saying that)
Remove associated accounts in Home App and re-add
message dropped
Did that fix it? No. Is it fixed? Yes – randomly stopped saying "actually five devices don't support that" and tells me that 10 lights are being turned on or off again. May have been Smart Life, may have been Google, no tools to tell me what the lights didn't actually support.
Busted Nest IQ Cam
IQ Cam #1 went out one day. It was dry when it died. I checked a different USB power cable and adapter as I have two. It was dead. I contacted support.
What I was told by Nest support
Plug it into a computer (see if anything happened)
Send a photo of it plugged into a computer
Plug the other one into a computer (see if it registers or it was my computer – I said no as this involved dismounting a unit)
Swap out USB cable (already had but did)
They sent me a replacement camera. Said replacement camera went out every time it rained or lightning struck in the area. Other cameras did not. Any minor power fluctuation, rain, etc knocked the camera out and it would be out for hours. Wrapped the entire base in kleenex, plastic wrap (so I could see if any water got through, it didn't,) opened up case #2.
What I was told my Nest support
verify I had internet connectivity (WiFi was 14-15 feet from unit, all other cameras 25+)
Test WiFi from where camera mounted (this involved hanging out a window)
Reboot WiFi when it was out
They shipped my third camera but once again no replacement wire and no replacement USB power, which I would have sent personally. Also no mounting / dismounting tool which had to have cost like a penny to include.
Problem fixed however. Just two bad cameras.
Your account is compromised
Got an email from Nest Security saying my account was compromised. Could never get any details from them, nor could I get an explanation as to how after several attempts. Never got what was compromised such as if my highly sensitive lawn video of slugs at night got out into the world.
Is it fixed? No idea. Changed how I logged in and slapped in 2fA.
Your website is totally sus, OMFG is that a porn?
During Christmas we were told we were effectively banned from Gogle Adsense… this is what pays to keep the site running. I was told we had suspicious traffic, but not given literally anything to investigate. The only strange thing was one article I had that got linked by a LOT of blogs because I had one of three searchable reviews about a Vizio TV at the time.
Google was contacted, did not respond. The site made no money from Adsense from December 24-January 1. A product support forum of theirs reported several other sites having the same issues, with people jumping through massive hoops and getting their ads back about the same timeframe I did. I got the income stream back without doing anything. Google Adsense ran their customers around for no reason.
During this time I got on the 28th that we'd also been banned for adult content on the main page. There was a picture of a rock that looked vaguely … like a rock… but that was it. There was no content on the first couple of pages that could be considered offensive. A human was contacted and a couple of days later verified that we were not in fact posting adult content.
Days later ads started showing again, same rate as before, no visible difference.
My guess is about 30% of our income in the one month we make money is gone… oh well.
Let's walk you through this a fifth time… oh wait
Every night I put my kids to bed asking google to play their bedtime playlist. I said the same thing every night. Google Play Music was going away and I was forced to move to YouTube music. I found I was able to play my playlists on a phone no problem but I was not able to play them from the kids' speakers.
I detail the problem. I don't have the backup documentation here but the short of it is after half an hour of tech support I am told, after having completely detailed the problem from start to end, that YouTube Music at the time did not support playlists on Home devices. A couple of weeks later YouTube Music added this feature.
Conclusion?
I understand the perils of tech support. I've done it since the 1990's. But yeah, I'd say a good day of my life was wasted on hoops because Google. No way to find out what the error or problem is is the main issue. There's nothing local to deal with their busted hardware so I can just say "look, it dead." that they'll trust.
Really vague warnings – seriously, you tell me there's porn on my page link to a screenshot or text. You tell me my account is compromised? Give me when and what was accessed (I've got emails back and forth trying to get that info and getting nothing.) I tell you exactly what something is not doing and it can't do it, why are we in a tango?
I mean everyone's been nice, but damn it's like licking a brick wall.