GameSir F7 Claw tablet clip on controller
The GameSir F7 Claw is a set of clip-on grips that let you control your game using triggers situated at the back of your tablet. It should be quickly noted that this is not a Bluetooth controller, and essentially it gives you a grip for your tablet, four finger controls, and puts your tablet in a gaming hold more like a steering wheel.
The GameSir F7 Claw's press release claims it is the "world's first capacitive gamepad for tablets."
The documentation (I'm on a pre-release version,) is sparse, to be generous. The short of it is clip on, switch power to the controllers on, go. It'll tap the screen where the prongs lay on the screen when you pull the appropriate trigger.
The buttons this will bring are R1, R2, L1, L2 and these can be configured to various turbo modes that tap quite quickly.
Both the left and right controllers have battery lives in the 100+ hour mark as all they do when turned on is activate a capacitive trigger under the on-screen clip. That clip has to lay flat, and your game needs to be happy with where the L1/R1 is. This obscures a bit of the screen, but considering that's where you'd have an on-screen controller anyway it's not much of an issue when you start playing.
I'm going to point out this is completely not the style of controller I'm used to. As I had to use on-screen thumb controls, I did badly. Very very badly playing with it. Attempting on-screen thumb movement controls with physical L/R triggers evidently is something that makes me feel my age. The GameSir F7 Claw was not to blame for my performance.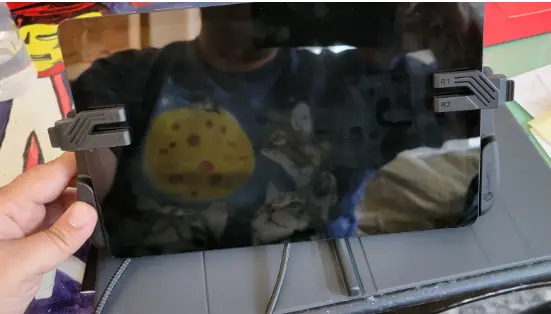 Lag: there is none. This isn't Bluetooth. You pull the trigger, it's the speed of electric to the touch screen.
Paul finds something to complain about
For a near-universal tablet clip on, it's got a pretty good design. Unfortunately you run into a couple of issues trying to be universal. If you've got a thick case you'll need to remove it, and if the back isn't smooth enough for suction cups, they have stickers to smooth it out. I don't particularly like the stickers route, but that's what the solution is with these.
I didn't have an issue with the suction cups failing or the controls slipping, but I also wasn't holding it by a single controller. I did find myself using the controllers as a handle, but maybe that's just me trying to come up with a problem.
Overall
While the GameSir F7 Claw isn't a controller for my style of gaming, it's probably pretty good if you are into tablet gaming with on-screen thumb controls. Unfortunately I'm evidently not into this style and as such can only comment on hardware. Perhaps I could blame the controller for my lack of Fortnite abilities?
In the end it comes down to if it fits your style, game, and price range. The GameSir F7 Claw is listed as pre-order on their website, (it's live as of July 2021) although the press release indicates it's supposed to be released as of this writing. Supply chain interruption I suppose, I've asked the supplier to let me know and I'll update this when I get an update.