OWC Thunderbolt Dual DisplayPort Adapter review
The recently updated OWC Thunderbolt Dual DisplayPort adapter allows you to add two 4K or one 8K monitor to your lineup using a Thunderbolt port. This allows you a lot more screen real estate than you probably started with (an additional 8K if you want it,) and is well suited for streaming videos, photo editing, and what most people would be using it for (extra screen real estate.)
TL;DR – it works like it claims, testing was unable to break it, however it was what I'd consider relatively light testing.
This is one of those reviews I've been a little hesitant to post as this device primarily shines in the Thunderbolt arenas (Mac,) and I'm primarily on the PC side borrowing test equipment. I don't claim that I got a really good feel for this unit as I'm not using it all the time and I usually like to wait until I know a product in and out. I'm not claiming I know this inside and out, but after a few weeks of use this is where we're at.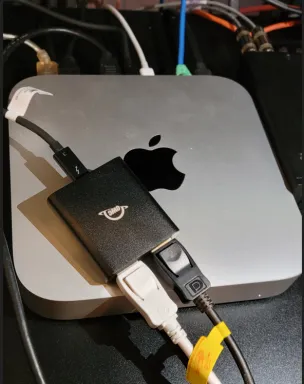 If you're a gamer, serious video editor, etc, you might be warned that the refresh rates are not epic, but you can reach 60Hz on two monitors at 4K (possibly 5K, but spec sheet and testing equipment I had access to were not great for this.) You can reach higher than 60Hz with DSC however this is not something I could reliably test. How well this translates into performance there I'm not sure of as my Thunderbolt test machine didn't have a slew of games to test out and see if there were any issues.
8K is limited to 30Hz without DSC. I did not have 8K equipment to test. Sad trombone noise.
We did the testing on the beast shown above, it worked well, didn't have any visible issues, Just picked up and and hardest part was locating a DisplayPort to HDMI adapter.
There were no noticeable lags, slowdown, etc when using the adapter. No visual oddities. Just worked.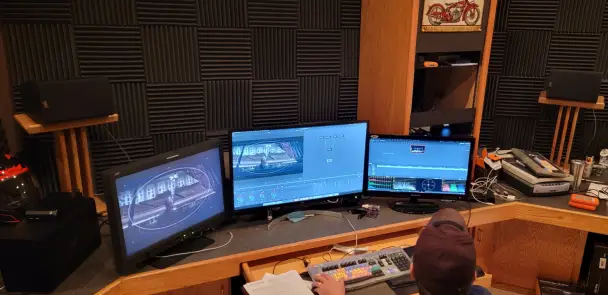 It appeared to do what it claimed. Works on any modern Mac/Windows desktop OS . I really really wish I had more to say than that it worked with no problems, but that's what I've got. You want a 60Hz dual 4K UHD Thunderbolt DisplayPort Adapter that works and seems to work well in use, this is it.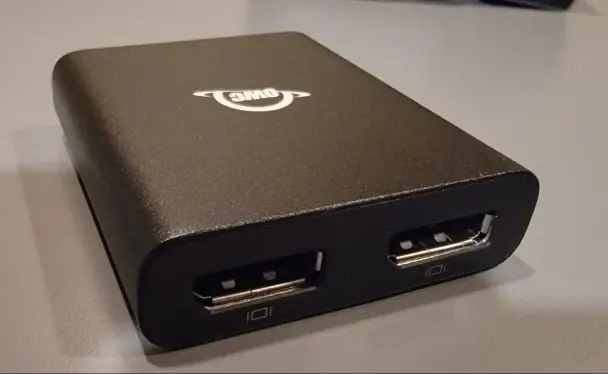 You can see the full specsheet here (tl;dr DisplayPort 1.4, 8K 30Hz or more with DSC, 2x4K at 60Hz or higher with DSC, HDR, etc)
You can grab one at MacSales.