Let's pick apart some solar greenwashing / abysmal reporting
Let me preface this with I like solar. I strongly believe it's worth the investment. I despise false and deceptive advertising. Let's start with what got me started this morning. It's a Facebook image of a tweet that one of the councilmembers I follow in Nashville posted.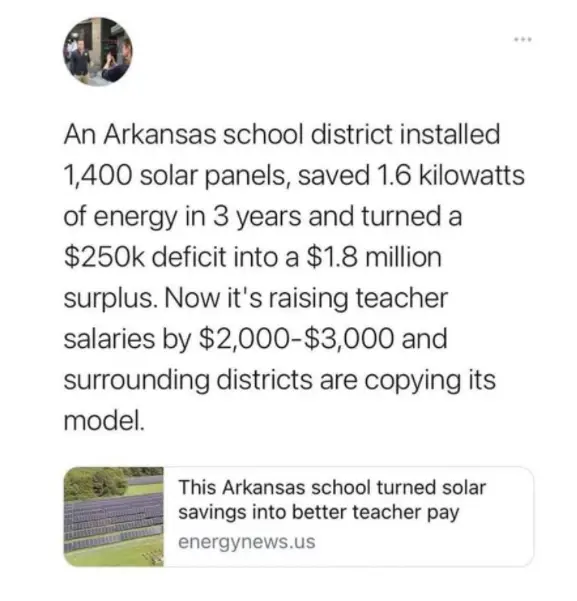 Text of that in case it doesn't show is "An Arkansas school district installed 1,400 solar panels, saves 1.6 kilowatts of energy in 3 years and turned a $250k deficit into a 1.8 million surplus. Now it's raising teacher salaries by $2,000-$3000 and surrounding districts are copying its model." and then there's a link to an article at energynews.us
So, all in all it starts with me looking at 1.6kW over 3 years and saying "bless your heart not knowing that's under $0.50 cents in electric savings over 3 years," and deciding to see how in the world this was possible that they're making money from this in less than 3 years from when they decided to do this. Solar doesn't make money for a long time – always remember that.
Solar: great idea. Loses you money. Always. For years. Anyone telling you something different is selling something or wants eternal access to your roof.
I'd advise reading the linked article above because here's the breakdown to what this actually is
$2.4 million projected energy savings over 20 years
air conditioning systems, windows, lighting all needed replaced in addition to solar panel array purchase
1.6 gigawatts, not kW
$5.4 million borrowed by issuing bonds that have to be repaid with interest to pay for solar and upgrades required
"Wait… they spent $5.4 million with interest to save $2.4 million over 20 years?" Paul thought…. surely this will make sense if I … why is there a heading in this article that says "No upfront costs, immediate savings" when the upfront costs were $5.4 million dollars and the savings were going to be at best 30-40 years from now? Probably more with whatever the bond interest was.
The project of installing solar and replacing everything in this this school didn't even start until 2019.
Oh weird, the whole thing turns into an advertisement for Entegrity Energy which offers no cost solar installs where you pay them slightly lower rates over the course of forever. Should be noted that Entegrity Energy seems to have had absolutely nothing to do with this project, they're just mentioned twice later on because of course they are.
So with one pass of this we've got that at year 2 or 3 we're at negative $5.4 million dollars at least with the bonds. How're we getting to that $2000-3000 pay raise for teachers?
Here's one of the only real reporting pieces I can find on the Batesville project – they lowered a monthly $17,000 electric bill to $4000. Assuming all things equal that's a $156K savings a year. 5.4 million / 156K – that's a 34 year turnaround to repayment (longer than this due to bond interest payments, but let's not get pedantic).
From what I can tell the teacher pay works like this: we borrow $5.4 million now, forget about it completely in terms of budgeting as someone 10 years from now will have to figure out how to repay the bonds. Take the current energy savings and put that into pay and just let whoever's running the place in 10 years deal with paying it back.
But yeah, get solar because it's a long term great investment. Emphasis on LONG TERM. Look at anything that claims "we did it and this company can do it for free and look at all the money" as the same as "you're the one millionth visitor to Pocketables! Click here to claim your prize!!!11!1eleventy"
I can't find details of the bond that was issued for the solar project, but assuming they issued 10 year at govt bond rates that's (as of this writing) 1.56%, or they will owe $6.3 million in 2029.
There's also that they just attempted to issue more bonds and failed. Seems odd for some place flush with solar cash having to issue more bonds.
You invest in solar for cleaner energy, less or no reliance on a fuel source that you have no control over the pricing of, and eventually a profit. Anything that can pay you back in less than 10 years, man, send them my way I want to do the numbers.
Or, you know, I'm wrong in which case let me know where and how. I'm not married to the idea that this is a large poorly investigated scam.