T-Mobile offering a free line at retail stores
Got this via an email blast vs a PR one, but it appears that T-Mobile is giving away a free line in the form of bill credits, but in store only. Looks like it's existing or new customers, but only if you have one line.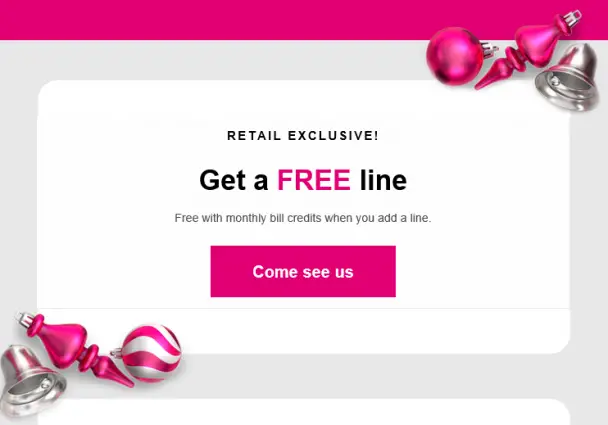 Here's the conditions from the bottom of the email:
Free Line: Limited-time offer; subject to change. Qualifying credit and regular rate Essentials, Magenta, MAX, or Business Unlimited Select/Advanced/Ultimate plan required. Plus taxes & fees for Essentials & select Business Unlimited plans; monthly Regulatory Programs (RPF) & Telco Recovery Fee (TRF) totaling $3.18 per voice line ($0.60 for RPF & $2.58 for TRF) applies; taxes/fees approx. 4-38% of bill. For existing single-line or new customers. If you canceled lines in past 90 days, you may need to reactivate them first. Credits may take up to 2 bill cycles; credits will stop if you cancel any lines.
Oddly there's no landing page on T-Mobile indicating this… just that you go to a store and get it. Clicking the "come see us" takes you to a store finder. I'm about to call and ask them if it is indeed limited to one voice line as I've got two.
This is the "come see us" link. Just takes you to a store locator. I'm a bit confused on why they're funneling people to T-Mobile stores for this when every T-Mobile activation tends to require them to call into the call centers and get things taken care of.