God of War: Ragnarök – that was unexpected
In a rare coming together of reviews, work, and my life in general I've had some time to play to completion a couple of games. God of War: Ragnarök, and Stray.
TL;DR – some thoughts on the game's story with an attempt to not spoil anything. Fun game. Get it if you've played the series. Maybe get the previous if you haven't.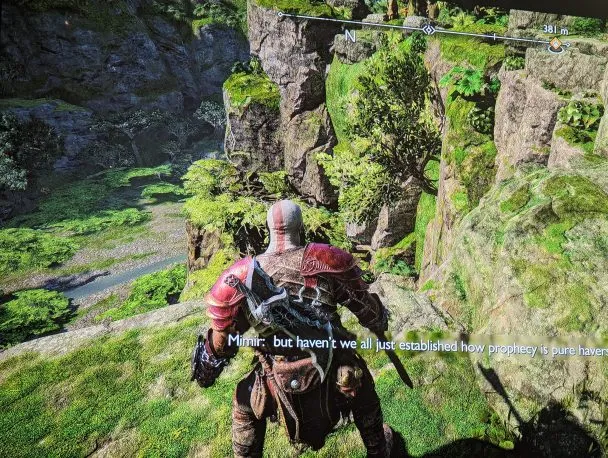 Last night I completed the main quest in God of War: Ragnarök. The ending was one of the most enjoyable to play endings I've ever run across, and as the main story concluded I was surprised at how decent the story had been. BTW, it's like maybe an hour of action and not frustration…
I've got some issues with the game mechanics, enhancements, and menu structures, but none of that spoiled my enjoyment of the experience as a whole. I think I needed a plucky ghost squirrel to walk me through some of the progressions saying "so, looks like you missed the part where you need to master a skill and then you can upgrade it" and "we've put this little exclamation point there, but you can't access it from this menu and need to exit out of the shop, then go back in and look at it over here."
But that was about it in terms of dislike.
The story was surprisingly good with the exception of one part that seemed to be stuck on repeat with slight changes – one section has Kratos talking about how he'd die for his kid, then talking about it some more, and at least three more times. It was an extremely repetitive five or so minute segment, felt like I was at a bar and meeting Carol, who would die for her kid, and this is like one of her few days out, but she'd totally die for them because they're all her life now. Real conversation (more than once,) not real name.
After the main story, there's more of course… and 60,000 things that I missed on passing through the things first run. I'm planning to go back and visit some of the optional side quests I was too weak to beat before, but I finished up at 1am last night and that's not happening today.
I put in somewhere around 55 hours into this game. I'm not sure of the exact timing because I was also doing a review of the gaming modes on a couple of projectors, so there's a split there somewhere. Some was just me attempting to take pictures of the game being played on various surfaces.
55 hours on a game at this point in my life is some dedication. I will say it was mostly split into half hour to one hour segments, but dang…it was mostly worth it.
The GoW story drags occasionally at the beginning. Pacing is not perfect, and it's not the fault of being part of a user-included game. It's just some story that needed pacing a bit better, which it gets.
I think if you're just coming into the series it's possible to lose you however. There's not a lot of catch-up on the Kratos life highlights and if you don't know the character I don't know if you would ever get why exactly he's this way and how drastic this change is. You get a bit of the story of Faye who is responsible for turning him more human, and only a casual mention of his first wife Lysandra and his daughter Calliope which I guess technically are still visible in every single Kratos-including scene… don't think it' ever mentioned in this game that his complexion is unfortunately augmented.
There's just so much story in this thing. When I first started downloading and noticed it was somewhere in the neighborhood of 90 gigs I was shocked… 55 hours later I'm not.
The God of War and Spider Man games have historically been my only ties to the PlayStation console. Absolute beasts of fun.
Eh, that's about it… it gets the coveted "Paul made time to play this all the way through" Pocketables award.