Got a YouTube copyright claim scam that didn't even try – copyright72.com
I got an email from an address in the Czech Republic containing a PDF that vaguely looks like a YouTube warning. It claimed a video we posted was in violation of YouTube's policy on licensed music.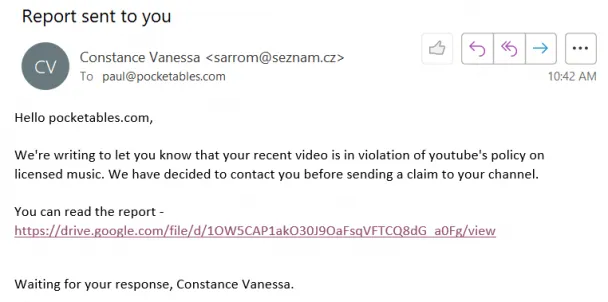 The video was this one
And it contains a song called "a sky full of stars(short ver.) by yumenoma" from freemusicarchive.org and was used per licensing. So, wasn't particularly worried. Also considering I've never received a DMCA or YT complaint from the Czech Republic and YouTube notifies you at posting if there's any copyrighted music discovered… yeah…
So they sent a PDF that looks like this: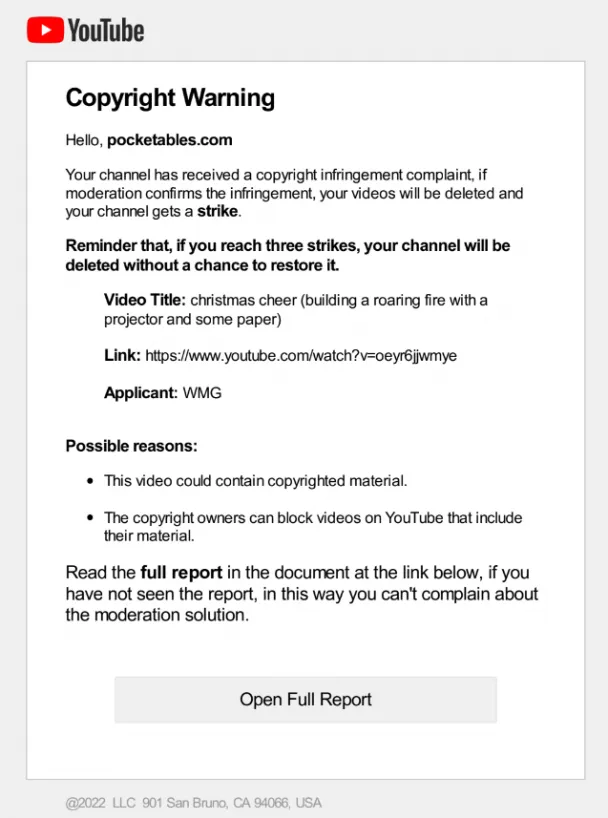 So first off the link is close to right, but they screwed up and didn't maintain the upper/lower case. YouTube links are case sensitive. That link labeled "link" indeed is a link to that URL… which if you get the right caps is the Christmas cheer video. At this point all I've done is to manually type in a couple of URLs while looking at a preview of the PDF… don't worry.
Bottom of the PDF says "@2022 LLC" and an address (which is YouTube's address)
The "open full report" goes to a site called "copyright72.com" which has the illustrious history of having been registered a total of 21 days at this point. So odd that YouTube would be sending WMG (Warner Music Group?) complaints from a Russian registered Czech-contacting org… without contacting me at the right address.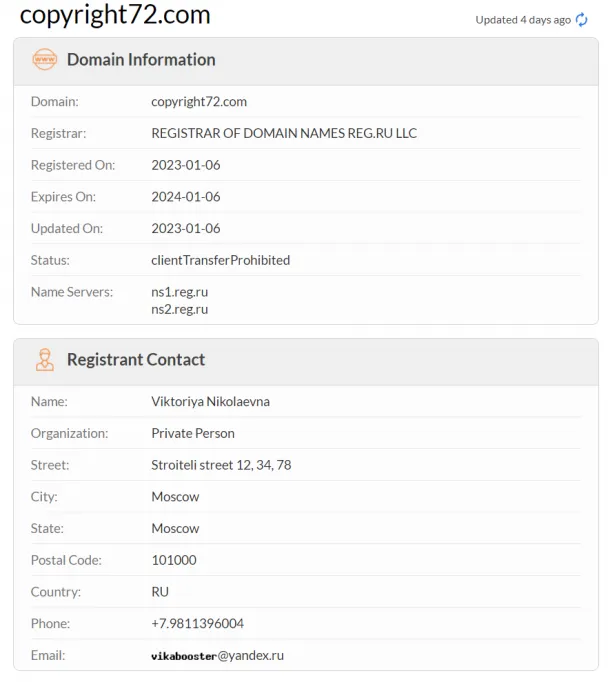 I popped open YouTube just to verify there're no strikes or complaints…nope. Verify the creative commons license and that I adhered to it by crediting properly… yup…
Just another scammer. Copyright72.com's website currently not returning anything on standard probes, and I'm not clicking the link…
YouTube's policy as a note is three strikes within 90 days you're subject to termination…. so I fully expect to receive two more of these emails.
What I love is they say as an independent person that before they file a claim with YouTube they wanted me to talk to them, and yet they send a forged notification warning from YouTube… it's like they haven't even figured out what the scam they're trying to pull is… either threaten me with reporting, or send a PDF that looks like a YouTube warning and say they have more to claim against me.
I give this scam one out of 5 stars. Poorly executed, can't even get the link right. Would not bother with even toying with these people.