Bing looking to use AI to make up the answer as well as control the information
Bing is going all in on the ChatGPT bandwagon and using AI to answer some basic questions while returning potato picked results.
At the moment you can go and play with it and see what it comes up with by going to bing.com/new.
As of Feb 7, 2023 the generated results appear to be the exact same thing every time, or at least the base text it creates appears to be the same generated result refresh after refresh. Maybe the AI is plagiarizing itself?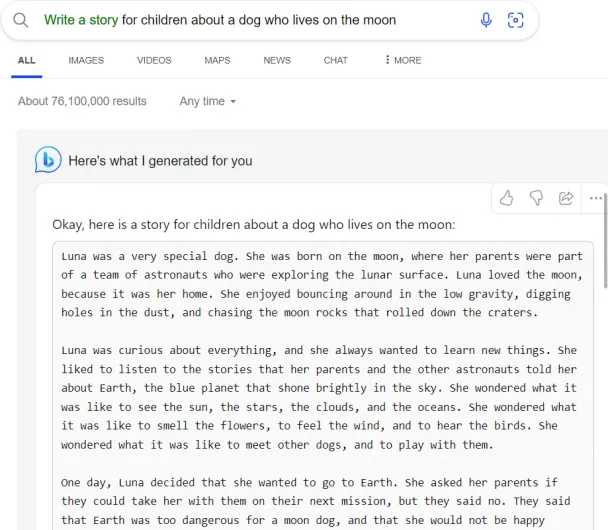 And there's no way if you're not in the program to change what you're asking. So essentially unless there's something I'm missing right now you can see the same story above as though it were typed out by ChatGPT… which is somewhat useless. I have had no ability to make the story be anything but that same one on any computer or IP I'm accessing so we've got basically a demo of a web page showcasing a result.
I checked if I could change the URL slightly to modify the request, nope. The "AI" demo only works on 12 exact URLs…
Looks cool, but it's a web page at the moment.
The idea here appears to be that Bing's AI will provide some useful text as well as their filtered search results. Asking questions such as whether it's easier to learn English or Spanish will potentially result in a contextual suggestion based on some of the worst filth you can imagine. Maybe I'm just projecting. I really really have disliked Bing since before I had that stupid chat with them about why Pocketables and theITbaby were both removed from any Bing indexes other than they host copies of every single image we post for some reason.
So look for Clippy to be getting an upgrade… he's now got access to more information than any human, and with Microsoft guiding his spiritual development our only hope is to try and keep him contained and away from knives.