GameSir G7 SE Wired XBOX controller with Hall Effect sticks/triggers
GameSir has released the GameSir G7 SE – a new version of their licensed wire XBOX controller with Hall Effect analog sticks and triggers, switches and buttons to disable unwanted inputs, and a swappable magnetic faceplate for customization.
My coworker had use of if while I was on vacation and his review was that it played with a lower profile and seemed better balanced, however when I play with the G7 SE it's throwing me off a little bit from a straight stock XBOX controller. It's not bad mind you, it's just noticeable.
The G7 SE has a couple of buttons on the back and switches that allow you to disable them. It also includes a very prominent mute microphone button on the controller which seems like an oversight on most other controllers.
I'm an older gamer, the G7 SE seems fine, I can not find anything I particularly dislike about it other than that I do not have a use for the rear buttons. I might need them some day, but what I'm playing I currently want four buttons and no latency and this provides it pretty well.
The controller includes a month of XBOX Game Pass, has a USB-C base on the controller side and a USB-A on the XBOX side, and doesn't seem to affect my game in any noticeable way.
The faceplate included is paint friendly and can be swapped, however at the moment I do not see any ability to buy new face plates. It just released a couple o days ago so that may still be in the pipeline.
I really wish I could rave about this controller and give some reason why you have to have it, but I have not found it. It plays as well as my other controllers, does not distract, I have had no reason to think the controller has caused any of my playing issues or wins, and it's overall a good controller with a couple of buttons I am not using and a mute button that's awesome but I don't use and some sticks and triggers that feel just right. Good, but not exciting.
With the GameSir Nexus software you can customize the unit. As I play stock almost everything this is an option that I'll never use. But it's there if you want it. You can also switch between profiles just on the controller after you've configured how you want them.
If you like the standard XBOX controller, you'll like this. Hall effect triggers and sticks means those are going to be around for a long long time. I have nothing against this controller, but will update if I find something to complain about.
You can grab the GameSir G7 SE on Amazon, or Gamesir's website.
Amazon appears to have a coupon G7SEHALL for 15% off, and Gamesir's website has a 10% off code of "fans10off"
G7 SE Wired XBOX controller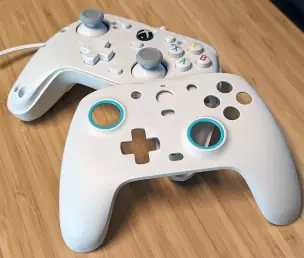 The GameSir G7 SE is a wired XBOX licensed controller that has the standard XBOX buttons plus a few that can be configured and swapped on the fly.
Product Brand: GameSir
Product Currency: USD
Product Price: 44.99
Product In-Stock: InStock
Pros
Configurability
Response time
Feels like a standard XBOX remote
Hall effect sticks and triggers
Swappable faceplates
Cons
Bottom buttons not pronounced enough