Jabra Elite 10 – the world has to be not heard to believe
I'll preface this that I've probably met a total of one Jabra product I didn't like, and that was a while ago. You're getting a review from a fan. The Jabra Elite 10 appears to be the next in a fairly long line of pleasant experiences from Jabra with some oomf like I have never experienced in an earbud. No really, this is an exciting earbud and has, unless something goes awry, perhaps taken the spot of most favorite ear things.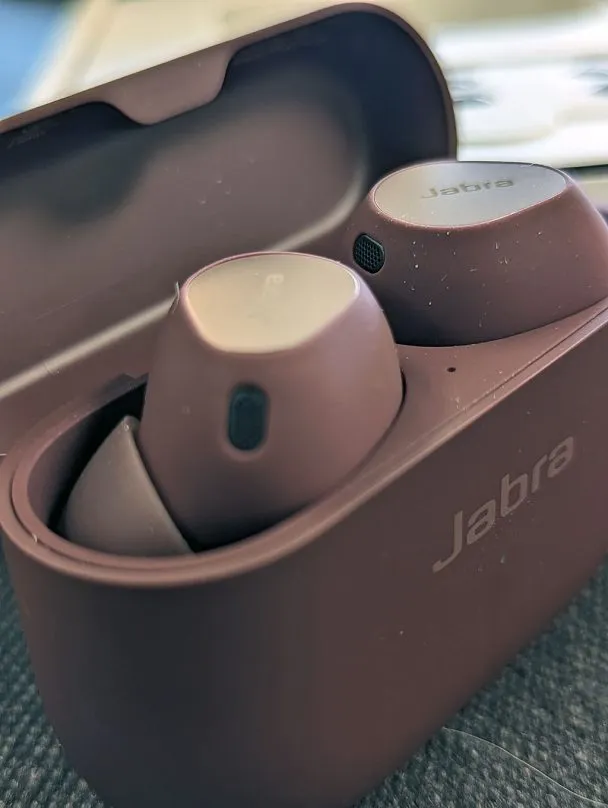 Rather than telling you what a great product this is, where I would be gushing over the thing, let me write this review out in note form. I'm not just doing this because I'm lazy.
Surprise!
Let me set the stage for you on my testing. Today (for me, several days ago when this article publishes,) is day one with the headsets. I'm writing this in advance and I've been wondering what I could possibly say about yet another black set of earbuds with a charging coffin. I've actually stopped reviewing earbuds because it's become a thing of "oh well, it's slightly better, this I like, and this I don't." Well, first off these are gray! (I kid)
The Jabra Elite 10, well this was my first time being surprised by ANC. I'm sitting about 45 feet from a ballet class. My kids are down the hallway in a theater class, and there's a kid's band playing rock in a room nearby. Other than someone talking directly to me I've been sitting with the earbuds not playing music just listening to the sounds of… not silence, but … extremely reduced noise as the song "I Love Rock and Roll" seems to be being played over and over again for something (not sure if this is being played for the ballet or a kid's rock class).
I took the earbuds out because I straight up wondered if perhaps something had happened.. but nope… noise is right there. Speaking of right there, I've got the spatial audio is putting the music right there… there man… I might need to disable this because at the moment it's apparently coming from the left shoulder of a parent waiting on their kiddo.
The Elite 10 holds the record for most immersive earbud I've ever run across. Oh, you can enable hear-through mode but honestly with these the question is why would you? They've switched to some kids singing La Bamba, they're very able to be heard, and I hear doors… but dang all the minutia of the ambient audio is minimized to the point that occasionally I am checking to see if maybe there's an alarm or the world has ended.
I don't know how this is doing the bass it's doing. It's joyous…. or perhaps my ears are just in a good mood not hearing everything that's been going on around me for the past hour and a half.
Testing day 2 – Jabra Elite 10
I shared my enthusiasm at a tech product with my wife and attempted to show her how good these were. Unfortunately she didn't get the effect and I'm not sure why. She said while things were muted that there was not a substantial differentiation. I was confused. Audio wise she liked them.
Thought perhaps they were not sealing properly. I put them on me and the world goes away like nothing else I own. I'm typing and although I hear it it's more pleasant clicky than it is noticeable.
I start wondering if it's possible to reset where front is in spatial audio. Something I'll have to look up.
I put on some background noise (YouTube has random background noise tracks) and noticed on a TV the audio tends to come through more than when I was in a loud environment. Wondering if this is because the audio is coming from one direction and source rather than all around.
I sat back to play my testing music and…it didn't sound quite like I would expect it to. I tweaked some settings in the Jabra Sound+ app and still couldn't shake the feeling what I was hearing wasn't right.
Broke out the FLACs and realized that perhaps the issue was I was hearing the low quality of YT Music. I mean, I know it's consumer grade audio but usually it's at least enjoyable. The problem with listening on the Elite 10 was I was noticing the lower quality. This could be a real concern.
Wanted to make sure so I signed up for Tidal free trial and wow, what a trainwreck that service is on Android, but I wanted to hear some music mastered for Dolby Atmos content, and my library is shockingly sparse when it comes to that. I have nothing mastered for Atmos or that takes advantage of Dolby's head tracking.
Pulled out the reviewer's guide and was directed to Billy Eilish, specifically for Dolby Atmos mastering and huh… that is something. The songs I was directed to were Oxytocin and What Was I Made for? and for a lover of music it's… a little bit better. I compared the Atmos tracks to the YT Music delivered and decided that if I wanted to sit around and rip on YT Music's audio quality these are the earbuds for that.
My FLACs sound, as always, perfect but delivered to my ears a bit better.
I could go on, but I'm impressed.
Jabra Elite 10 Specs
Charging case charges via USB-C or Wireless
Spatial sound with Dolby Head Tracking
10mm speaker
6H battery, 27H total
Bluetooth 5.3 / LE ready (coming in a future update)
AAC, SBC, LC3 & LC3+ codecs
Swift Pair / Fast Pair
Multipoint (2 devices)
6 mic windproof call tech
Spotify tap playback for instant playlist access
You can pick up a pair at Jabra.com or Amazon.