XGIMI HORIZON Ultra – LED meets laser for image excellence
Meet the XGIMI HORIZOn Ultra: A 4K long throw home projector with Dolby Vision and Harman/Kardon audio. I've had the pleasure of spending the last couple of weeks with this beautifully designed piece of visual overkill. Let's start with some specs and then dive into what makes this the hands-down best projector I've reviewed to date.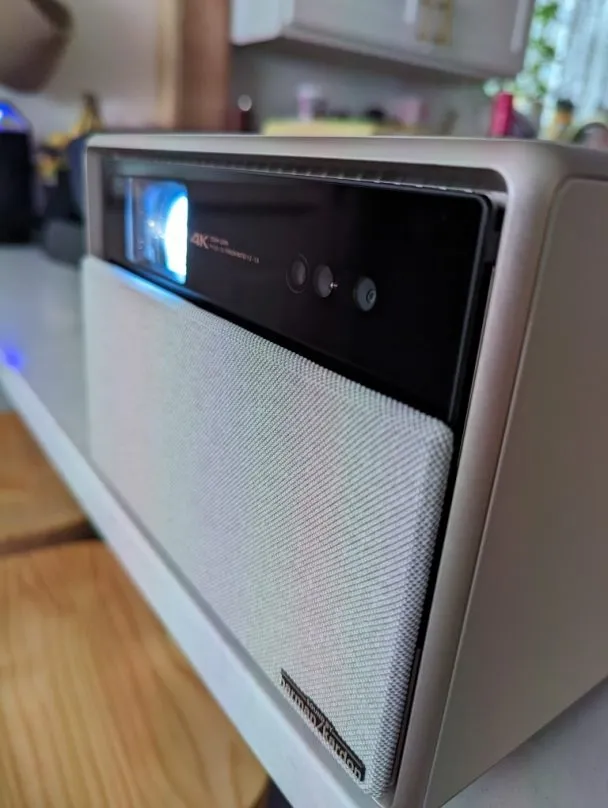 Table of Contents
HORIZON Ultra specs
Laser/LED dual light system reaching 2300 ISO Lumens.
Intelligent Screen Adaptation technology 3.0 for dynamic screen adjustment based on environmental conditions such as ambient light and screen placement, wall color adaptation
Optical/digital zoom
4K 60HZ gaming mode with 18ms latency
Dolby Vision, HDR 10, HLG
Android TV 11
Eye protection
DCI-P3 95%, Rec. 709 99.9%, Mass Production △ E ≈ 1
2x12w Harmon Kardon built in speakers
2x USB 2 ports
1 Optical audio
Gigabit ethernet port
Wi-Fi 6 Dual band 802.11a/b/g/n/ac
1x HDMI
1x HDMI (EARC support)
1x 35mm / headphone jack
2GB RAM, 32GB storage
2x12W Harman/Kardon speakers
Dolby Audio, Dolby Digital, Dolby Digital Plus, DTS-HD, DTS-Studio Sound
HDR10, HLG
Optical zoom, 1.2-1.5:1 throw ratio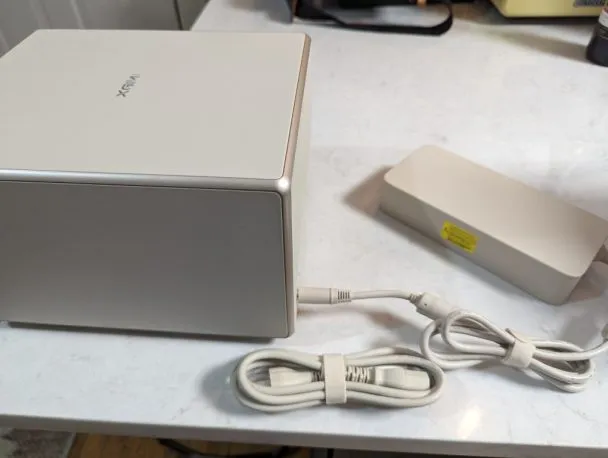 XGIMI HORIZON Ultra unboxing
Initial impressions
The first thing you'll notice when you unbox this is there's no lens evident. Don't try and find it, it'll appear when you turn the unit on and you could damage the motor if you try and push the lens door down. I turned the unit on by pressing the power at back, then paired the remote using the instructions that appeared on my wall, and walked through a fairly easy Android TV 11 setup which was primarily done on my phone.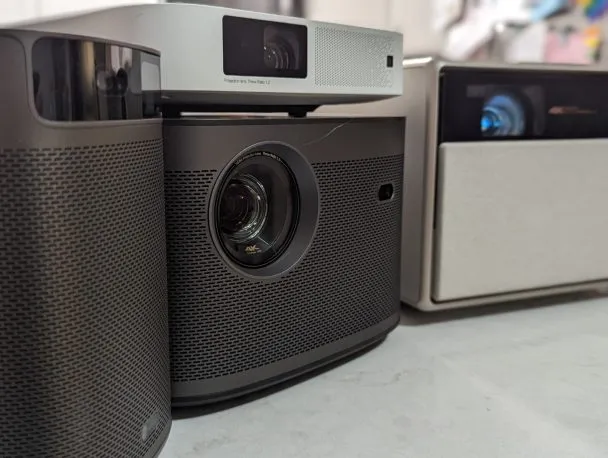 The HORIZON Ultra is all kinds of gorgeous and reminds me of an old clock/radio my mom had when I was a child. It's got a cloth covered door that slides down when activated to reveal the innards, a sort of beige rose gold with a body wrapped in faux leather, a matching remote, and just about everything on the main projector screaming "hello, I'm designed to look awesome!"
Then you see the power adapter and you're like… wut? OK, you got the color right but man that thing is thick. Considering I never pulled more than 150 Watts off of it I feel it could be significantly slimmed down in a later version. I have 600 Watt computer power supplies that weigh less. Hopefully this means quality.
Wife points out she'd rather the big black bar that's revealed when the face plate opens be a different color but I'm not sure how that would look when you have to have black circular cutouts.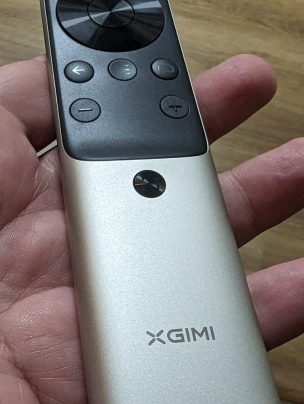 But mostly it's just an incredible looking piece of hardware.
The XGIMI HORIZON Ultra picture quality
After powering on the unit using the button on the back, pairing the remote, and completing Android TV setup I was off and rolling and the picture quality was better than the HORIZON Pro, but I couldn't put my finger on why. Reds seemed to explode to me, although when others viewed it they claimed the picture was just extremely good and that the reds may have been a tad better.
The vividness of the reds surprised me as, well, I'm red/green colorblind. I highly suspect this has something to do with their dual light LED/Laser system as I seem to recall the Anker Nebula Cosmos 4K laser projector having a similar eye-popping reds. Yup, re-read that and I did indeed find the last laser projector made insane reds for me.
According to the product literature their dual light system removes speckles found in laser-only projectors. I don't have a laser-only projector on site to test so can't tell how well that works. I noticed no speckles, but I wasn't looking back in the previous reviews for speckling.
What the laser portion also has made is an un-photographable image with my camera equipment (this is my issue, not theirs.) I'm going to have to go back to the drawing board and see if I can borrow a pro camera to try and get a picture of what I'm seeing because the images I do capture with the Galaxy S21 Ultra or the Pixel 7 Pro look like hot garbage in comparison to the amazing detail I see on any surface I project on.
The HORIZON Ultra at 2300 ISO Lumens claims it is significantly brighter than the Horizon Pro at 2200 ANSI Lumens. Using a Lumen conversion tool it looks like 2300 ISO Lumens translate to about 2875 ANSI lumens, so about 24% brighter if I did the math right. I swear in the email somewhere there's something that claims it's about that much brighter but finding it today I'm not having luck.
Rose gold, but not all is roses
Like every XGIMI projector I've reviewed to date, almost everything is perfect out of the box except you're not going to get a certified working Netflix client. You can read what goes into getting Netflix certification and see what they're facing. TL;DR this is Netflix's issue, not XGIMI's most likely. There are workarounds, and there's a sheet included that tells you how to get around it. Unfortunately the workaround image quality is noticeable when you have it blown up due to lowered resolution.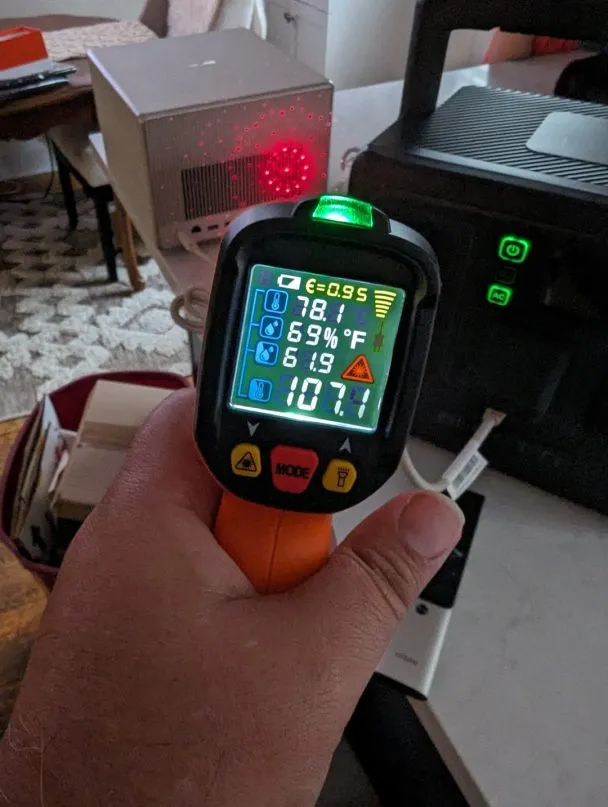 You can also put any dongle into the HDMI port and get Netflix that way. Disney, Apple TV, Amazon, anything other than Netflix will work without any effort.
Pocketables and XGIMI products
A quick note on where I get these wonderful toys as we're dealing with a large chunk of change. PR companies contact me because projector companies evidently value the reviews of an old colorblind tech reviewer who's not afraid to burn bridges. I do not, as a general rule, resell any product I received for Pocketables.
While I was asked to review this, and I do really dig the product, I could have just taken the projector and run. Pretty sure I'd have never received another, but there are no contractual obligations and you are more than welcome to ask me anything about the unit. I'll get back to you fairly quickly.
Gaming
I played a bit with the XBOX , got 60Hz 4K gaming. It worked well and I could not notice the lag. I have this one area on Star Wars Jedi: Fallen Order I used to see if I can feel the lag. I didn't. Just involves a bunch of parries timed right with a next to unleveled main character. You'll need to test out on your own but it was not noticeable to me in that game.
Things I did not get to test
I will be testing how good the optical / digital zoom ends up, how it looks at 200+ inches, max dB, as well as anything I can think of that I missed as the days go on. I don't consider this review finished but it's what I got in a couple of weeks of just enjoying the product.
I've had no access to the studio I generally use for comparisons as it's rented out to a client for a couple of months, and going outside to test on the huge screen has been …. it's 100F+ here, not going to happen.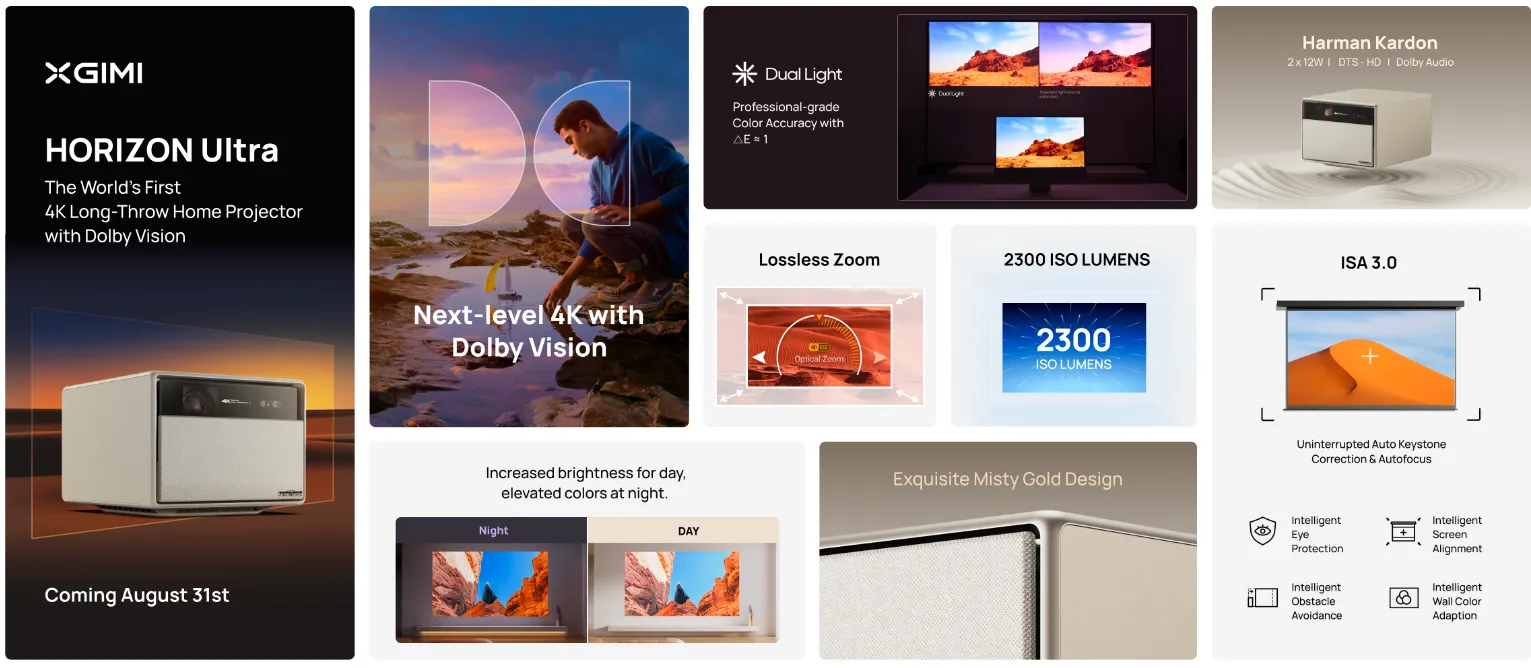 XGIMI's marketing claims it is the world's first long-throw Dolby Vision certified home projector. This may be true but I suspect (based on embargoed email teaser I got from another company,) it's not going to be the only one for long.
Wrap up
It's a beautiful projector in all aspects. You can find it on XGIMI or Amazon.
Note that any product purchased through our Amazon link will earn us affiliate commission.
HORIZON Ultra
The XGIMI HORIZON Ultra is the latest in XGIMI's Android TV projector line. The main notes of this release are astounding Harman/Kardon audio, a dual LED/Laser light source, digital and optical zoom, XGIMI's ISA 3.0 for delay-free viewing
Product Brand: XGIMI
Product Currency: USD
Product Price: 1699.00
Product In-Stock: InStock
Pros
Amazing picture quality
Great audio
Smooth as butter Android TV setup
Cons
Netflix
Power cable is massive