XGIMI corrects misleading brightness claims
the XGIMI Elfin and the XGIMI Horizon Pro have been downlumened according to a post on SoundAndVision as well as other sources. The change came after a legal altercation with Epson and a subsequent settlement with corrected claims. The Elfin has dropped from 800 to 600 and the Horizon Pro has dropped from 2200 to 1500. It appears the non-Pro Horizon has been dropped to 1500 as well, but that's not a projector of theirs I've reviewed.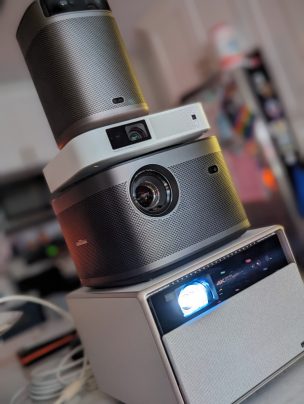 A portion of this drop appears to be that they are now using ISO lumen standard instead of ANSI lumens. 800 ANSI Lumens, which is what the Elfin was advertised as, well 800 ANSI Lumens = 640 ISO Lumens (40 lumen greater than currently claimed lumens,) and 2200 ANSI Lumens (Horizon Pro,) = 1,760 ISO or 260 greater than the current claim.
That is still off by about 6.6% & 17% if I'm doing the math right. In other words you should only be 6.6/17% angry and not 33/46% angry which some websites tell you to be. Still you should be annoyed as this is deceptive (if it was 1 or two percent I'd chalk it up to whatevs with conversion but no.) Please someone check my math, I'm not claiming to be able to do simple math before my first pot of coffee.
The XGIMI US website now lists the Elfin and the Horizon Pro at 640 and 1500 ISO lumens.
It looks like Epson is taking on other companies, XGIMI isn't the only one but it's the only one I'm currently following and in possession of several of their projectors.
There has been no downlumening of the Horizon Ultra, which was presented in ISO lumens to begin with.
I tell you though, as someone who really does like their product (I really do, their stuff is quality,) it's sad when marketing causes reputational damage. Good product, bad marketing move. XGIMI and a couple of others got caught, but it's pretty rampant. Just check Amazon. Hopefully Epson has started something that will persist.
The XGIMI Halo was also downlumened to 600, but keep in mind standards changed from ANSI to ISO so be 6.6% annoyed.
I am now going to begin the arduous task of editing every single XGIMI projector review to point here, well other than the MoGo 2 Pro which was presented in ISO and remains at what it was sold as.
Here's an ANSI to ISO calculator so you can see how annoyed you should be.
[
Techaeris
|
Soundandvision
]