Samsung unveils five Q1 Ultra UMPCs
Even though yesterday's news was that the Samsung Q1 Ultra would launch this week, I didn't expect it to happen today.
But it did! After months of releasing bits and pieces of information about what was initially known as the Q2 and exactly one year after the original Q1 went on sale (how precious), Samsung has finally made its second-generation UMPC official.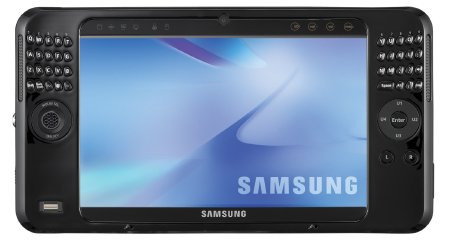 With a newly confirmed starting price of just $799 (Update: Samsung added $100 to entry-level prices due to a CPU change), the Q1 Ultra will be available in no less than five configurations beginning in late May and continuing through the summer.
UPDATE 08.28.07: Samsung announces additional XP-based models.
Q1U-EL
Q1U-XP
Q1U-V
Q1U-CMV
Q1U-SSD
Price:

$899
$1,150
$1,200
$1,500
$1,999
Avail:

June
June
Late May
August
August
OS:
 
Vista Home
Premium
XP Tablet
Vista Home
Premium
Vista Home
Premium
Vista Home
Premium
CPU:
800MHz
Intel A110
800MHz
Intel A110
800MHz
Intel A110
800MHz
Intel A110
800MHz
Intel A110
HDD:
40GB
60GB
60GB
80GB
32GB SSD
WWAN:
—
  —
—
HSDPA
HSDPA
Cams:
—
300P front
1.3MP rear
300P front
1.3MP rear
300P front
1.3MP rear
300P front
1.3MP rear
Slot: 
—
SD/MMC
SD/MMC
SD/MMC 
SD/MMC
Security:
—
—
—
Fingerprint
scanner
Fingerprint
scanner
All five models share the following specifications:
Display: LED-backlit 7" WSVGA touchscreen (1024 x 600)
Memory: 1GB DDR2 400MHz
Chipset and graphics: Intel GMA950, 128MB shared memory
Connectivity: 802.11b/g wi-fi, Bluetooth 2.0 + EDR
I/O ports: 2 USB 2.0 ports, audio jack, RJ-45 jack
Audio: 1.5W stereo speakers, dual-array microphone, HD audio
Battery life: 4.5 hours (li-ion prismatic)
Dimensions: 8.96" x 4.88" x 0.93"
Weight: 1.5 lbs.
There will also be a nice selection of accessories (see photos here), including what looks to be a rather excellent docking station, GPS module, 6-cell extended battery, and various cases. Pricing and availability are unknown.
Lots to choose from. I have my eye on the entry-level model and the docking station. Am I the only one who thought the 600MHz A100 was reserved for MIDs and the 800MHz A110 was for UMPCs? I had no idea the A100 could run Vista. (Update: All models now run on Intel's 800MHz A11o processor. The 600MHz A100 chip initially marked for inclusion in the Q1U-EL was quietly removed and replaced.)
Interactive Demo
Q1 Ultra Press Center
[
Press release
(thanks, Pete!)
|
GottaBeMobile
|
jkkmobile
]