Setting up the HTC Shift X9500
After experiencing the atrocious first-boot of my Sony Vaio TZ, I decided to wait until I had several hours to spare before firing up my HTC Shift. That plan resulted in a fully charged Shift sitting around for more than 12 hours after being unboxed yesterday.
I've got it up and running now, but I definitely grabbed a stopwatch, notepad, and bottle of water before booting it up for the first time. Read on to find out what happened.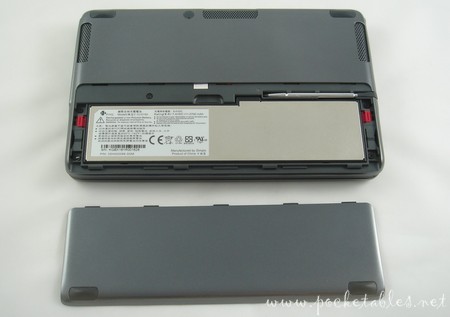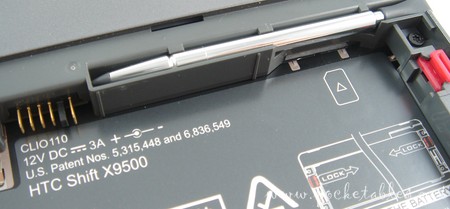 Before switching on the power, I removed the battery to insert my 3G AT&T SIM card. As mentioned previously, one of the reasons I chose the GSM version of the Shift was so that I could use my existing SIM. It doesn't make sense to pay an extra $60 per month for access to Sprint's EV-DO network, which I would've had to do with the CDMA version, when I can just pop in my current SIM for free.
First Boot
The power/hold switch is located on the right side of the Shift. I slid it to the right and was asked to set up Vista about 1.5 minutes later.
After accepting the license terms, creating my username, and selecting a background, I waited for about 11 minutes as the system set itself up. Most of the wait time was due to something called "HTC Final Installation," which included the automatic installation of the Shift Control Center, Origami Experience 2.0, and Trend Micro's PC-cillin anti-virus software.
A subsequent reboot and an automatic launch of Origami Experience took another 3 minutes. All told, the first boot of the HTC Shift took about 16 minutes.
The desktop was alarmingly clean (you remember the horrors of the Vaio TZ desktop, right?), with nothing but the recycle bin, PC-cillin shortcut, and web shortcut to the HTC website.
Preinstalled Applications
Suspicious of the clean desktop, I decided to take a look at all the preloaded apps. Here's what I found:
2007 Microsoft Office system (trial) and activation assistant
AuthenTec Fingerprint Sensor Minimum Install
HTC Shift Control Center Version 1.1.38.18
Intel Graphics Media Accelerator Driver
Microsoft Origami Experience 2.0
Microsoft Visual C++ 2005 Redistributable
Realtek High Definition Audio Driver
Synaptics Pointing Device Driver
VistaFeaturePack
VitaKey AC5023 5.0.0.9
Windows Driver Package
Windows Mobile Device Center
Windows Mobile Device Center Driver Update
That's it!
After installing Firefox and a different anti-virus program (I don't care for PC-cillin), there was 22.5GB of 33GB available on the stated 40GB hard drive.
Windows Experience Index
After rebooting, I computed the Windows Experience Index score.
Except for the processor, which is understandably the Shift's weakest component, the scores aren't much different from my Vaio TZ170N.
I've never been dissatisfied with Vista's performance on any device (mobile or otherwise), as I'm not a power user or multitasker, so my definition of "optimizing Vista" is just to uncheck a few boxes that are checked by default. These include Indexing Service, Remote Differential Compression, Windows DFS Replication Service, Windows Fax & Scan, and Windows Meeting Space.
SnapVUE
The final step in my setup process was launching SnapVUE, the Windows Mobile component of the Shift that offers instant access (even when the unit itself is turned off) to email, calendar, weather, SMS, and contacts. SnapVUE must be started for the Shift to take advantage of the built-in HSDPA.
A dedicated hardware button to the left of the 7-inch display is used to toggle between SnapVUE and Vista.
When SnapVUE is accessed for the first time, a connection wizard to set up the data connection begins.
Configuration was automatic, so it only took a moment for the HSDPA icon to appear in the Comm Manager, allowing me to get online through Vista.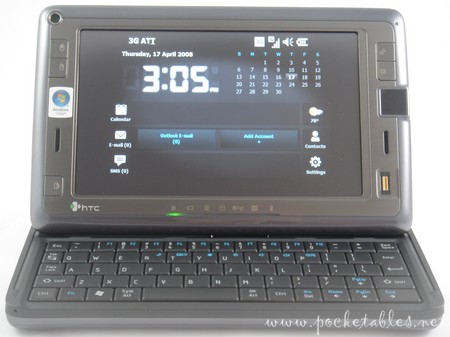 A cellular data connection is needed to download weather information, sync info with the Exchange Server, and send/receive emails through SnapVUE.
I called it a day after that. Pretty quick and painless, right?