500XL giant earbud speakers are real (and they're spectacular)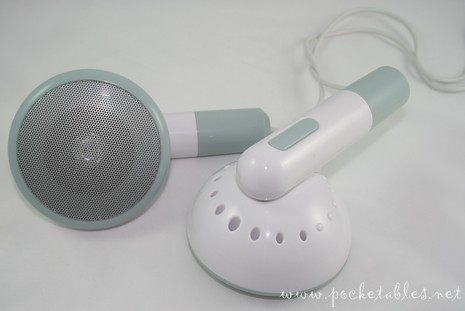 Okay, well, they're not really spectacular but I couldn't call myself a Seinfeld fan if I didn't throw that line in. But for anyone who saw these 500XL giant earbud speakers back in January and assumed they were fake, I did the equivalent of sending Elaine into the sauna and picked up a pair from fredflare.com.
These novelty speakers are 500 times the size of their obvious design inspiration: Apple earbuds. Yes, those awful-sounding, poor-fitting stock buds that some people think are status symbols but that should really be immediately trashed.
As much as I detest those stock buds, the speakers were too absurd and cute to pass up. I won't review them, as they're very cheaply made and sound quality is only marginally better than the actual earphones, but I've got some photos for you to skim through. I'm usually enticed by miniaturization, but I find the random enlargement of earbuds rather amusing for some reason.
Here are some shots of the Apple earbuds next to the 500XL:
How can you look at that and not be amused?
And here they are hooked up to a few gadgets:
If you want a set for yourself, the 500XL giant earbud speakers are available at fredflare.com for an unreasonable $60. They're also sold as Supersize Earbuds for $50 from ThinkGeek. They're not worth either price (at all!), but if you need computer speakers for the office, have an Apple fanboy/girl in your life, or just want them for their novelty, there they are.