Fujitsu LifeBook U2010 in stock, ready for import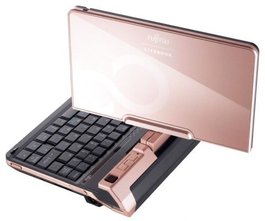 If you can't wait for the Fujitsu U820 to be released in the US and don't mind the Atom-based mini notebook in Pink Gold or Fuchsia Red, then head over to Warehouse123.com right now to buy the U2010 counterpart. Priced at $1267 (marked down from $1690), the 60GB swiveling screened UMPC is in stock and ready for worldwide shipping in 1 to 2 days.
I purchased one a few days ago (for review purposes only; I planned to sell it afterward) but canceled the order today because the black model I wanted ended up not being in stock. The product page still lists it as being available, but as of this moment, it isn't. The gold and red units, on the other hand, are ready for delivery.
Warehouse123 is better known for their DAP imports, but they've recently expanded their inventory to include UMPCs with the addition of the U2010 and some older Kohjinsha and Sony models. If you haven't bought from them before, I can personally vouch for their legitimacy, professionalism, and fast shipping.