Review: Microsoft Surface with Windows RT
After decades of sitting on the sidelines, Microsoft has entered the PC and tablet market with the release of the Surface, a tablet with laptop aspects running Windows RT. The device is, in many ways, the gold standard of computing – particularly on Windows – and it features a number of unique innovations. After a few weeks of using the Surface on a day-to-day basis, it's time for the final word. Read on to find out if it's worth your money.
Quick Specs
The Surface is one of the larger tablets on the market, thanks to its 1366 x 768 widescreen 10.6-inch ClearType HD Display, and it is fashioned out of the nearly indestructible VaporMg casing. Inside, it's powered by a NVIDIA Tegra 3 quad-core processor, 2GB of RAM, and a 31.5W-h battery, along with your choice of either 32GB or 64GB of storage (although a portion of this is used up by the Windows RT OS). And at 1.5lbs, it's just slightly heavier than the iPad.
For audio and video calls, the Surface comes with 720p HD LifeCams on both the front and back of the device, as well as dual microphones and stereo speakers. A bevy of connectivity options and sensors also come standard, including 802.11a/b/g/n WiFi, Bluetooth 4.0, USB 2.0, microSDXC, HD video out, and a 3.5mm headphone jack, as well as a gyroscope, compass, accelerometer, and ambient light sensor.
The real highlight, however, is the optional Touch/Type Cover and the integrated kickstand. Combined, these features could very well allow you to replace your old laptop with a Surface, especially since it comes with Windows RT and a free copy of Office Home and Student 2013 RT.
Packaging
The Surface packaging is surprisingly nice. Microsoft has eschewed a bunch of flashy images and data overload in favor of a clean and simple white box with a slick black sleeve. It's worth noting that the black sleeve is cut at an angle not dissimilar to the chamfer on the device itself, lending a sense of cohesion to the entire package. Surface logos can be found on the front and two of the sides of the box, and the back highlights a few of the important technical specifications.
Sliding off the sleeve reveals the even simpler white box with "Surface" in blue letters, as well as a small black piece in which the optional Touch or Type Cover is set. And inside the box itself, which opens like a book, you'll find the Surface, power cable, and the standard user manuals and other required documents.
Hardware
The Surface is, without a doubt, one of the most beautiful tablets on the market. The device itself is jet black, but the optional Touch Cover can be used to inject color. Most tablets and computers are unimaginative, but the Surface will instantly stand out in a crowd.
The VaporMg casing is extremely durable and the metal always feels cool to the touch – more refreshing than actually cold. A 22-degree chamfer also runs around the perimeter of the entire device, complementing the kickstand's 22-degree angle. It's very comfortable to hold, for the most part, although I found myself readjusting my grip from time to time.
If you're coming from a smaller tablet like the Kindle Fire, the 10.81 x 6.77 x 0.37-inch Surface will definitely feel larger and heavier than you're used to. iPad owners, on the other hand, probably won't have any issues adjusting to the additional 0.06lbs and the 0.9-inch bump up in screen size. The Surface is also wider than most tablets, allowing it to provide a full 16:9 entertainment experience and accommodate the keyboard on the Touch and Type Covers. As a result, I found myself using the device in its default landscape orientation most of the time. Portrait works well, but it almost seems too narrow. Size-wise, the Surface is large enough to get work done, but small enough that it can fit on an airplane tray table (including the Touch/Type Cover) with plenty of room to spare.
The screen fills up the majority of the front of the device, but the Surface does have a black strip around the edge in which the front-facing camera, active camera LED, and the Start button are situated. Surprisingly, some of the people I've showed the Surface to had no idea that the latest iteration of the distinctive Windows flag was actually a capacitive button. The only other instance of branding you'll find on the device is the identical Windows flag on the back.
The hardware power button can be found on the top of the device, while the dual microphones are arrayed in the center. The power button has some travel and feels great most of the time, but I did find myself wondering if I was holding it down all of the way when attempting to force a restart for testing purposes.
The left side includes the headphone jack, one of the two speakers, and the volume rocker. Here, you'll also find a small indent for opening the kickstand. The volume rocker might be a bit too sensitive, however, since in a few instances I've noticed the volume go from muted to 2-4% after pulling it out of my backpack.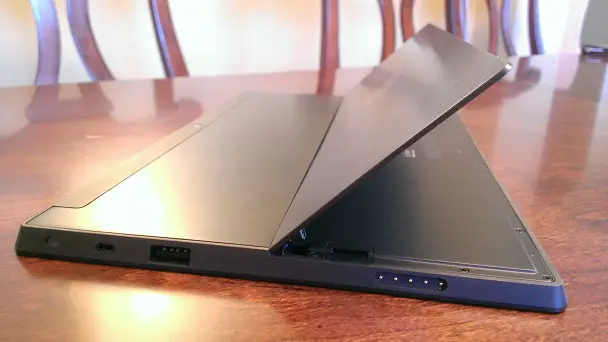 The right side of the device is where most of the ports and slots can be found, including HD video out, a USB port, microSDXC card slot, magnetic power plug, and second speaker. You'll need a special adaptor for VGA or HDMI out, but the USB port is extremely versatile. In fact, while the inclusion of a USB port has often been looked over by many people, it opens up the world of possibilities that you've come to expect from Windows devices. Most printers are supported out of the box, and you can use the port for anything from mice and keyboards to flash drives, smartphones, and USB sound cards. The microSDXC card slot is hidden under the kickstand, so it can be a little difficult to find, but it allows you to expand the storage significantly.
The magnetic power cable, unfortunately, is one of the few areas in which the Surface's design falls short. It can take a little fiddling to set it properly, so you can't mindlessly snap it in. You can, however, connect it in either direction. Additionally, the light on the tip of the power cable is a double-edged sword. The small white indicator allows you to tell if power is flowing to the device, but it's bright enough that if you leave the Surface next to your bed at night, you might have to point the light away from you.
The speakers are a little on the quiet side, and I found it difficult to watch a movie at a comfortable volume without headphones. It's loud enough for games and notifications, but you'll probably want to use headphones if you aren't in a quiet room. Here, however, the Surface shines. The headphone audio quality is consistently excellent, and the volume has such a range that I rarely found myself going higher than 15%.
On the bottom, you'll find the magnetic connector for the Touch and Type Cover which stretches across the length of the device. The experience of connecting the cover is a snap – pardon the pun – and it's everything that the power cable should have been. The magnetic connection is strong enough that you can safely swing the device with the cover, but disconnecting it takes no effort at all. Some people might find this groove slightly uncomfortable in their hands when the cover isn't attached, but it didn't bother me too much. Although, since I rarely used the device in portrait mode, I didn't really have to worry about it anyway.
Last, but certainly not least, is the back of the device, where you'll find the kickstand and rear-facing camera. The addition of the kickstand is the best thing Microsoft could have ever done, since it allows the tablet to be propped up like a laptop. The angle is locked at 22-degrees, but I found this optimal in most situations. And yes, the sound and build quality of the kickstand is just as satisfying as Microsoft has repeatedly claimed in its presentations and ads. The camera is also slightly angled, providing it with a straight shot when the kickstand is out.
Without a doubt, the Surface has the best hardware I've ever used. The build quality is top-notch, and the entire device has a premium, high-quality feel. The only exceptions to this being the power cable and the somewhat quiet speakers. And with the Touch/Type Cover and integrated kickstand, it's a no-brainer for both work and entertainment.
Screen
The Surface features a non-standard 10.6-inch display running at a resolution of 1366 x 768 pixels. This, of course, is the minimum resolution for Windows 8/RT if you want to use Snap for multitasking in landscape mode. The resolution isn't as high as some tablets on the market, but it's hardly noticeable. Text renders very well, thanks to the ClearType HD technology, and HD videos look great. It even works well in direct sunlight, although you'll need to turn up the brightness.
The screen responsiveness was excellent as well. The only time I had an issue with it recognizing a touch, swipe, or pinch was in a few poorly-designed third-party apps. Thankfully, these are few and far between, and the worst offender, LastPass, recently received an update which fixed most of the problems.
5-point multi-touch is supported, but two people won't be able to use an app like Fresh Paint at the same time. It's not a big deal in most cases, but it was noticeable when a seven-year-old asked for help painting a picture and we had to take turns.
Software
Much like Windows Phone, Windows 8/RT provides a consistent experience across devices. Hardware manufacturers can preinstall a few apps and add some features, but the core Windows experience is always the same. As a result, this review will only touch upon the software features and apps exclusive to Windows RT.
One of the biggest reasons to get a Surface is the inclusion of Microsoft Office Home and Student 2013 RT, allowing you to use Word, Excel, PowerPoint, and OneNote on your tablet. This, of course, is because Windows RT doesn't support legacy desktop applications. The device ships with a preview version of the Office suite, but an update to the final version was already available at launch. And unlike most tablets and smartphones, you won't have to settle for a stripped-down version of Office. A handful of the more advanced features aren't yet available in Office 2013 RT, but you probably won't notice their exclusion. Plus, Surface owners are the first to get their hands on the latest version of Office, which isn't publically available yet.
It's worth noting that Office, the file system, and advanced system settings are only reasons you'll have to use the traditional Windows desktop on your Surface. Microsoft doesn't have Windows Store versions of its productivity suite yet – aside from OneNote – but Office 2013's Touch Mode is enabled by default and I never encountered any issues with touch in this mode.
The biggest barrier to using the Surface as your primary computing device is Windows RT. The OS is almost identical to Windows 8, but a few applications like Windows Media Player are missing (although with the inclusion of Xbox Music and free music streaming, it's not necessary) and you can't install desktop applications. Instead, you'll need to rely on the Windows Store to download all of your apps, just like on other tablets. This might seem like a downside at first – and it might be, if you need to install something like Photoshop or a high-end video game – but I've found that I rarely use desktop applications anymore. The Windows Store is growing fast, and it already has almost everything I need. I was, however, disappointed to discover that a handful of games in the Windows Store don't support Windows RT yet.
Having used Windows Phone as my primary smartphone for two years, I initially found the text correction and prediction slightly difficult to get used to. While Windows Phone has a superior virtual keyboard, the one included with Windows 8 is pretty good. Plus, being able to switch between a full keyboard, split keyboard for fast typing with two thumbs, and handwriting recognition (which is so good it's scary) was very handy.
The Surface is also my first true experience with Windows 8/RT on a touchscreen device. And boy does it impress. Windows 8 with a keyboard and mouse works very well (read the full review for more details), but a touchscreen device is where it truly shines.
Performance
As previously stated, the Surface comes with a quad-core NVIDIA Tegra 3 processor and 2GB of RAM, which is more than enough to run the apps in the Windows Store. Load times for a game like Adera are a few seconds longer on the Surface than on my 2.6GHz six-core desktop PC with 8GB of RAM, but that's completely understandable.
While performance is great most of the time, there were a few instances early on where I noticed issues with performance hiccups and frame rate issues, but they quickly passed. Thankfully, these issues seem to have disappeared post-firmware update.
Office Home and Student 2013 RT has great performance as well. The applications start up very quickly, and I never experienced any hangs, lockups, and other glitches.
Overall, Surface with Windows RT has excellent performance. The interface is fast and fluid, and it truly is a joy to use.
Keyboard & Trackpad
The Touch/Type Cover is one of the highlights of the Surface, and it delivers. The Touch Cover is shockingly thin at just 3mm, making it as easy to use as a book cover. The keys are sensitive enough that you don't have to press them very hard, but intelligent enough that you can lightly tap along with music without accidental keystrokes. After a few days of getting adjusted to it, I was able to type on it almost as fast as on my old laptop with a chiclet keyboard, although my thumbs will still occasionally miss the spacebar for some reason.
If you'd prefer a more traditional typing experience, you can pick up a slightly thicker Type Cover. This 5mm keyboard has some travel to the keys for a more traditional laptop keyboard experience, as well as a full range of function keys.
Both covers include keys for controlling media playback, as well as keys for each of the Charms: Search, Share, Devices, and Settings. These  are very handy, although I sometimes forget that they're there. The same can be said for the trackpad, which I found myself generally ignoring unless I needed finer control than could be provided with touch. The trackpad is a little on the small side, but it never really bothered me. Reverse scrolling did, however, take some getting used to.
Connectivity
Unlike some tablets, the Surface does not support cellular connections. This might be a downside for some – and it would certainly be nice to have it as an option – but I wouldn't want it even if it was offered. I don't need another charge on my monthly bill.
WiFi performance, however, has been consistently excellent. I never had to wait for it to connect to a WiFi network after resuming from sleep, and the range and signal strength is excellent. I had no trouble getting great speeds in my room, despite the notoriously bad WiFi strength.
Camera
The 1MP cameras on the Surface are decent, but I probably wouldn't use them for everyday photography. Then again, who wants to be that guy holding up a tablet to take a photo? Both the front- and rear-facing cameras are 720p HD LifeCams, and they work well enough for photos, videos, and VoIP calls. There are, however, some notable artifacts in the image quality (although thankfully, it isn't as apparent in videos).
As previously mentioned, the back-facing camera is angled so that it points straight ahead when the kickstand is out. This allows you to set the Surface down on a surface (ahem) like a desk or counter and start recording video or snapping photos. The camera timer also helps in this regard.
The biggest downside of the camera is the absence of SkyDrive integration. Yes, you can manually upload photos via the SkyDrive app or website, but Windows Phone's auto-upload feature seems to have spoiled me.
Battery Life
Earlier this week, I wrote about my experience with the Surface's battery life in the real world. Suffice to say that I'm impressed. It doesn't have a long of a battery life as some tablets on the market, but it has more than enough to get me through a whole day.
On an average day, I'll catch up on the news for about 15-20 minutes before my first class, then switch over to OneNote (either the Windows Store app or the included desktop application) to take notes during the 75-minute lecture. This is followed by a fairly long break – three hours and 15 minutes – during which I'll write articles for Pocketables, Anythingbutiphone, and Anythingbutipad; play games like Angry Birds Star Wars; watch a movie or TV shows; or read a book – all on my Surface. Then it's two back-to-back 75-minute classes, with the first one once again consisting of heavy note-taking. When it's all said and done, I usually have about 25%-40% of my battery life remaining at the end of the day, plenty for use during the evening.
When it's all said and done, the non-removable battery seems to last about 7-12 hours, depending on screen brightness and what you're doing. More often than not, it seems to come out to about one hour per 10%.
One of the most surprising things about the 31.5W-h battery is how fast it charges. I can usually take my Surface from completely dead to 50% battery life in just an hour of charging, and a full charge takes just two to two-and-a-half hours.
Conclusion
The Microsoft Surface with Windows RT is, unquestionably, the best Windows tablet on the market. Microsoft has really set the bar for all of its hardware manufacturers, hopefully paving the way for a whole slew of compelling devices in the coming months and years.
The Surface is great for entertainment, but versatile enough that it can quickly transform into a laptop-like form factor for getting work done. Some people might not like the typing experience with the Touch Cover, but that's why Microsoft also offers the Type Cover and a full-fledged USB port. More importantly, the inclusion of Office Home and Student 2013 RT is a killer feature.
In the end, it really comes down to what you want to do on your Surface. It excels at entertainment, casual gaming, web browsing, productivity, and most other common use cases, but you can't install your old Windows applications. So if you're someone who has to be able to use something like Photoshop, iTunes, or your programming environment on your tablet/laptop, the Surface might not be for you. But in that case, neither will the iPad or an Android tablet. Of course, the release of Surface with Windows 8 is only two months away, so if you want the best of both worlds you won't have to wait very long.
If these relatively minor issues don't seem like a big deal to you, then I would highly recommend the Surface with Windows RT. You won't be disappointed.
You can purchase a 32GB Surface with Windows RT from the Microsoft Store for $499.99 by itself or $599.99 with a black Touch Cover, or you can get the 64GB version with the Touch Cover for $699.99. Touch Covers (cyan, red, magenta, and white) and Type Covers are also sold separately for $119.99 and $129.99, respectively. Also, be sure to check out our dedicated Surface forum.