Accessory review: myCharge Voyage 1000 portable charger
The myCharge Voyage 1000 is a portable charger for any device that uses a microUSB input for charging.
It's small, can be carried in a pocket (it's pocketable, you might say,) and can provide your phone with the extra boost of juice you need to make an important phone call, or just survive until you can reach a wall outlet and a charger.
It contains a 1000mAh battery, meaning you'll get a charge of about 800mAh off of it, which is less than your average cell phone battery holds these days. At best, this can be considered half a charge.
In most cases, I find portable chargers to be great gifts for my friends and loved ones – who hasn't walked out the door with next to no charge on their phone, and not discovered it until the phone is in the throws of shutting down? This particular charger has its ups and downs, though, and here are a few.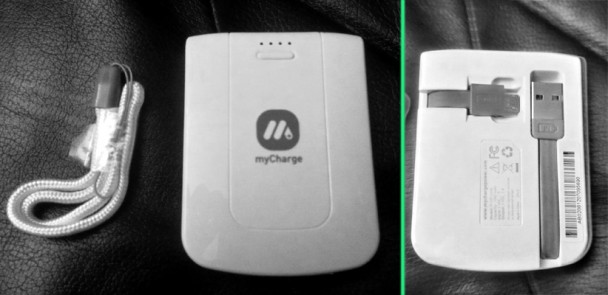 The downs:
This can only recharge via a computer/USB port. This means that, if you want to charge it in a car, you need a USB connection. Most car chargers do not provide USB ports, although you can purchase one additionally. I find that charging a portable charger in my car is what seems to happen the most in my world, so this is important.
Also, it only has microUSB-out. I carry portable chargers pretty much everywhere I go, and as such, I have friends with Blackberries and iPhones needing enough juice to get them from point to point quite often. If sharing is caring, this device isn't made for caring.
The price is also fairly high for the low mAh and lack of charging options, considering you can buy five times the battery, and a bit more the size, for the same amount.
The ups:
While the battery capacity is not a major selling point, the size is. The device is lightweight and fairly sturdy feeling.
If you're in a place where you can charge your phone and your portable charger at the same time, you can walk out with twice the charge you would have had.
It has very nice packaging.
You can get it on Amazon for about half the MSRP, which makes it a more reasonably-priced economical gift.
Conclusions:
This is a good gift for your Blackberry and Android friends who are constantly MIA for hours due to charging issues. It's probably not a great gift for your smartphone-wielding power user, though.
In can provide juice in a pinch, but not a whole lot of runtime, as some phones can eat up the charge it can provides in less than an hour.
The myCharge Voyage 1000 is available from the manufacturer for $39.99.