House of Marley Chant Bluetooth Portable Speaker review
The House of Marley Chant is a portable Bluetooth and wired speaker that is made from recycled plastic, bamboo, and reclaimed hemp and recycled plastic bottles. If your hippie cause-minded radar is going off at this point, you're on the right track.
If you're looking for the best bang for the buck Bluetooth speaker, read no further. This is not it. By purchasing this you're getting a pretty decent speaker where a large portions of the proceeds go to the 1Love Foundation. There's not a percentage given, but considering The House of Marley and 1Love are based off of the same idea, probably a significant portion.
House of Marley Chant – what's in the box
Opening up the box, you'll notice it's probably recycled cardboard, and there's a lot of it, with Bob Marley's image emblazoned on it along with five language versions of Bob's, and the House of Marley message.
Instruction manual

Mini-USB charging cable
1/8-inch to 1/8-inch audio cable for non-Bluetooth audio
Warranty information
Chant speaker
Chant fabric zip-closed speaker case
Carabiner clip for easy toting
Chant features
Bluetooth audio to about 15 feet

Six-hour playtime
Built in mic allows for use as a speakerphone
Storage pocket that claims to be for the cables
Three position switch that allows for power, pairing, and call toggles
Initial impressions
The thing looks pretty neat and portable. I initially thought the little bamboo ring was plastic, but is actually pretty well carved. The container for the speaker is cute although if you remove the speaker from it it looks sort of like a smokeless ashtray or some sort of filtration device.
There's a little Jamaican flag sewn in as a loop on the case as a finishing touch, in case the House of Marley symbol was not enough of a clue as to what the theme behind this is. The stitching seems a little uneven in places, as though it was sewn by hand, and also is evidently tri-colored thread with the colors of the Jamaican flag (colorblindness confound me).
There's a little blue or red indicator to let you know that you're connected, and charged. The audio cable is wrapped in what appears to be a hemp fabric and tied with a hemp string to prevent tangles, and also to throw more hemp into the mix.
Playing with the Chant
I took the first run at this with my trusted HTC EVO 4G LTE and was not at all impressed. Second run was with a Sony Tablet S and similarly it sounded bad. Third run with my computer and it was still terrible with audio breaking up constantly.
I took the speaker out of the fabric case and it worked fine, placed it back in and tried again on all three devices and it sounded fine on all of them. I sort of wonder if the carabiner clip might be made of something that would have impeded my Bluetooth signal but no matter what I do now the sound seems fixed, at least in that it's no longer stuttering.
You'll notice if you don't want a muffled sound you'll either need to take the speaker out of the case, or you'll need to flip the lid and fold it back to keep it out of the way. Unfortunately the carabiner clip seems to want to push the lid back up. Not a major annoyance, but it does present something else you have to set up before listening.
While taking the speaker out of the case is not difficult, it catches sometimes putting it back in, so you'd like to keep it in if possible.
The speaker gets pretty loud, but not incredibly so. It reminds of the HMDX Jam XT in terms of loudness, which is loud enough for about a medium campfire worth of people. There seems to be a constant low level hiss from the speaker; it doesn't manifest that I can hear when there's music playing, but it seems to like to make noise when it's not making noise. It sort of reminds me of the sound of an amp speaker plugged in without doing anything.
The range appears to be between 10 and 15 feet on Bluetooth before audio breakups start happening.
What the Chant got wrong
One of the more appealing thing about portable speakers is that you can bring the music at night or while camping or just when the mood is right. Unfortunately the Chat's Bluetooth indicator is on and lit up the entire time the thing is on. If you're listening to music in a tent before going to bed, you've got a nightlight. If you're sitting under the stars looking at the sky, it's an annoying apparition in your peripheral vision.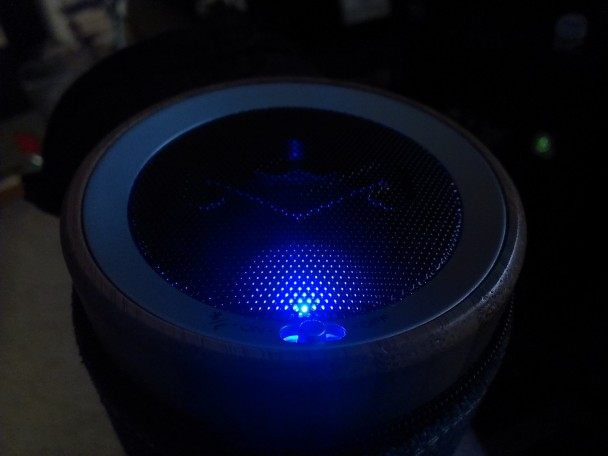 Unlike most other Bluetooth speakers with this annoying trait, there's no easy way to cover the light up as it's behind the speaker cage. Covering the speaker cage up doesn't make the sounds sound any better either.
The House of Marley Chant is mainly marketed toward the phone crowd, that being Android and iPhone. This was released when the 30-pin connector and Micro-USB were the standard for these phone, and this charges with neither of those. It uses the old Mini-USB connector, so for charging you'll need a free USB port.
The case is a work of art. The product however is designed to be taken places where art doesn't survive well. The case is not waterproof is my main concern with it, nor is it even water-deterrent as it has large holes cut into it for what I assume is the bass air-moving section of the speaker.
Wrap-up
Overall, the thing feels like it should have a price point of about $50 for the quality you're getting, throw in a few dollars for the Marley theming, but they've MSRP priced it about twice that. As stated before, if you're looking for the best bang for the buck, this isn't it.
It it, however, a great gift for the Marley fan in your life, and aesthetically it is pleasing. If you're not a serious audiophile, I think you're going to like it, and it does appear to be a good gift for students. You'll need to do your research if you want to toss the extra dollars toward the One Love Foundation.
I liked it, but it was not quite for me.
The House of Marley Chant Bluetooth Portable Audio System can be found for $85.94 from Amazon.