How to deal with faulty Sprint LTE zones on HTC Sense 4+ devices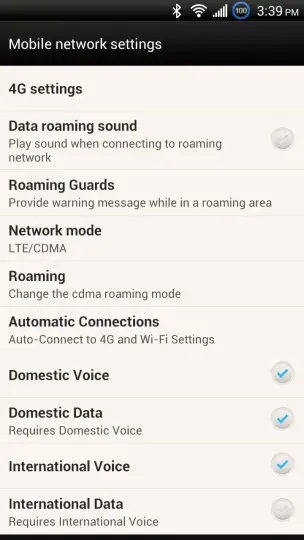 Since LTE has been deployed in my town, I've run across a couple of faulty Sprint LTE areas where I'll get a perfect LTE signal simply, but no data transfer. Perhaps they do work, but are so overloaded on the back end that the end result is a solid 4G connection with absolutely no data throughput, or speeds so slow you can't do anything.
Whatever the reason for the problem, your phone doesn't recognize that it can't do anything. It sees a perfect signal and you're dead in the water data-wise. I had this issue on my phone Saturday, while my wife and her HTC EVO 3D, playing Ingress fine on the 3G and occasional WiMAX connection. My newer and fancier EVO 4G LTE picking up an LTE signal off of a base that just didn't work couldn't even pull up a webpage, let alone hack some portals in Ingress.
Now to be fair to Sprint, the areas I was in did not have 4G the week before, so this could have just been a day of testing, but the result was dead data for me. Anyway, the temporary solution is relatively simple: turn off LTE.
Turning off LTE can be accomplished by going to Settings > Mobile data, and changing the network mode from LTE/CDMA to just CDMA. You'll be surfing on the 3G data network, which is still pretty terrible still, but at least you'll be able to use over-the-air data until you get out of a bad LTE blanket.
The same method can be used on AOSP ROMs, but it varies a bit from ROM to ROM.
Once you get back to a working LTE area, just switch it back to LTE/CDMA, and if you're feeling like it, call Sprint up and tell them their tower's not working, although chances are they know.