Own a piece of Android history with a Motorola Droid for $50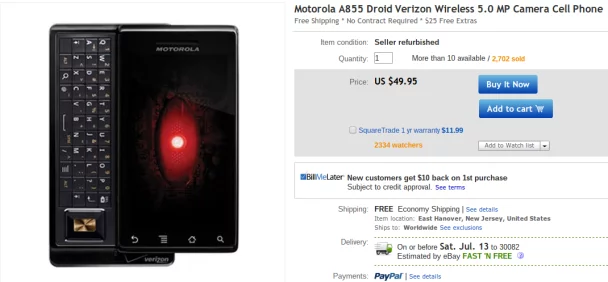 I've a lot of Android phones since the original HTC G1, but the first Android smartphone that really got me hooked was the original Motorola DROID A855, released on Verizon. Thanks to an ambitious ad campaign from Verizon, the DROID became the first Android smartphone to really gain a public following, and arguably is the device that jumpstarted Android's mainstream popularity.
As a result, the Motorola DROID enjoyed a long life and plenty of third party development, and there is even still a small but well sized community supporting the device despite its age. While it won't top any current benchmarks, the DROID 1 includes a 3.7-inch 854 x 480 display, 256MB of RAM, and a 550MHz ARM processor, which is plenty of power for a number of applications.
At the current price of $50 seller refurbished on eBay, the original DROID is almost worth a buy just for the nostalgia factor if you are an Android fan. The device includes a case and charger as well, although it won't come in the original Motorola box. In addition, such a cheap piece of Android hardware could have any number of other applications, such as controlling a DSLR or being integrated into a car stereo.
Earlier today the price was an even cheaper $40, but with the response from buyers the price has gone up to $50. Still, I've just placed an order for two of the devices, one just to have for the historic factor, and the other for some sort of project. (Perhaps I will use it instead of a more expensive Nexus 7 for my Android car project.)
Essentially, the Motorola DROID 1 is an impressive piece of hardware from the history of Android devices that can still be useful. At $50, it is quite a deal, and a pretty neat device to own regardless what you might actually need to use it for. There's no telling how long this stock will last, though, so if you want one I would suggest acting quickly.
[
eBay
]