Sprint's latest contract changes should let you out ETF-free, but good luck trying [Updated]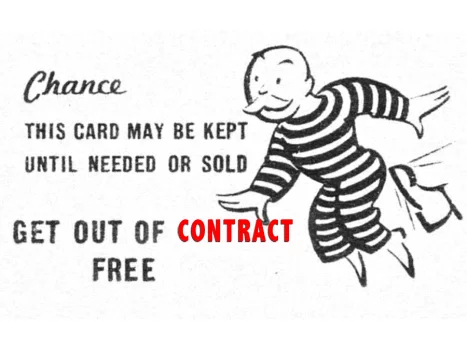 Even though the future definitely looks bright for Sprint – especially given its recent acquisition of Clearwire and future cash infusion from Softbank – many people still want out of their contracts. The grass is always greener on the other side, and lucky for those who have been waiting for a way to leave Sprint without paying the early termination fee (ETF), it seems as if an opportunity might have just presented itself.
Effective July 1, 2013, Sprint changed its postpaid contracts in a way that legally should allow anyone to leave without paying the ETF. Sprint, of course, denies that any of its changes are grounds for terminating a subscriber's contract, but many people seem to think that the law doesn't side with Sprint this time.
After combing through countless forum threads and cached Google sites that Sprint conveniently took down, along with a bit of legal investigative work of my own, I have come up with four significant changes that Sprint has implemented, each of which are grounds for cancelling your contract without being required to pay the ETF. Of course, I'm not a lawyer, and I'm not qualified to give legal advice, so you should only interpret this as my opinion – however, I strongly believe that these arguments would stand up in court, if necessary.
1. Sprint removed the right to a lawyer during arbitration.
Sprint's new contract terms state (emphasis mine): "Instead of suing in court, you and Sprint agree to arbitrate all Disputes (as defined below) on an individual, non-representative, basis." In the old contract, this section stated: "We each agree to arbitrate all Disputes between us, on an individual basis, not on a class-wide or consolidated basis."
The addition of the word "non-representative" seems to imply that you are not allowed to have a lawyer represent you during arbitration with Sprint. In other words, by agreeing to the new terms, you effectively waive your right in the future to an attorney.
2. Sprint can now disconnect phone calls at whim.
Sprint added this sentence to the new contract: "Call time for a single call may be subject to a maximum duration and may be automatically terminated if the maximum duration is exceeded." This sentence didn't exist anywhere, in any form, in the previous terms. In effect, it allows Sprint to terminate any call it wants, purely at its whim, and cite the excuse that it exceeded a "maximum duration" that Sprint doesn't define anywhere else in the contract. This seems incompatible with the "unlimited" plans that Sprint advertises so heavily – if you signed up for service that was advertised as unlimited, and Sprint can now disconnect calls at its whim, this seems like a good reason to leave without paying an ETF.
3. Sprint can now change your rate plan to whatever it wants.
Sprint also added another new sentence in the new contract, which (again) doesn't appear anywhere in the old one: "If you lose your eligibility for a particular rate plan or if a particular rate plan is no longer supported or available, we may change your rate plan to one for which you qualify."
This in effect gives Sprint the right to change pricing, with absolutely no grandfathering clause. At any time, for any reason, Sprint can decide that you are no longer eligible for a particular rate plan. Alternately, it can decide to simply no longer support unlimited data. Since Sprint has taken away the option to grandfather your existing rate plan, this seems to be as good a reason as any to cancel without an ETF. (On a side note, could this be Sprint preparing to finally do away with unlimited data on smartphones?)
4. Sprint can call you anywhere, at any time, using auto-dialers.
Finally, Sprint added an entirely new paragraph called, "Contacting You Regarding Billing and Collections." Here it is, in its entirety:
You expressly authorize, and specifically consent to allowing Sprint and any of Sprint's agents to contact you in connection with any and all matters relating to unpaid past due charges you owe Sprint. You agree that, for attempts to collect unpaid past due charges, Sprint and any of its agents may contact you at any mailing address, telephone number, cellular phone number, email address, or any other electronic address that you have provided, or may in the future provide, to Sprint. You agree and acknowledge that any e-mail address or any other electronic address that you provide to Sprint is your private address and is not accessible to unauthorized third parties. For attempts to collect unpaid charges, you agree that in addition to individual persons attempting to communicate directly with you, any type of contact described above may be made using, among other methods, pre-recorded or artificial voice messages delivered by an automatic telephone dialing system, pre-set e-mail messages delivered by an automatic e-mailing system, or any other pre-set electronic messages delivered by any other automatic electronic messaging system.
The most concerning portion of this new section is that you are agreeing to be contacted by "automatic telephone dialing systems" and "pre-recorded or artificial voice messages." You are also agreeing to be contacted at absolutely any address, phone number, or email address you have ever provided to Sprint in the past – ever.
Since Sprint obtains your credit report when you start service, and this clause involves debt collection, it is actually illegal for Sprint to do this: under the Fair Debt Collection Practices Act of 1977, Sprint is a debt collector. And according to the Federal Trade Commission, "A debt collector may not contact you at inconvenient times or places, such as before 8 in the morning or after 9 at night, unless you agree to it. And collectors may not contact you at work if they're told (orally or in writing) that you're not allowed to get calls there."
Additionally, the Telephone Consumer Protection Act of 1991 protects people from being contacted over the phone by auto-dialers unless they specifically agree to it.
So, will Sprint let you out of your contract for free?
Probably not. After all, it wants to keep squeezing every penny out of you that it can, so it most likely will make it as hard as possible for you to quit. Some lawyers have even suggested sending certified letters to Sprint explaining your intent to cancel, and disputing the early termination fee in arbitration or in small claims court. As with all things of this nature, your mileage may vary, even though it seems like the law sides with you.
Full disclosure: I'm attempting to get out of my contract using these changes. So far, I've been unsuccessful, although I've made some headway and am waiting to hear back about my individual situation. Many other people have been rejected over the phone and have given up on trying to cancel their service.
If you are successful at getting out of your Sprint contract, let us know what methods you used! If not, share your story anyway, and let us know what your next steps will be. Just remember that ultimately Sprint is not acting in the best interest of consumers, and you are justified in your attempts to cancel your service without incurring any extra charges. You are standing up for your rights as a consumer, and if you have enough time, willingness, and determination, you can win this battle – even if it means getting the BBB, FCC, or FTC involved, or even ending up in the legal system.
[
Sprint
|
Diff Checker
| SlickDeals: 
1
,
2
 |
FTC
]
Updated 7/12/13: Sprint sent Pocketables the following message regarding these contract changes:
Sprint made some changes to its Terms and Conditions, effective July 2013, which clarified its practices related to collections and arbitration and removed provisions unique to its iDEN services. Sprint does not view the changes as material changes that would warrant early termination fee waivers. As always, customers are free to contact Sprint to discuss issues, including those related to their unique Service Agreement with Sprint,  so we can work with them to resolve any service or account-related issues.