Sprint announces LTE coverage in 34 more markets across ten states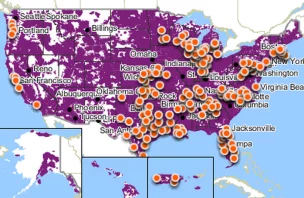 Early this morning, Sprint announced that its 4G LTE network buildout has progressed, with coverage now available in 34 new markets in ten different states: Louisiana, Michigan, Texas, Alabama, Pennsylvania, Oklahoma, Wisconsin, Georgia, Oregon, and North Carolina. Here's the full list of cities that can enjoy all the LTE goodness that Sprint can offer:
Alexandria, LA
Allegan, MI
Amarillo, TX
Anniston/Oxford, AL
Bay City, MI
Beaumont/Port Arthur, TX
Bedford, PA
Corpus Christi, TX
Del Rio, TX
Enid, OK
Fort Atkinson, WI
Greenville, MS
Houma/Bayou Cane/Thibodaux, LA
Juniata and Mifflin counties, PA
Kinston, NC
Lake Charles, LA
Lawton, OK
Longview, TX
Lufkin, TX
Lumberton, NC
Macon, GA
Marshfield/Wisconsin Rapids, WI
Midland, TX
Monroe, MI
Montgomery, AL
Muskogee, OK
Oklahoma City, OK
Ruston, LA
Salem, OR
San Angelo, TX
Sheboygan, WI
Stillwater, OK
Victoria, TX
Whitewater, WI
Sprint says that its LTE service is now live in 185 markets across the US, although one glaring problem remains: Sprint's 4G markets tend to be located in rural areas, while people in major metropolitan areas are still waiting. By comparison, T-Mobile's 4G LTE network is now live in only 154 markets, but T-Mobile's focus on big cities allows it to brag that over 180 million people are now covered with its LTE.
Instead of a pure market count, I'd like Sprint to release some numbers on total POPs that are covered with LTE. That would be a bit more revealing – who's with me?
[
Sprint
]