Bakbone Tablet Ring review
The Bakbone is a magnetic detachable device used to securely hold a tablet with one hand, and in a pinch – if installed properly – can provide a makeshift kickstand for viewing or typing, although it's not at a particularly great angle.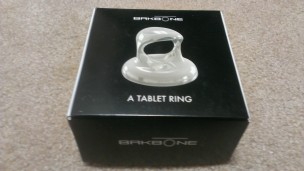 When I saw this ring thing, I first wondered if, before it would do me any good, I would have to stick it in a lantern and chant "in brightest day, in darkest night, no evil shall escape my sight…" but there was no call for that it seemed. The Bakbone is two things, a magnetic disk that adheres to the case or body of a tablet, and a ring that magnetically attaches to the disk.
Under normal holding, the disk and ring will stay together; a little extra force, and the tablet pops out. I don't know exactly how much force is required, but it isn't going to slip out very easily unless you've got an absurdly heavy tablet.
This product is extremely useful for people who use a tablet on a regular basis to take notes, jot down orders, walk with a tablet in front of them, or have kids. It allows for formerly extreme viewing angles as you can now view straight on without the tablet falling out of your one hand. It also frees you up from having to have a death grip on the thing.
I had seen something similar at CES 2013 that destroyed the magnetic compass on whatever it was attached to, so I went into this with a compass app running to see if there would be any interference on my daughter's iPad 2. The results seemed to be that, if I was moving the base around, the compass would become off for a second, but as long as the base and the ring were attached there were no issues.
I could also power the screen off by waving the ring over a portion of the screen which was fun for about five seconds.
The Bakbone ring itself feels sturdy, and for what it does, I don't see how you could get much better of a product other than perhaps making a separate wall mount of kickstand attachment that hooks into the base that's on the tablet.
The only place this fails, I feel, is the price. It is about in the range of a cheap case that has a hand strap, but it is pretty good if you've got your dream case, or lack thereof.
Installation involves wiping down the ara you're installing with an included alcohol swab, removing a sticker, and then pressing the Bakbone into the case. You'll need to leave it be for a while before the adhesive fully sets, but can use it with vigor by the next day.
The Bakbone is available on Amazon for $29.95, and although marketed towards iUsers there, there's nothing Apple-specific about it.