TactSlider Touch Screen Game Controller review
If you don't play first person shooters on your tablet or phone because you never quite got the hang of keeping your thumb in the right spot, the TactSlider Touch Screen Game Controller might be something to bring you into tablet or phone FPS gaming.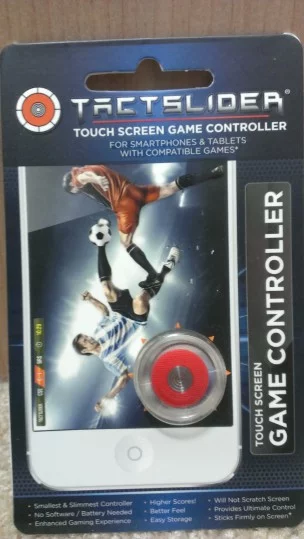 I never realized how much I just turn off at FPS games on my Androids and iPad until I got a chance to play with the TactSlider during the International Consumer Electronics Showcase last month. Since getting a TactSlider, I now know where my thumb is and there are no more incidents of pressing left when I meant to press the direction that would have saved me.
The TactSlider is basically a little press-on joystick that gives you tactile feedback and it's like having a real control in your hands, which is something that my devices have been sorely lacking. If I didn't have an external controller like a Wiimote attached, games just were not fun. Partially this could be due to sweaty thumbs while playing intense games, but I think it's mostly just due to having grown up on a series of tactile response controllers. Your experience may vary.
The TactSlider also includes a little carrying case that you can slap on the back of your tablet or phone for easy carrying.
The TactSlider lists that it's for all models of iPhone and several Galaxy variants, but it appears to work on anything I've played with. Amazon also lists it as "all smartphones and tablets," so I think you're probably safe with whatever you have.
I was about to say the TactSlider isn't a game changer, but actually it literally is. It took what frustrated me most about portable gaming and mostly fixed it, and for that I'm pretty glad. The only continuation I can think of in this vein would be to have little press-on buttons for some of the other controls.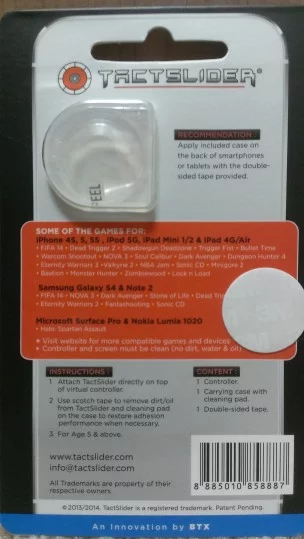 The TactSlider also only works with games that have a similar layout to the thumbpad, so do be aware it doesn't work on everything at every screen size, but as most thumb layouts for controls are about the same it works on most things as far as I can tell.
The only downside to the TactSlider that I can see is the price. Coming in at nearly $20, it's about the price of a wired game controller, and you only get one so if you lose the piece the size of a quarter, you're just out of luck.
If you're into tablet or phone FPS gaming though, you probably need one of these or something similar.
I'll point out that while I experienced no issues with my tablets or phones, there are some people reporting on Amazon that the button slides out of the way but not mentioning the make or model of the tablets to let other people know. So if your screen type doesn't work well with this, make sure to return it and let people know what device it doesn't work on.
The TactSlider Touch Screen Game Controller is available from Amazon for $19.99, and it's almost worth that price to me.