A day on a Google Play Edition M8 ROM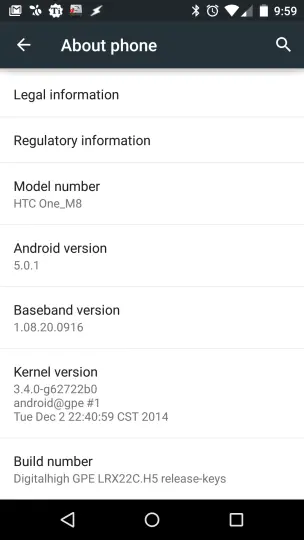 This is a story about Paul switching from Sense on his HTC One M8 to the Google Play Edition and his first day on a GPE conversion ROM. If you're running GPE or have played with Lollipop, you can skip it.
As many of you know, I had more ROMs on my EVOs than you could shake a stick at, but my flashaholism sort of fell off with the HTC One M8. This was mostly due to what I liked in the custom ROM world was doable via Xposed or aftermarket mods, and I really liked the ROM I was on.
Combine that with the huge time-consuming HTC One M8 nandroid backups I was creating (10-15 minutes a pop) a baby who demanded attention during daddy's phone time, and inertia, and what you have is I didn't really feel the pressing need to try something new, until Android L.
One of the biggest reasons I didn't play around with one of the Google Play Edition conversion ROMs was because I thought there would be no HTC Camera (that's one thing HTC has consistently gotten right, and it's been a reason to stick with Sense up until now). Fortunately this is almost not the case any more (the GPE ROM I'm using works with the Sense cam, just don't seem to save the pictures yet). So I decided to make the jump since we're within spitting distance of the goal.
And what can I say… Android L is great, the phone feels like a better phone, and the smoothness even with all my junk loaded back onto the device makes it function like a much newer device. I'm having to use the Google Camera for now, but it's gotten better than I remember it being.
Quick update here, evidently the Sense camera is saving pictures… I just don't know how to see them as the gallery doesn't seem to want to work for me.
The conversion
I went about things in the normal fashion, downloaded Digitalhigh's Multicarrier GPE ROM, Titanium Backup, Titanium create update.zip, full nandroid backup, wipe, install using stock settings except for the ad blocker file the ROM came with, didn't use the carrier agnostic firmware, and go, post install I flashed the update.zip to get Titanium up and waiting for me when I booted up, and go.
ROM booted smoothly, I breezed through the initial setup, used Titanium to restore my common apps, and spent about half an hour configuring and playing with the ROM. A quick reboot to get cf.lumen working again turned into a non-booting phone. It wasn't the ROM or cf.lumen's issue, I'd restored some data that didn't play nicely with Android L.
Wipe, reinstall, restore everything except what was causing the problem, and moved on.
The benchmarkery
Right off the bat I started benchmarking what a stock GPE ROM would do, and from what I can tell it's about 10% more in Quadrant and AnTuTu scores, but those really don't define the user experience and fall a bit short of what it feels like.
Overall the responsiveness on a stock 5.0.1 feels about 20% better than a stock Sense 4.4.4.
The profound feeling of loss of Dalvik
With the loss of Dalvik, I lost Xposed. Now this wasn't horrible because I only used it for a couple of things, but I did miss a couple of mods that I'd previously employed. I moved on though.
Things lightly experimented with
One of the things with Android L is the ability to have OK Google functionality with the screen off. It only works on certain devices, and evidently the HTC One M8 is either not one or it's not part of the functionality of the ROM I'm using yet. Not a biggie.
I couldn't find any apps I had that didn't work with the ART runtime… considering how long we've known that ART was coming I guess people had time to get that ready. The only thing I did notice was Words With Friends seemed to be a little sluggish initially.
Notification prioritization is a thing… I can see it being useful, but at the moment I'm a bit too tied to four jobs that I can't afford to snooze the main offenders. I'm going to see if I can get it set up so I don't have to worry that I'll miss something important, but I'm not there yet.
Screen pinning allows you to lock a kid, friend, or baby into an app. Useful for when you're handing over your digital life to keep prying little hands out of sending out random texts.
Guest mode is useful over the holidays to let a kid run wild with a phone playing games and trashing the setup.
Trusted devices allows you to bypass a lock screen if your device is near a bluetooth or tapped on an NFC tag.
Rebooting the phone doesn't clear the last-accessed apps. Many of them will pick right up where you left off, some will just re-load the application. Pretty important to remember if you're attempting to get rid of something from your recent applications list, you'll need to close it, go to recent applications, and swipe it away.
There's a Flappy Bird clone built into the thing. After four minutes I had not cleared one set of lollipops.
A profound and overall feeling of loss?
Other than the gallery not working correctly on the Sense camera (and I read that Zoe's broken, but I don't use it) I'm not feeling like there's anything that the phone doesn't do properly now. Nothing that actually prevents me from using Digitalhigh's GPE conversion as my ROM of choice now.
While the rest of the HTC One M8 Sense world is waiting for Sense and 5.0.1 to be released sometime between now and Feb, if you're willing to take a conversion plunge, the waters are nice in the GPE pool. Plus it doesn't look like it'll be a pain going back.
I haven't been able to get a good sense on battery life as I've had the thing screen-on and playing with it for a solid day, but it doesn't appear to be struggling.
If you've previously taken the plunge from Sense to GPE, let us know some interesting things you've found.