1byone Bluetooth Sport Earphones review
We've got a contest running currently to win a pair of 1byone Bluetooth Sport Earphones, so make sure and enter if you're interested. Enter even if you're not interested so we can end the contest early!
The 1byone Bluetooth Sport Earphones are a Bluetooth 4.1, APT-X, HD, sport headset and microphone that touts a seven hour battery life and claim to be the most reliable BT connectivity available.
1byone Bluetooth Sport Earphone specs
Battery: ~7 hours, level indicator for iOS
Bluetooth: 4.1, apt-X, 6th gen CVC tech, pairs to two phones
Shipping weight: 7.2 oz
Fit: three sizes of earbuds and ear hooks
Wear: back of head, clip to tighten
Charge: Micro USB (cable included)
Package contents
Earphones
6x ear gels
6x Ear hooks
Plush bag for storage
Instruction manual
USB to MicroUSB cable
Starting up
The unit can pair to two phones. Pairing is initiated by simply holding down the power (center button) for about five seconds. To pair a second phone you do the same. Pair again and you lose the pairing with the first phone. It's pretty simple but lacks the ease of NFC pairing.
The earbuds and hooks were the right size for my ears so I was set to start with. The only thing that had to be adjusted was the ear hook angle and the clip was set for a significantly smaller head than my ginormous noggin.
Initial impressions of the 1byone Bluetooth Sport Earphones
Near perfect fit, I'll note though that what fits my ears may not work for yours. Reading other reviews these fatigue some people's ears. Not had that happen however we're dealing with a two-day test.
The volume is just about right for me when I'm trying to blast it. This is something I generally have a problem with in Bluetooth headsets. This is aided by the correct fit causing some outside noise cancellation and a good seal, so it may just be that.
Earphones are a bit large (stick out far.) I'm not sure this is going to make much of a difference as they're pretty light and don't seem to bounce when you've got them in right. I tried headbanging to some John Denver, yes, really stop laughing, I needed a test. The weight of the earphones didn't seem to make a difference. I do notice when doing said headbanging that I hear the cable on the back of my neck moving slightly. I also notice that I'm not 24 any more.
Playing audio from my phone located anywhere on my body sounded good. No back pocket vs front pocket Bluetooth dropouts. Audio sounds as good as I expect a a compressed audio file to sound. Need to test further with FLACs and see how those roll.
Flipping open the charging port is very easy. A little too easy actually and has me looking for what the IP rating on these are. I'll post if I can find it.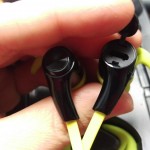 Above: charging
Raised rubber controls are easy to feel, although rather than making one of the controls have a bump or something they dug the control indicator in where you can't feel it. This makes it kind of a guessing game whether your finger's on the power or one of the volume/track buttons. You will, however, memorize what is right after one use (vol up nearest ear, power middle, vol down furthest away).
On to the bad
I generally don't bother posting microphone reviews because I'm on Sprint and, really, audio is bad enough to begin with on Sprint so nothing gets a fair shot, but I got a call from a friend of mine who asked if I was in trouble.
I asked why and she mentioned it sounded like I was whispering through a gag. I turned off the headset audio, continued on the phone and everything was fine. She mentioned it was really bad so I decided to test it on my work's phone system.
I called and left a message starting with the phone audio normal, then the headphones with the mic in front (worn backwards,) then the 1byone Bluetooth Sport Earphones worn correctly (mic behind ear).
The results were a meh but ok phone call on the M9/Sprint, very muffled when worn with wires running in front of my face, and my work's voicemail actually cut me off when recording in correct position because it couldn't hear anything.
Not a fan of the microphone. May just be mine as I see no reviews about this elsewhere. We'll get onto my beef with some other reviews in a minute, don't worry.
Bluetooth range was also noticeably not amazing. I got about 14 feet away from the phone before it started breaking up. Now, a sport headset generally isn't designed to be that far away from the phone, but as they claim it's the best Bluetooth connection, no. Just something to think about.
For those of you who wear the band over your ear, which reduces jogging bounce and keeps the cord off of your neck, I couldn't get the side with the controls to play nice. I tried it a bit, but it didn't want to fit my ear for over-ear hang.
Comparison to some other reviews
Doing some research trying to find some specs on this have lead me to one other review that had problems with music cutting out at the beginning of each song.
I personally didn't, however I did notice when walking away from the base that I could hear it switching codecs or something as the further I walked there would be a little pause, music would resume and sound slightly different.
It appeared to cut out for a second when making a phone call, however I could not duplicate the cutout and I don't know whether this was from the headset or the phone.
Other reviews in general
I don't think they're buying reviews on Amazon, but page one of the reviews contains ten reviews of which nine were either given for a review or highly discounted for a review. Page two was seven out of ten. Page three of reviews was entirely discounts and free product. Page four is ten free/discounted reviews, etc.
I counted five people who didn't claim to have gotten them for a discount or free. I'll note however, those five people seemed to like the things still.
As such, considering I don't give much credence to anyone who reviews something on Amazon 5 stars and got it free, I'd say look out for review stuffing.
As a sidenote, yes, I got these free, and they are running a contest through us. Yes you can trust me because I say you can so there.
Companies give these away to review so that people know the product is out there. Unfortunately this leads many Amazon reviewers to giving a five star review for fear of not getting more free stuff.
Things I was asked to check
Buttons are easy to find, you'll get what's what after one use. Raised rubber over smooth plastic. Music and Volume control are shared on a three-button multifunction pad. Vol up if you just press the button, next track if you hold for two seconds.
There is no accompanying software, so text to voice only will work if your messaging client currently supports it or you get a third party software to read texts to you.
Battery life I did a five hour stint and had no issues, supposedly is a seven hour life but it'll be overnight before I get a chance to test the actual time as I've been having to move around too much today and make too many phone calls.
Fit feels fine. Ears grew a bit weary around the four hour mark, I'll note that I don't generally have earphones in that long before they start bugging me.
Overall
No problems in the role of a sport music player. No problems as a music playing earphone at all. Problems with the microphone which may be specific to my experience, I couldn't use this to talk through though.
Relatively short distance from base before audio cuts out (most of my headsets seem to get about 5-8 more feet). Probably not an issue for workouts, but for working around the shop might be a pain.
Sound reproduction seems great, although my source material is usually 320k CD rips I made several years ago, and I can hear the dull rubber effect of the MP3 encoding.
I've had bad, average, better than average, and amazing headsets in my days with Pocketables, these are better than average, but they're not amazing. As we do the five star scale here where 5 is amazing, 4 is good, 3 is better than average, 2 is meh, 1 is hell no, these sit at around a 3/3.5 in my book.
The 1byone Bluetooth Sport Earphones are available from Amazon for $42.99