Ventev's response to my rq600 review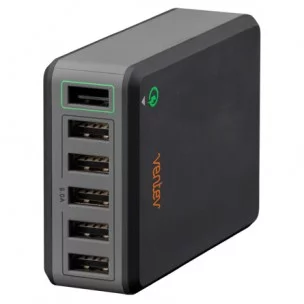 I did a so/so review of the Ventev RQ600 they provided me, truth be told I was not bowled over as I had basically the same charger (albeit five-port, not six,) with dual Qualcomm Quick Charge ports and a lower price point, and my review reflected that. Also due to lack of sleep I think anything I write these days seems like I'm down on it.
In short, I wrote that it was good, a little overpriced compared to what you can find, no reason the average person would not like it, quality build.
I did not call it the Hitler of chargers. (Not that they're claiming I did).
They responded to my review with an email, not mean mind you, but I thought "hey, they gave me the thing to review, I'll let them get a little bit of a say." Especially since I was slightly incorrect in how I said it would charge under max load.
Can you tell that lack of sleep has me finding things I can cut and paste?
From Ventev
"Thanks for your review. We are big fans of Quick Charge, too, and we wanted to shed some light on how the rq600 will work in different charging schemes.
As noted by the green logo, the Quick Charge port always receives dedicated power. The other five ports will automatically detect what a device needs and supply each with up to 2.4A. That amount should be enough to satisfy most devices, since they only pull max amperage until their batteries reach 60-85 percent; after that, the amperage drops off. Case in point: the iPhone 6 pulls more than 1A until it reaches 10 percent charge. After that, it charges at 1A until it reaches 85 percent charge. 
The rq600 is designed to give as many devices their max power as possible. If you plug in five dead-as-a-doornail iPads, the charger will give three of them 2.4A – their max amperage – and split the remaining 800mAh between the other two iPads. 
As the three max-charging iPads hit 80 percent, their amperage draw will drop to around 1A. When those ports drop amperage, the other two pick it up – increasing charging rates of the remaining two iPads from 800mAh to 2.4A. This allows the fourth and fifth iPad to "catch up" with the other three. They won't all be finished charging at the same time, but it won't take 10 hours to charge all five (about five hours for a full charge is typical). 
As you pointed out, this is not a typical situation. Your case – families using the hub to charge various devices – is what we had in mind when we created this product. 
But the one use case that's not really possible right now is the idea of having multiple Quick Charge phones to quick charge. The rq600 only supports one Quick Charge port. Plugging in a Quick Charge compatible phone to a non-Quick Charge port will result in charging at 1.8A/5v. Most Apple phones only charge around 1A, and Android phones without Quick Charge typically charge at 1.8A maximum. The exception is the Apple iPhone 6/S Plus that can draw up to 2A, but they only do it for a very short time. So at the moment, it's possible to create this scenario with mobile phones that demand more power than the hub can supply, but it isn't likely and it wouldn't draw more power than the hub can supply for longer than a short time. There are a few power hungry phones like the Nexuses and Lumia Type C phones, but using those with an A-C cable (which is what you'd need to plug into the rq600) will limit amperage to 1.5A anyway because of the Type-C legacy charging specification."