Fitbit Blaze Smart Fitness Watch Review
It's pretty popular these days to be down on smart watches. Android Wear 2.0 is delayed. Lenovorola has no public plans to make additional watches. Apple Watch sales have been a disappointment. But I'm bullish on smartwatches. I personally wear a Huawei Watch and an OG Moto 360 and I recently reviewed the Casio Android Wear watch. My wife has an Asus ZenWatch 2, my son a Moto 360, and my daughter an Apple Watch. My point is, smart watches are a "thing" in my family. So I was pretty excited to get a chance to test the "fitness" smart watch, the Fitbit Blaze. It's not exactly like the other watches I've used. It's better in some ways, worse in others, but the overall package is enjoyable to use.
DESIGN
The Fitbit Blaze is definitely a departure from what I expect out of smart watch design. I'm pretty partial to round smart watches – the Huawei watch is probably my favorite. I like metal bands, or leather bands, upscale looking bands, and I like to be able to wear my watches anywhere without looking like a total dork. The Fitbit Blaze as provifded to us doesn't meet those criteria. It shipped with a plastic textured band (black, in my case) and a black frame. It's squarish with weird angles and screams "tech nerd" to anyone that sees it. But it works, somehow. It manages to be different enough but familiar enough to look good. It has a similar vibe to the original LG G Watch but is a bit more stylish.
The watch is actually composed of three parts. There's the band, there's the cradle, and the there's the actual FitBit. The unit that I was provided for review was all black with a rubbery plastic band. It's not the prettiest configuration but there are plenty of other options available from FitBit and third parties. I ended up replacing the band and cradle with a third party set from Amazon that has a stainless steel Milanese loop band with a matching cradle. It only cost me $15 and I think the difference is striking.
The actual FitBit pops out of the cradle easily which makes it simple to change bands. That brings me to what's probably the worst part about the Blaze – charging it. You have to actually remove the FitBit from it's band in order to charge it. The included charger is a sort of open box that snaps shut around the FitBit in order to make contact with the charging pins. There's no way to fit the charger on the Blaze while it is installed in a band. FitBit would have been better served to use a magnetic charging solution like Huawei or Apple used on their watches.
The Blaze is lightweight and easy to wear. Other smart watches I've used have been heavy and bulky but I never felt that way about the Blaze.
FEATURES
The Blaze makes an attempt to be a smart watch but it mostly misses the mark. The Blaze can display notifications from your phone but there's no way to interact with them. You can't even dismiss them individually – there's only a clear all option. I found notifications to be more annoying than useful and turned them off after a few days of testing. There are several faces to choose from on the watch. Most of them are pretty basic – showing you the time and key measurements like heart rate and steps taken. There's no option to add additional watch faces, which is something that would be nice to have.
The Blaze excels in what is FitBit's traditional strength – health tracking. The step counter is the most accurate I've used. It bests any watch or phone or step counter that I've used. It's nice to know that I can spend all day walking around EPCOT and actually get credit for the steps I took. Depending on your settings, the Blaze can give you friendly reminders every hour to get up and move. FitBit breaks down your step goal into hourly chunks which is nice.
The Blaze supports exercise tracking like running, biking, weight lifting, etc. You'll need to tell the watch when you are beginning an exercise and then it will track your measurements for that specific activity. At the end of the activity you're presented with a nice summary of your heart rate, distance traveled, etc. depending on what activity you were doing. The whole system works well.
Other than step and activity tracking the other headline feature of the Blaze is the always on heart rate tracker. The Blaze uses your pulse to help with sleep and activity tracking as well as calorie burn calculation. The readings are pretty accurate. I did some comparisons with other heart rate monitors and found the Blaze to be within a few beats/minute of all of them – even a nurse's readings. Of course I'm not a doctor or nurse so I can't say with any real authority but I believe the Blaze's heart rate monitor to be pretty accurate.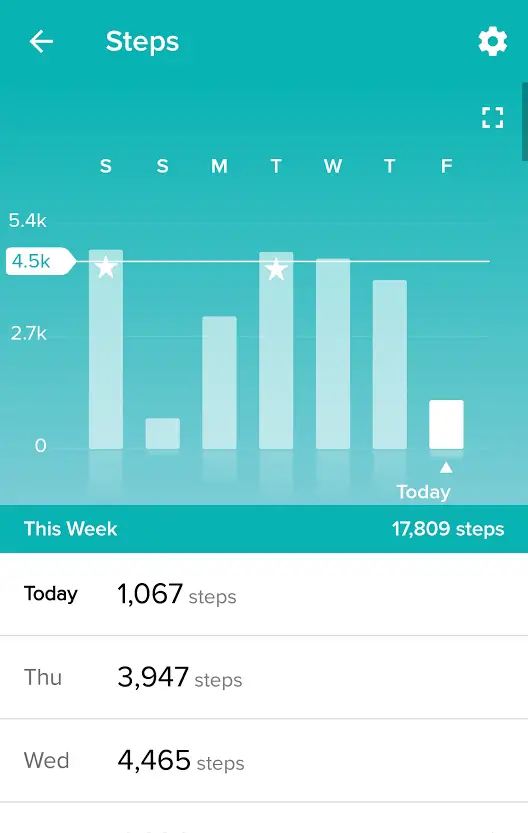 One of my favorite things that the Blaze does is sleep tracking. Through a combination of technology and magic the Blaze will tell me how many hours I slept, how fitful my sleep was, and how many times I awoke during the night. It seems amazingly accurate. Since I've been wearing the Blaze I've made a conscious effort to up my sleep time and it's worked. Just having this information readily available has made a difference for me.
At the end of the day you'll see how many steps you took, how far you walked, the number of flights of stairs you climbed, your activity rate, calories burned, and more. The FitBit app takes the data from the Blaze and collects and organizes it nicely. Your history is easily accessible. Overall, the app is well done. It's responsive and has given me zero issues. I do wish there was Google Fit integration. It would be nice to have all of my data in one place.
CONCLUSION
I really like the Blaze. It's a nice change of pace from Android Wear or the Apple Watch. It's not a great smart watch but it is a very nice fitness tracker. Notification support has a long way to go – hopefully the recent Vector and Pebble acquisitions will improve this in future versions. The health tracking features are really well done, however, and have kept the Blaze on my wrist for the last month. It's available for $200 from Amazon and is worth a look for wearables fans. It's a nice change of pace from Android Wear and a fine fitness tracker.