BLU R1 PLUS Budget Phone Review – Good But Is It Good Enough?
BLU is no stranger to us at Pocketables. The Miami-based company makes its living selling unlocked phones through outlets like Amazon and Best Buy. Their hallmark is making budget-friendly phones that provide value with their build quality and materials. They are continuing this tradition with the $160 BLU R1 PLUS. It's a budget phone and a follow-up to last year's BLU R1 HD, a decent phone which can be had for as little as $59 from Amazon. The R1 PLUS is unlocked and ready for use on any GSM carrier.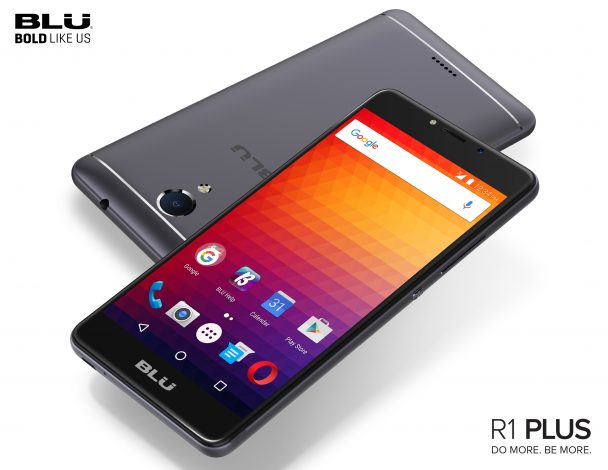 DESIGN
The R1 PLUS is no flagship phone. It doesn't rise to the level of the Moto G5 Plus or even BLU's Life One X2 Mini. But it is actually a decent phone. It's rocking a 5.5 inch 1280×720 LCD screen. That resolution isn't super but it is surprisingly OK even though it rings in at only 267 ppi. The glass covering the LCD is slightly curved/rounded at the edges. The back of the phone is covered by a removable metal shell. It's nicely rounded and feels really good in the hand. Continuing the round theme, all four corners are rounded off. There are no sharp edges to dig into your palm. The power button and volume rocker are both on the right side of the phone and are very easily distinguishable. They're satisfyingly clicky with just the right amount of travel and resistance.
The phone is available in one color right now – gunmetal grey. There's really nothing outstanding about the look of the phone but the overall effect of the rounded edges everywhere and the marriage of metal and glass is pleasing. The phone is slightly thick at 10.5 mm but not alarmingly so. Much of that thickness is due to the massive 4,000 mAh battery. I was initially surprised at how much I liked the look of the phone but after showing it around a bit I've found that others like it too.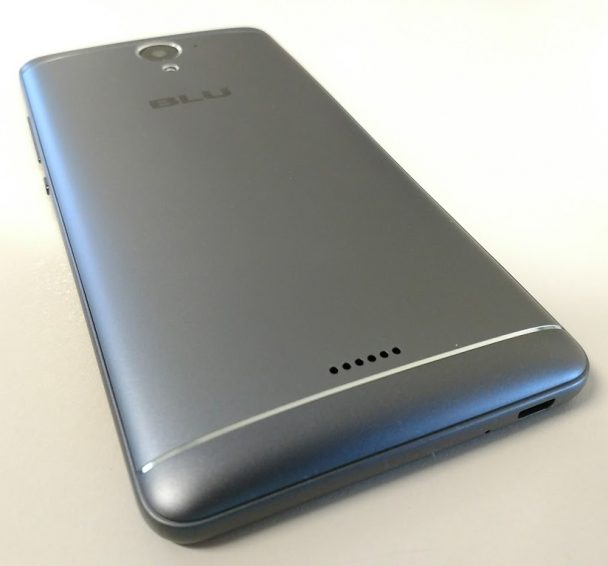 PERFORMANCE
The R1 PLUS is powered by a MediaTek 6737 quad-core CPU running at 1.3 GHz and a Mali T720 GPU. It has 3 GB RAM and 32 GB internal storage which is a pleasant surprise. The phone is running a very vanilla build of Android 6.0. It's really nice to see phones like this dialing back on the OS customization. Just don't ever expect to see an update for this phone. It'll likely sit at 6.0 for its entire lifespan.
As with just about every recent MediaTek phone I've used, performance is good for day-to-day tasks like messaging and browsing. Things fall apart a bit when you turn your hand to gaming, however. This is definitely no beast of a phone. It scored 1606 on the Geekbench 4 multi-core CPU benchmark test and 954 on the GPU test. That puts it somewhere in Galaxy S4 or Nexus 5 territory. That's not horrible for what this phone costs you but you need to know going in that it isn't a powerhouse device.
The screen and processor sacrifices pay dividends when it comes to battery life. The R1 PLUS seems to last forever. I get 2 days of use out of the phone easily. There just aren't that many pixels to push and one area that MediaTek does thrive is power efficiency. Add to that the massive 4,000 mAh battery and you've got a confluence of circumstances lend themselves to excellent battery life.
CAMERA
There's not too much to say about the camera. The main camera has a 13 MP sensor and the front is 5 MP. The front camera does have an LED flash which is a nicety. Photos are only average in good lighting and poor in low-light situations. The camera sometimes has a difficult time focusing resulting in really blurry shots. Pictures tend to look a little washed-out. It'll do fine for most Facebook, Instagram, and Snapchat pics but don't count on anything spectacular.
This slideshow requires JavaScript.
VALUE
Value is an area where BLU typically excels. As usual, they include everything that you'll need to get started enjoying your phone. The R1 PLUS is packaged with a screen protector, TPU case, charger and micro-USB cable, SIM adapter (the phone accepts micro SIMs), and guitar pick for opening the back. The phone is priced low, too, at only $160. The thing is, though, that the excellent BLU Life ONE X2 Mini can be had for only $20 more. The Life ONE X2 Mini has better specs across the board (except for battery size and screen size) with a Full HD screen, fingerprint reader, Qualcomm CPU, Quick Charge 3.0, etc. Unless you are really strapped for cash, I just can't see choosing the R1 PLUS over the Life One X2 Mini. Maybe it would make more sense to price this phone at $140 to provide a little differentiation.
CONCLUSION
I actually like the BLU R1 PLUS. I think it's a fine phone for buyers on a budget or for children and teens. I thought I'd hate the relatively low-res screen but in practical usage it didn't bother me at all. I think at this point people buying sub $200 phones should have properly set expectations. You won't get a phone that rivals the Galaxy S8 or iPhone 7 but there is some value to be had. For $160 you get a decent phone that will last all day and more. Yet, it's hard to recommend this phone over something like the $180 Life ONE X2 Mini unless you just must have that larger screen and bigger battery or just don't want to spend any more than necessary.
SPECS
| | |
| --- | --- |
| CPU | MediaTek 6737 1.3 GHz Quad Core |
| GPU | Mali T720 |
| RAM | 3 GB |
| Internal Storage | 32 GB |
| microSD Support | Yes, up to 64 GB |
| LTE Bands | 2/4/7/12/17 |
| HSPA Bands | 850/1700/1900/2100 |
| Battery | 4000 mAh |
| OS | Android 6.0.1 |
| Display | 5.5 inches, 1280x720, 267 PPI |
| Main Camera | 13 MP with LED Flash |
| Front Camera | 5 MP with LED Flash |
| Bluetooth | 4.0 |
| Fingerprint Sensor | No |