Jabra Evolve 75 Wireless Headset review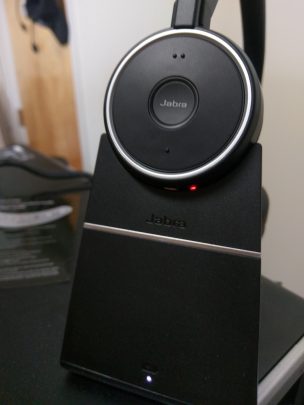 The Jabra Evolve 75 is a wireless noise-cancelling headset aimed at the cubicle or teleconferencing crowd. It features HD Voice, allows up to 100 feet wandering around with their USB wireless dongle, or a potentially variable amount with your device's Bluetooth, and a battery that will last about 15 hours.
It's Microsoft Skype for Business Certified, a series of Cisco and Avaya certifications, Citrix HDX RealTime, and a host of others. It lets you choose whether or not to drown out your co-worker's conversation, and the mic seems to accurately represent what I'm saying and be positioned correctly.
Busy lights let people know when you're on a call which theoretically should prevent any mime being required to let people know you're on the phone, but realistically they'll probably still figure out a way to not pay any attention to visual cues.
The noise cancelling works well at cancelling out a large amount of the outside world, I wouldn't say it's the best all around I've run across, but it's probably designed significantly more with the office in mind than dealing with white tech room noise that's at air conditioner dB.
Audio is in the perfect range for conversations and meetings, it does a decent job at being a set of music headphones but the range this is perfect in don't seem to quite match the top of the charts I'm testing it against. Or at least not matching my biased "perfect" profile. That said they're extremely comfortable and with a little DSP on the front end you can probably get the audio to sound like you want it.
With the touch of a button you can listen into your surroundings, or tune noisy coworkers out. A switch lets your choose between their USB Wireless or Bluetooth connection. You can connect a couple of Bluetooth devices to the headset. I did not test this out in the traditional format (two Bluetooth,) however it worked well for the USB Wireless + my phone's Bluetooth.
After two weeks playing with this in the office the only issues I've come across with it are I'm not in love with the volume selection method, I'd prefer one of those rotating touch ways, and the "answer/end" and the "listen in to room" will catch you once or twice before you master this device.
Having worked with people in call centers I'll also point out that the mic comes off the right ear, you cannot reverse this unless you want to put your mouth in the back of your head or wear the headset off your chin. It only rotates ~110 degrees forward.
The version I received shipped with a nice case, however that's not a particularly useful selling point for this. If it's being used in a call center it's probably going in the trash or storage immediately after purchase. Eh, maybe I'm missing something.
Overall, the outstanding feature of the Jabra Evolve 75 has got to be that it's a headset you're not going to be itching to get off an hour into wearing it. Everything about it is well thought out.
The Jabra Evolve 75 with charging stand is available from Amazon for $257.34. If you're not particularly in need of a easy-docking charging stand (you can charge via MicroUSB,) you can pick one up for $210.39