Gamevice suing Nintendo for Switch Patent infringement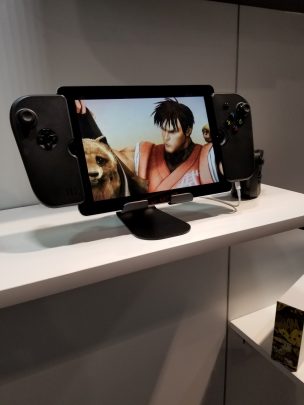 Gamevice, the makers of several Gamevice clip on controllers, a product we've reviewed, are suing Nintendo for allegedly infringing on patents dealing with how the clip-on controllers of the Nintendo Switch console works.
This will be the second lawsuit Gamevice has filed against Nintendo. The first was back in August of 2017 when they alleged that the Switch's Joy-Con infringed on their Wikipad trademark. They dropped that suit after asking for damages and a ban of Switches imported into the US.
You can read the full details of the United States International Trade Commission inquiry here.
The investigation is based on a complaint filed by Gamevice, Inc., of Simi Valley, CA, on March 30, 2018.  The complaint alleges violations of section 337 of the Tariff Act of 1930 in the importation into the United States and sale of certain portable gaming console systems with attachable handheld controllers and components thereof that infringe patents asserted by the complainant.  The complainant requests that the USITC issue a limited exclusion order and cease and desist orders.
If Nintendo loses they may be forced to redesign the Switch, pay licensing fees, or simply post a picture of that time we taped two Wii controllers to an iPad back before Gamevice existed to prove prior art.
Overall, probably not going to change anything, but it sure has lead to a lot of YouTube hours of people saying "Is the Nintendo Switch going to be BANNED?!?!?!?" over and over again.
The universal message seems to be a pretty long shot against them being banned, however just in case go ahead and buy one now. Then be my Switch friend and be sad that I never have time to play with the thing.
Now that you can potentially root the things they're much more interesting to own. You should get one. One of us. One of us.
[
Variety]