Avantek White Noise Sleep Sounds Machine review (coupon)
If you live anywhere that's up and coming, already there, loud neighbors, or otherwise far too trafficked, you probably have a noise problem when you're trying to sleep.
I've personally used fans, air conditioners, and a couple of little non-repeating white noise generators in the past that just didn't quite cut it after a few weeks but decided to give the Avantek White Noise Sleep Machine a roll.
First off, non-repeating/non-looping. Make sure you look for that. I've had that drilled into me by a sleep lab (I'll skip rehashing the last 30+ years of insomnia). Anything with a short repeating cycle your brain can pick up on it and spend the night anticipating the next set of sound. Non-repeating is dynamically generated.
The Avantek White Noise Sleep Sounds Machine is more than loud enough to fill a room, cranked it reaches annoying levels. According to the spec sheets you can reach a maximum of 115db on the thing.
It claims it has 20 sounds including six types of white noise, six fan sounds, and eight nature sounds (ocean waves, rain, wind, bird, crickets, campfire, clock?) I'm pretty sure some of the white noise is actually in the brown and pink noise spectrum, but I can only compare what YouTube's pink noise sounds like which may not be producing properly or compared properly.
It's USB powered and includes an adapter and cable. You can travel with it if you want to connect it to a laptop or multi-port charger. That said, it's not the smallest thing in the world so travel with it, eh. I'm going to disagree with their advertising that it's great for travel in the portable sense, but it would have been great in Vegas to cut down on the sound of people screaming in the parking lot about drugs so yeah, I really wish I'd had it at CES.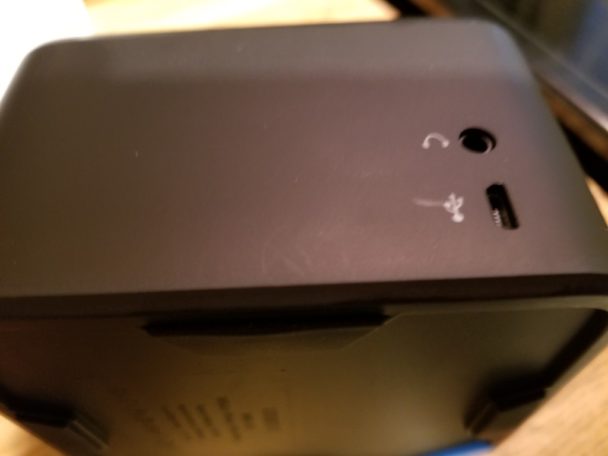 From a purely economical standpoint it's cheaper than running a fan all night (5-15 cents vs $20-30 a year). Timer function means you're not going to be using it after you're asleep if you don't need it.
Headphone jack is there also although honestly I feel that's an extremely limited use case. They claim it's useful for libraries and airplanes and… Personally I'm wondering who uses these things on libraries and airplanes.
Here's where Paul complains about things
I'll preface this section with I like the results of the product, but these things could be changed.
Button order is confusing. Top power, second button vol down, third previous sound, fourth next sound, fifth timer function. Just feels like volume up should be above volume down, forward and back on the top, power at the bottom.
Buttons can't be easily recognized in the dark. They're indented as opposed to raised.
The price currently is at $37.99. That's about $10 more than I would have expected for a sleep sound machine without a battery backup. It also doesn't have a near-$40 feel.
Avantek White Noise Sleep Sounds Machine wrap-up
If you're looking for a good white noise machine for consistent bedside use, it's good; looking for a travel white noise generator, it's a little large; just need to use one every now and then? a cell phone, WiFi, YouTube, and a portable speaker are probably the way to go.
Whatever the case you can grab a Avantek White Noise Sleep Sounds Machine at Amazon in black, or white.
Pocketables has a 10% off coupon with the code UHSASFPW