Robert's Favorite Things 2018 Edition
As 2018 comes to a close and Christmas is nigh we're sharing our favorite things with you in hopes that they may inspire you in your gift giving. I've kept the list to things I own or have used and can recommend. Any links out to stores may make me or Pocketables a bit of pocket change but won't cost you a thing. Feel free to use them or not.
SMARTPHONE
Moto Z3 Play – I love the Moto Z3 Play and use it every day. It's super thin, well made, and even expandable with Moto Mods. The side-mounted fingerprint reader is fast and has quickly become my favorite way to unlock a phone. This is a mid-range device so there are compromises. The camera is average and the processor is not top-of-the line but in everyday usage these things matter little. It's a great phone and a great price at $369 on Amazon currently.
Huawei Mate 20 – The Mate 20 is a gorgeous phone that isn't widely available in the US but can be had from Amazon and specialty retailers. It has a glass front and back and is available with some really distinctive coloring options. The camera is excellent and rivals the Pixel line. It has an LCD screen, not AMOLED, but it is a really good LCD. The only real problem, other than availability, is the UI. It runs the heavily modified EMUI that is very iPhone like. That said, the phone is fast, easy to use, and beautiful. The Mate 20 can typically be had for somewhere between $650 and $700.
SMART HOME
Lenovo Smart Display – I'm all in on Google Assistant devices. We've got several devices in our home from manufacturers like JBL, Google, and Insignia but my favorite has to be the 8-inch Lenovo Smart Display. I love the size and adding a screen to an Assistant device really ups the value of it. The 8-inch version is often discounted to under $100 and at that price is a no-brainer.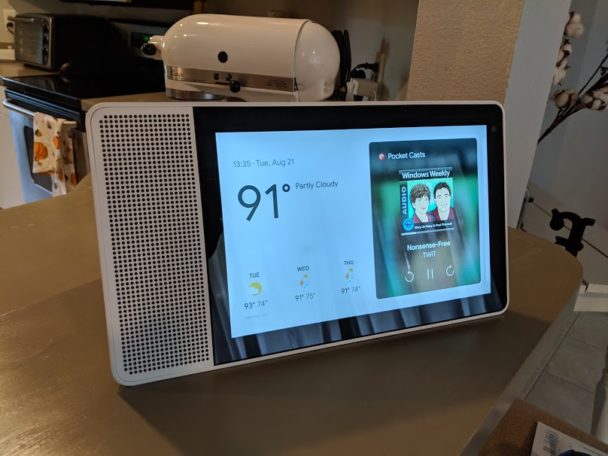 Gosund Smart Plugs – One of my favorite things to do with the Google Assistant is turn off and on lights. This four pack of smart plugs from Gosund makes this easy for around $30. Simply setup the plugs in the Smart Life app and the link the app to Google Assistant. You can then control the plugs directly from Assistant or add them to routines. It's a great thing to be able to say things like "Hey Google, turn on the Christmas lights" and have all the lights around the house instantly blink to life. I highly recommend these plugs to jump-start your smart home.
HOME NETWORKING
Nova Mesh WiFi – This mesh WiFi system arrived on my doorstep way back in January and it has had a great impact on my family's digital life at home. I've tried and dismissed other mesh systems before. They're either too expensive or have technical issues. For me, the Tenda Nova MW6 checks all the boxes. It has simultaneous 2.4/5 GHz connections, a guest network, plenty of configuration options, and plenty of range. I have the three pack and it easily provides coverage all through and around my 2,000 sq ft house. At $170 it' a great idea for anyone looking to improve WiFi coverage at their house.
LAPTOP
Huawei MateBook X Pro – The MateBook X Pro is an excellent laptop computer. It's a beautiful device with a high resolution 3:2 screen, innovative fingerprint reader, almost perfect keyboard, and excellent performance. If you're a PC user with MacBook envy this is the laptop for you. If you want a thin, powerful machine this is the laptop for you. There are other good options out there from Microsoft, Lenovo, and Dell but the MateBook X Pro is my favorite.
WEARABLE
Skagen Falster 2 – I love wearing smart watches. I don't use them for phone calls, or listening to music, or anything goofy like that but I do like to see my notifications and track my health with them. The Skagen Falster 2 is the finest looking smartwatch I've tried and has replaced the OG Huawei Watch as my go to wearable. The addition of Google Pay support and the excellent form factor put the Falster 2 over the top.