Sprint's Samsung Galaxy S10 LTE issues patch incoming, no note on the Note 8, but some hope
Updated: Fix may be out now (4/19/19)
The Android Pie updates that Sprint certified and Samsung pushed has been wreaking havoc on not only my beloved old Note 8, but the new devices that Samsung released as well.
For those affected by the S10 LTE loss, a patch is incoming on April 16th according to a post from a Sprint Community Manager.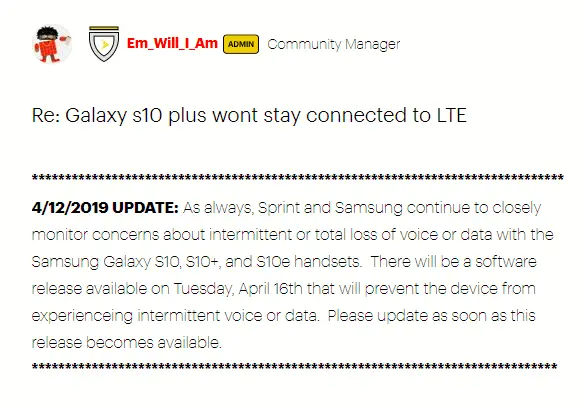 My assumption is that the baseband firmware is to blame somehow. Hopefully a patch for the Note 8 will be incoming soon enough afterward. They obviously wanted to prioritize their brand spanking new flagship that's messed up on multiple carriers.
In the meantime, Sprint CSRs are still not really playing the right game and have been suggesting people early upgrade their broken Note 8s, call Samsung, ship them back for "repair", factory reset, use insurance, etc to get the problems resolved.
Neither Sprint nor Samsung has officially claimed responsibility for the botched update, as mentioned there's a lot of pointing, but it's probably going to take lawyers and a lot of testimonies of people who have recordings of Sprint employees suggesting upgrades for the Note 8 mess to be addressed outside of closed doors.