1MORE Stylish True Wireless Earbuds Review – Bad Name, Good Headphones
The earbud world is increasingly a Bluetooth one and the Bluetooth earbud world is increasingly completely wireless. Apple's AirPods may have captured the imagination of the iPhone set but there are many other options available at diverse price points. Today I'm reviewing the 1MORE Stylish True Wireless In-Ear Headphones. Yes, that really is the product name and, yes, it really is horrible in an over-descriptive Microsoftesque way. But we don't judge a product on its name here at Pocketables so let's brush past the horrible moniker and find out what these $99 headphones are all about.
DESIGN
With the word stylish in the product name you expect these headphones to look good. For the most part they do, though the black version we received for review is a little bland. The plastics that make up the earbuds feel high quality. There's nothing flimsy or delicate about them. In addition to black, the STWIEH are also available in gold, mint, and pink. They look good but I don't know that I'd call them stylish.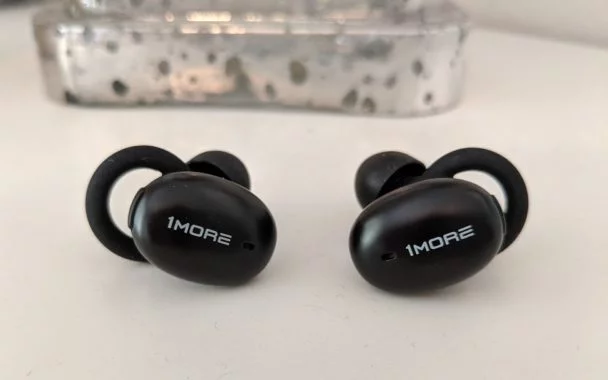 Each earbud is slightly bulbous – there are no corners or sharp edges here – with a short arm that penetrates the ear canal and a soft-touch silicone loop that helps hold the earbud in place. The earbuds stay in place and are quite comfortable to wear even after several hours use thanks to the very soft silicone tips. 1MORE includes several extra ear tips so you're sure to find ones that fit your ear canal.
There's a single button on each earbud that can be used for play/pause, skip, pairing, etc. Also included is a case for storing and recharging the earbuds and a pouch to keep it all in. The earbuds pop into the case and are held in magnetically. There's no IP rating but 1MORE lists them as sweat resistant.
PERFORMANCE – BATTERY
1MORE claims that the STWIEH get about 6.5 hours of battery life per charge and three additional charges from the case for a total of 24 hours battery life. I'm getting about 5 hours per charge which is pretty good for earbuds of this type. Once the battery runs down a 15 minute top up will give you 2-3 hours of additional usage. The biggest problem power-wise that I have with the STWIEH is that the battery case gets charged via microUSB. It is really past time for manufacturers to move to USB C. It's really inconvenient to have to carry a second charger.
PERFORMANCE – AUDIO
1MORE has a reputation for quality sound in their products and the STWIEH does not disappoint. It supports both the aptX and AAC codecs. The earbud tips form a nice seal in the ear canal to help prevent audio loss and to help isolate from environmental sounds. Audio is particularly full – surprisingly so.
Each earbud can be used independently. Just leave one in the case and connect to the active earbud for monaural listening. Each earbud also has a microphone for phone calls and interacting with Siri or the Google Assistant. Call quality is good.
To try and maintain some consistency between my headphone reviews I have put together a short list of songs that encapsulate diverse musical styles. My thoughts on how those songs sound with the 1MORE headphones are below.
Led Zeppelin – Fool In The Rain (2012 remaster): Robert Plant sounds fantastic through the STWIEH. This is Zeppelin's rich take on salsa and it really shines.
Humble Pie – 30 Days In The Hole: My goal when listening to 30 Days In The Hole with any headphones is to clearly make out the banter at the beginning of the track. It's there, and can be heard and understood, but is slightly muffled.
The Piano Guys – The Cello Song: The Cello Song is warm and rich and the 1MORE headphones mesh perfectly with it. They provide just the right amount of depth. This song is a joy to listen to on these headphones.
Harry Roy – Wah De Da De (Remix): Here's where I expected the 1MORE STWIEH to fall short. They didn't, though. With a good seal in the ear canal, the bass sounds great. Full, rich, and excellent.
FINAL THOUGHTS
I really like the 1MORE Stylish True Wireless In-Ear Headphones. Well, I don't like the name but almost everything else about them is excellent. They have great sound, are reasonably priced, are comfortable enough to wear on a long plane ride, and look much better than the segment leading Apple EarPods. If you are in the market for truly wireless Bluetooth headphones you will be happy with 1MORE's $99 offering. Check them out on Amazon.