Mujjo double insulated touchscreen gloves review
My gloves for the last year have been Mujjo's previous touchscreen glove offering, which we reviewed favorably. Recently I was contacted by Mujjo and told they had improved the ones I had, as well as releasing a triple-layered double-insulated very cold weather version of the gloves I liked.
As I was pretty happy with the existing, I decided to try for the extreme cold weather gloves as opposed to the slightly improved 2019 version of mine. It helped that it was freezing outside when I made that choice.
The gloves arrived a week after it was 17f in Nashville, meaning it was now 74f. Reasonably temperate is what the weather remained, and my attempts to test above 50 degrees generally just left me realizing I was wearing extreme cold gloves in an environment I could be in a t-shirt in.
They're warm…
First off, these are like wearing a wetsuit and a coat. High velocity cold air doesn't do much, if anything, that I can tell. If your hands are warm going in, they're going to stay warm.
If your hands are cold going in, then you're at the mercy of whether your capillaries are letting enough blood to your fingers.
Thicker…
I found it a little bit difficult with these to text. The thicker insulation tended to make me a little less accurate at swipe-texting, but I had no issues answering and placing phone calls.
I did have a bit of restricted motion due to the gloves being so thick, but I was able to grab keys from my pocket, answer the phone and text, and drive.
Did I mention warm?
Nashville and temperatures above 30f seem like I'm not really close to exploring the warming capabilities of these gloves.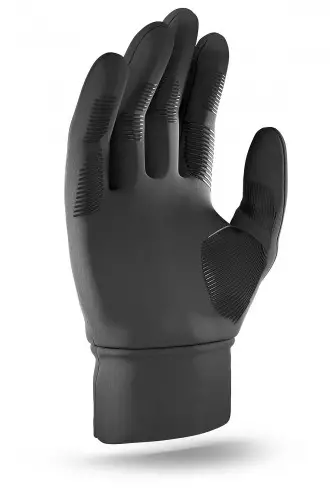 All the digits
While some gloves historically have limited touch screen use to a finger or two, everything works with these. If for some reason you need to use more than two fingers, you're set.
Paul complains about something
The only thing I have to complain about these is perhaps a personal preference. If it's cold enough to warrant these, I want gloves that extend higher up along my arms.
These cover the wrists, but it gets cold there if you don't have adequate coverage behind. When it gets too cold behind the gloves your body shuts down warming your hands.
But maybe that's me… seems at the level of temperature for which this glove is designed you'd be served better if they had another two inches past the wrist.
Overall
Really good for extremely cold weather. Go for the lighter version for most uses however. These are for absurdly bitter cold.
You can find the Mujjo double-insulated touchscreen gloves at the manufacturer's website for about $67.