Google Drive to delete your co-worker's work folder
Following up years later having not learned the lesson of the great "I kept all my work in the recycle bin so hackers wouldn't find it" story, Google is making a change to the trash folder on Google Drive so that deleted items are automatically purged after 30 days rather than remaining around taking up space you've already paid for.
This applies to the G Suite family of Google, and may or may not pertain to other flavors of Google's Drive product.
The change no doubt is a cost saving measure on Google's part – there's no way they have infinite storage, so keeping you to actual usage makes sense, unless you keep work projects in the trash still Gary.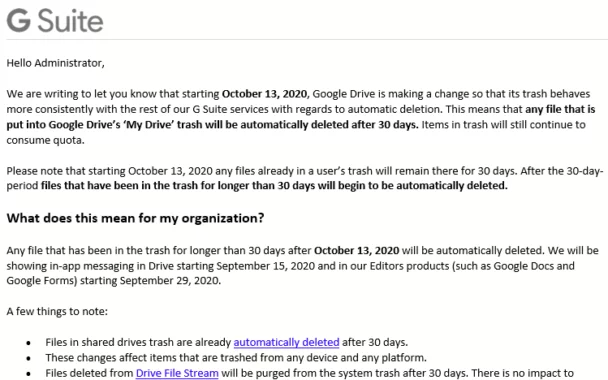 So yeah, make sure you don't have someone who keeps items in the trash, spam folders, or deleted items folder. These people exist and they don't even know what's going to happen when someone hits empty recycle bin, compact folders, clear up drive space, etc.