Automate curtains in 3 min with SwitchBot
My personal love for SwitchBot devices continues. First, I transformed my kettle thanks to SwitchBot (review) into a connected KettleBot 2.0, now I'm automating curtains with CurtainBot (SwitchBot Curtain) – the latest product from SwitchBot collection which is not only rather genius, but it has a resemblance of one of my favourite robotic characters from Portal game.
SwitchBot Curtain installation – what installation?
SwitchBot continues the same design principle: imitate motion. Instead of building a sophisticated design (like motorised curtains from Zemismart), SwitchBot Curtain resolves to simplicity without compromises. SwitchBot Curtain works with your phone over Bluetooth BLE, if you get SwitchBot hub, you will also enable Alexa or Google Home services. Optionally you can grab a switch and a solar panel to remove the need for charging.
The biggest consideration is the curtain pole at home. CurtainBot works with round poles and quite wide arrays of rails. Most of my curtain fittings are split into 2 halves and suspended thanks to middle support. It's an obstacle SwitchBot Curtain can't overcome. The solution is to either get a pair (which will double the price of automation) or change the pole to a single pice (probably much cheaper).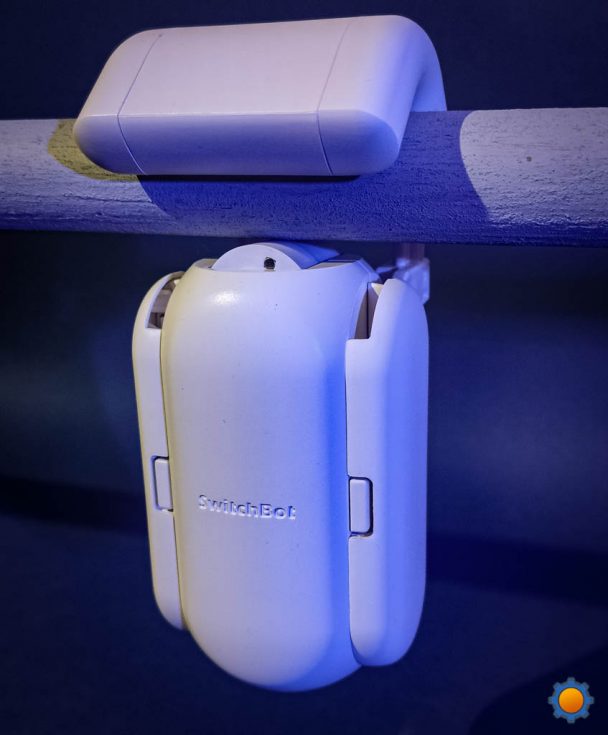 Anyone running curtains on rails, won't have this problem unless you want your blinds close from both sides. SwitchBot page has great articles about driving curtains with bots. Take a look at it if you'd like to consider buying one.
The installation consists of a 10-second pairing process (probably one of the fastest and most simple processes I had used) and hooking the device (literarily) around the curtain pole. No-fuss, no problems, no mess, just plug and play.
Ok, there is a calibration process, in which you have to open and close the curtain once to set the limit, but let's face it. It was the 1st thing I'd be trying after plugging it in. Honestly, I was done in less than 1 min. It took me longer to open the parcel than to install SwitchBot Curtain correctly.
Simplistic, and yet sophisticated
We all had dreams about robots performing mundane things for us. Washing up dishes, cleaning windows etc. CurtainBot is just that. A robot that removes one more mundane thing from the array of daily tasks. While opening curtains may not sound like a chore, automating sunlight is one of the best automation at home for everyone loving the cosy time in bed.
CurtainBot can't wash your dishes, but it comes with a degree of sophistication. It comes equipped with a light sensor. It's a simple thing but enables an array of light-based automation. The sensor isn't binary, it provides quite detailed information about light levels across the day so you could act upon it.
The robot can be driven in 2 modes: performance and silent, with the latter being acceptably quiet. It's quieter than the roller blinds in my office but slightly louder than the motorised curtains I have installed in the bedroom. When the network lets you down, you can simply drag the curtain by hand, and the bot will complete the action for you.
This little bot comes with 2 accessories. A remote button, which was to my embarrassment promptly misplaced by me (sorry Sean! I could not find it) which pairs directly to the bot and enables manual operation.
There is also a Solar Panel that charges the bot so you don't have to whip out USB-C cable to top up the batteries. Judging the current use – the battery should last about 2 months between charges if you use the bot 2-3 times a day.
Why it's fun?
Automating sunlight is spectacular. The ability to close the curtains remotely may not be on top of your automating list but I can vouch for my favourite routines:
Sunset/Sunrise
Probably most obvious automation. Close the curtains at sunset to increase the privacy, open it at sunrise (or wake up time) to start the day in a room filled with light. You'd be surprised what difference this makes.
Cinema time
Paired with SwitchBot Hub, a single voice command or button press, can close the curtains operate the HiFi equipment, turn on the TV and set your favourite channel! How? The hub is equipped with IR blaster, so you can program anything you like. I use NodeRED to detect when my Xiaomi DLP (review) projector is online, shut the lights/curtains and turn on the Röth & Myers amp (review) for better sound.
Control temperature
Winter is coming to the UK. Heavy curtains prevent the heat exchange. Automating curtains can keep the heat inside (link it with DIY smart heating) or prevent excessive sunlight from heating up the place too much. For the last automation, you would need a temperature sensor that is also available through their page.
App
SwitchBot app is responsive and easy to use. I would strongly advise you to take a look at SwitchBot review, to see the rest of the kit in action. CurtainBot comes with everything you would expect from a smart devices.
There is a timer and schedules, light options are in beta, but already present quite interesting data and SwitchBot Hub opens the ecosystem to more advanced automations and Alexa and Google Home integrations (both very responsive).
The only thing that is currently missing – is direct API. Something that I would absolutely adore! I will mention this in my email feedback to them.
Final thoughts
SwitchBot Curtain costs £66/74 and it's one of the easiest and budget-friendly options to automate the curtains in your house. I hope you are reading this around Black Friday, as this bot can be purchased at a special, introductory price! There is something magical about an army of little devices doing things for you. Some of you may have the impression that this is not how automation should look like, in favour of integrated solutions but anyone renting the place out will be thankful the SwitchBot Curtain is here to save the day, open the curtain and start the day. Questions or comments?