Nooie Cam Doorbell review
The Nooie Cam Doorbell is a battery powered mount-anywhere audio/video doorbell that connects to a base station in your house that delivers the chime/internet connectivity/storage location.
Side note – we did a preview of the Nooie Cam doorbell a while ago, several things happened unrelated to the doorbell, and yeah, I am quite sorry Nooie Cam / PR people, this has been a trip.
TL;DR – there's both a reason to buy and a reason to flee wrap up
We've covered a few video doorbells in the past. The one that this is most similar to in concept that I've reviewed is probably this one. I'll note while the concept is the same, the Nooie is significantly more advanced in every way.
Rechargeable battery
A 10,000mAh advertised battery sits in the main unit. It can be popped out and thrown on a USB-C charger when it gets low. During testing it never reached low, but also traffic was low. PIR sensor means the thing only starts WiFi/camera when something's in front of it so it sips battery.
Something to note is that the battery claims it's 9,700mAh. Are we in a web of lies? Don't know if we're dealing with a voltage conversion issue or someone thinking it's OK to round up. Going to refrain on being judgy for a 3% overstatement.
2K doorbell camera
The camera is smooth, comes in at 2K resolution, night vision is … meh, it's what every doorbell cam seems to be… less grainy I guess.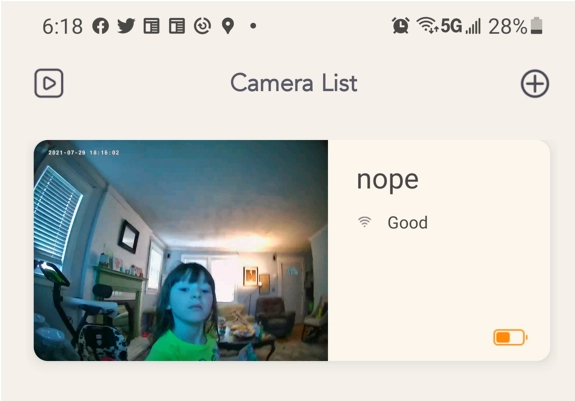 While I think that we're getting 2K captures, the stream that's ending up here looks a little compressed to me.
Base station
The base station can be connected to your router, or it can WiFi bridge. I had no issues with it WiFi bridging and streaming. My kids were running around with the doorbell using it as a walkie-talkie to me on the app and didn't seem to matter where they were in or slightly out of the house, the signal seemed good.
Not to say they didn't figure a placement of the doorbell that did seem to be terrible, but it was all the way across the house, and I live in a 40's house with plaster walls filled with WiFi blocking chicken wire.
The base station can hold a Micro SD card as well and record any event, or it can stream it to a cloud provider they contract through.
In use
Setup is not a breeze but not terrible. There's a spot that you'll need a ballpoint pen, needle, SIM popper, or tiny little object to press the reset button to pair the base and doorbell units. It does not appear to be included, although I guess you could use the points of the two included mounting screws now that I'm thinking about it.
Once it's set up pressing the doorbell rings the base unit, it chimes reasonably loud. I can't think of a reason for it to be much louder but it was something that crossed my mind that there wasn't a volume on it (I may have missed this, but don't think I did).
You'll also get alerts if the Nooie Cam Doorbell thinks it spotted a human. This can be annoying because I don't see any option to, say, not alert me during certain times. This might be a big issue if you're in a condo complex. It's not a huge issue at my house because at 3am if there's a human outside my door we're calling the cops.
Unboxing
Due to a very long set of events, unboxing photos are MIA. I'll post them if they're ever found.
Paul finds problems with everything
This may be the result of having done this twice, or maybe I'm too picky, but I have a problem with a few things. We'll start with the storage.
First off, this does not come with any MicroSD storage. This means by default when you get this, it's just a doorbell that connects to your phone/Amazon/Google. This by itself doesn't really destroy the functionality of it, but your options if you want to, oh, know what just happened two minutes ago are to either 1) buy an SD card and place it in the base station, 2) subscribe to a reasonably priced cloud service. So far I have no problem with this.
OK, that doesn't sound terrible, but the buying an SD card, the current software will make you wait a few minutes before you're allowed to watch the video. That's not what I'd call fully functional. That's a disincentive to purchasing in my opinion, and it's not listed that I can find on the website that you're forced to wait.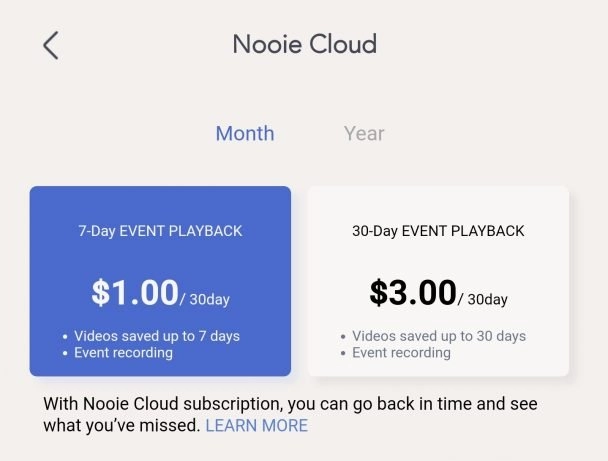 On to the app
I was continually told by the app to add some cameras or something. I'd get a notification that a human was detected, I'd open it, be told there were no cameras, close the app, open it again and bam, there it was.
May be just me, but it was not smooth. Above is both video of the app not recognizing there's a camera while telling me there's a camera notification, and the absolute worst double chin angle shot I've ever managed to take of myself (and some of the streaming quality if you're walking around with the doorbell.)
I'll emphasize that the streaming was gooood
Can you hear me now?
I'm going to stress here that the audio quality was amazing, but the lag was more noticeable than on my Nest. I'll also note that even though the lag was worse, the ability to get the message across was better. This isn't a huge problem, but it's something to be aware of if you happen to review doorbells.
Works with Amazon Alexa / Google Home
This is kind of important to know and I don't feel it's particularly well documented on their advertising. This does not work as a video doorbell like the Ring and Nest do, at least not that I can tell. The Nooie Cam Doorbell works more like a webcam.
In a Nest Doorbell scenario working with Google Home/Nest displays, someone rings the doorbell, it pops up on the Home/Nest screen on every device in the house, and you can talk back and forth with the person at the door from the app, from a Google Home unit, etc. Basically if I'm in the kitchen and someone presses the Nest doorbell, I can talk to them and see them if there's a Google Home with display near me.
In the Nooie Cam scenario – a person rings your doorbell, your base unit will chime, you'll receive a push notification on your phone, but the Google Home will not be notified. At this point you can say "Hey Google, show me the Nooie cam" and stream it to your Home with display / Chromecast. You will not be able to talk to the person.
There are two commands for Google Home in the instruction manual.
So, important to understand the Nooie Cam Doorbell works as a camera, not as anything else, when in the Googleverse.
That's a whole lot of doorbell
While the unit comes with a flat and angled mount, it is remarkably large. Don't get me wrong, it's not way out of line but it's a definite consideration. Not being wired means you can mount it on the wall next to the door, but at least in my old entry ways this was never going to mount. Having a brick house means I'd be looking at some serious drilling.
Wrap-up
If you're looking for an app-centric doorbell and willing to spend a bit ongoing on cloud service, the Nooie Cam Doorbell is a nice bit of equipment at a decent ongoing price. The app needs some work, but even if it's not corrected it's functional.
If you're wanting two-way audio/video functionality with Amazon and Google's ecosystems and want to access your videos on your schedule, not theirs, I think you're going to be very disenchanted with this.
You can grab the Nooie Cam Doorbell on Amazon (earning us commission,) or on the Nooie website