Paul reviews discontinued product: Jabra Solemate Max
You can't purchase the Jabra Solemate Max new any more. I can't even find them for sale used. Jabra, the company that made, this has no follow up product which I find kind of sad.
TL;DR – spotlight on a still functioning 2014 product that's received three years of use and 5 years idle.
Jabra has turned to focus on earbuds, video conferencing, office speakers, etc. Business and sport. The Solemate Max being a brick of a Bluetooth Speaker that brought the party evidently is not in their current business plans. That's cool Jabra, you do you.
The Solemate Max was a 90 watt, 8-device pairable, Bluetooth speaker with NFC. It could charge a cell phone, had a tread that looked like a shoe and the speaker when it sat was at a jaunty angle. It released with a price tag of $399 in 2014, weighed a as much as a gallon of gas of 66% of a gallon of eggnog, and with all the use it got from me I still never figured out what the battery life was. Old spec sheet claims 14 hours of playtime. It also had a very odd sized charging plug which was the only seriously annoying thing about it.
From 2014-2016 this sat in my eldest's room and would quietly play a station streamed on an inactive cell phone. My oldest would immediately hear the channel Willie's Roadhouse and fall asleep. No idea. She didn't particularly like the songs, but songs about cheating, lying, mistreating and heartache.
Sometime in 2018, the Solemate Max was no longer a part of the nighttime routine. A Google Home Mini would play her playlist to go to sleep, which was now Trolls-centric. It was placed, along with the charging cable, where it could not be forgotten. The charging cable was immediately lost, and the unit ran out of battery sometime thereafter.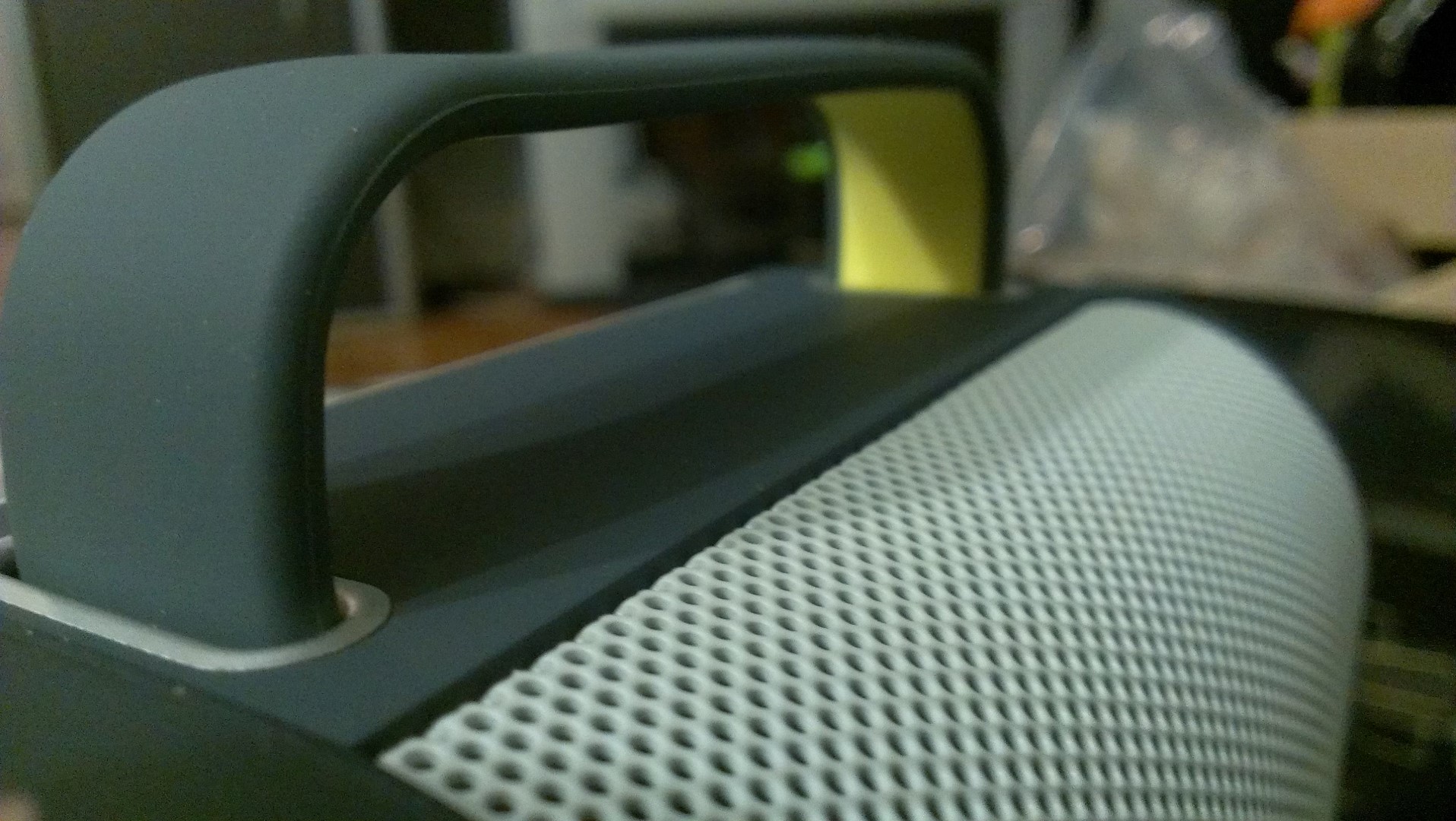 Purchased a universal charger that should have handled it, nope. It supports 95% of all plugs and the Solemate Max it did not. finally broke down and ordered a replacement third party charger which arrived, didn't fit, and discovered in the packing there was an adapter that had to be put on the end of the charger to make it work with the Jabra Solemate Max. Said adapter, had I had it, looks like it costs next to nothing to make.
To my surprise, the Solemate Max fired right back up and produced the sound I'd remembered. The flashing red battery on it made me think that the battery had given up, because honestly after two years of non-use most batteries don't recover. I figured it would at least pair well plugged in with my XGIMI Elfin.
I ran it for a couple of hours on the plug and noted that the light had turned green on the battery, and once again it was functioning like it was out of the box eight years prior. Whether the battery still holds 14 hours of playtime, I don't know. It did seven at absurdly reasonable volume before I plugged it back in.
Since 2014 I've reviewed a crapton of portable Bluetooth speakers, but this one's had my heart, and now about $15 extra dollars for a non-standard charging plug.
The Solemate Max was designed to last, sounded great, the handle on it I can't even describe how right it is for portability. It existed as a brief, far-too-expensive for the market piece of great. I have not seen this replicated fully in anything else, although some have come close but just missed the mark on design.
Other than the use of a non-standard charger plug which really was kind of a dick move when you consider it, the Solemate Max has been what I compare other speakers to. Back in 2014 we were in the lawless days of not understanding that USB charging was the future and if you're not USB charging at least have the power converter be standard.
There have been three Jabra products that really stick out at the forefront of my memories. This being the central one. The others being the Jabra FREEWAY, which to this date is the only Jabra device I've reviewed to fail, but is pretty much a car standard these days, and the Jabra Evolve2 85 (really the best teleworking thing I've ever had, used since August 2020).
The Solemate Max is now paired to my Elfin, hidden in a room where it provides immersive sound.