Tech toys review: GoDice – connected smart dice
I started this off totally hating these and did a 180 turn within twenty minutes so let's start with the hate and then get into what won me over and had me playing games on the floor.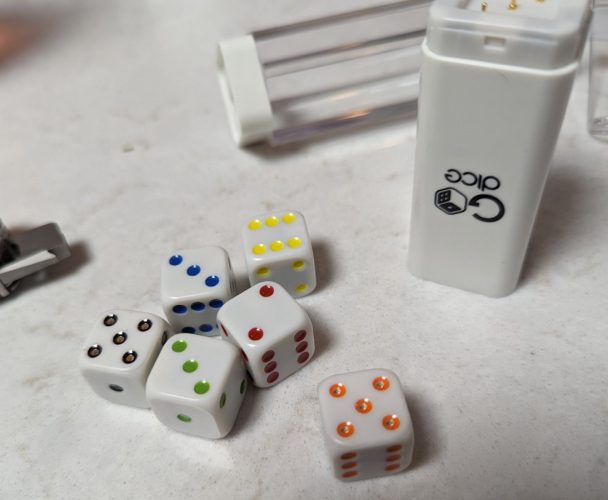 Rolling the GoDice
The idea of a battery-operated (2xAAA,) Bluetooth connected set of six die seemed a bit… unnecessary to me. I was thinking a bit small though, and fondly remembering how much fun I had with the game Yahtzee as a kiddo and how much dice, and throwing them actually were a fun part of several other games. That tactile experience combined with a crappy dull golf pencil made up a lot of my childhood.
Now these games are all available online, and I never really play them because, well, the tactile component just wasn't there. There was no opponent. The rolls was not visceral. The play was sedated. These games are also sitting in my living room on display in boxes and I barely play them because, well, getting things out, clearing a table, etc. It just seems like effort and while it may be magical for me reliving my childhood, pen, paper, dice, seating, setting up, explaining rules… parent thing. Kids suck that joy right out and turn it into a negative thing pretty quick (who cares who has the longer pencil? Really. Roll the die, beast!)
The GoDice, I consider essentially a remote control that looks like dice and feels very close to dice that I like. I'll point out that something on them isn't a perfect representation of 1970's dice, but yeah that's me.
On assembly you're going to need to be in possession of a screwdriver (Phillips,) and two AAA batteries. These are battery powered dice, but my guess is the 2 AAA are going to last somewhere around four years. We'll get to that.
OK, I absolutely hate the battery case. There's no compelling reason for a screw in my opinion, but meh… whatever… one screw was the first thing that really annoyed me until my mood changed.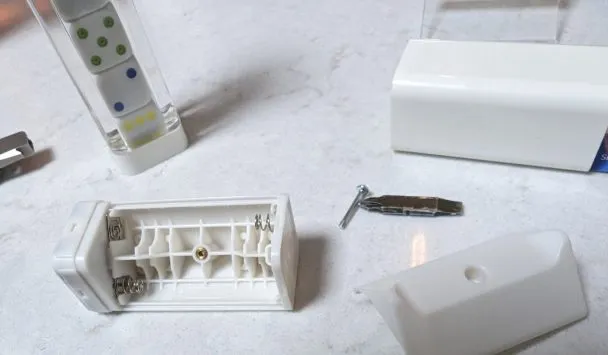 Each die has to be charged individually. At this point I was very much of the "this is stupid" mindset. You put the 5 side down, press, and in about 10 seconds the die blinks and it's charged and has a two hour gametime or so. You do this for however many dice you want to charge. You don't have to charge them all up if you're not playing something with that many die.
This means before any game you've got up to a minute and a half you'll need to charge them. I was a little scoffy here and then thought how long was it going to be to get my Yahtzee off of the shelf without dropping 15 other games and then I shut up.
My disdain ended with a Yahtzee clone
My changing attitude started with a scorekeeping Yahtzee clone (Yatzy!) that comes with the GoDice app. I played with physical die against computer opponents and kicked their virtual asses. By the first game I was pretty much of the idea that these dice and the easier scorekeeping were a step up from the smelly broken golf pencils and pieces of paper that were turned into makeshift score sheets.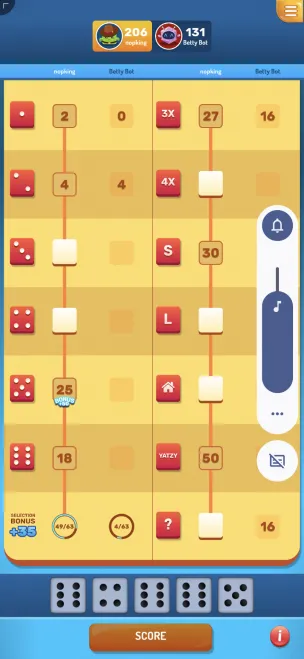 There're several dice games, including backgammon, what looks like a craps game, an RPG die calculator, I imagine by the time people read this there will be more added in the GoDice app.
For me to be hanging on a floor playing a Yahtzee clone against a bot, don't know how to convey this but that doesn't happen. This was fun.
Roll the die
If rolling dice and the tactile experience are part of your childhood, and portability and ability to play multiple games from a device you're probably carrying around at all times is your thing, the GoDice surprised me. I mean, in the end it's just a controller and some apps, but dang.
The set I received was the GoDice 6 pack. There are some options available if you want a USB cable for charging (you'll never use it,) an RPG D20 conversion kit which I kind of want, and simple two-packs for those people who never need to roll over 12.
I'm impressed with something I wasn't initially. I'm not entirely sure the GoDice are priced where they should be, but they're fun. If you need to get a gift for a nearly 50 year old tech centric person who liked dice games in their childhood, might give it a consideration. For other connected options you might also consider the GoCube or GoCube 2×2 if you're wanting more tactile connected toys. Also made by the same company.
GoDice
GoDice are connected dice. They're something you scoff at initially until you're playing a Yahtzee clone on the floor at 2am and screaming at them to just roll a five.
Product Brand: GoCube
Product Currency: USD
Product Price: 94.00
Product In-Stock: InStock
Pros
Tactile experience
Battery life
Fun game recreation
Cons
Price
Limited selection of dice games