The GoCube 2×2 – a connected learning Rubik's-style cube
The GoCube 2×2 is a new offering from the folks who brought you the GoCube and there's not a whole lot that wasn't covered in the review of the original 3×3 version. This version is notably a little smaller and teaches you corner concepts that you might feel overwhelmed with on a 3×3 cube. I'd think of it as a trainer or child's version personally if I weren't so flippin' bad at Rubik's cubes to begin with.
Once again, part of my struggles with these is being colorblind, I feel the red/orange and green/yellow are there just to screw with me.
Unlike the original GoCube, this unit charges via USB-C so no need to keep up with yet another charging cable. Also, and for reasons that escape me, it doesn't use the original GoCube app, instead requiring a GoCube 2×2 app that looks and operates effectively the same. The training is about the same as the last cube, but I seem to have hit an understanding stumbling point a bit earlier in this cube academy. Perhaps that's because with a simpler construct, you end up to the challenging part sooner.
I'm still in training on this and have decided I'm going to stick small stickers on the cube to tell me what's red, green, yellow, and orange because yeah, it's about that bad for me unless I'm playing under video lighting. Not the cube's fault, it's accurate to the Rubik's color scheme.
When you get stuck, there's a cube solver and it will walk you through solving the cube by using sensors in the unit (and telling you instantly you're moving it the wrong way.) You'll learn professional, or at least more efficient cube handling to speed up your movements, and basically if you've been wondering how to solve corners you'll get that with the cube academy and some practice.
I'm not sure how well corner solving is going to mesh into a full block 3×3, but I'll find out soon enough I'm sure.
Oh yeah, the motion is extremely smooth, you can do this one-handed if you want, not like the old 80's cubes. It sides slide into place and they just work.
My kids both decided they're professionals as they can each get one or two sides solved. Yeah… no.
Issues encountered with the GoCube 2×2
I will note this is the first time I've had a problem with one of their products, and at the moment I'm not sure if it's the incredibly buggy Samsung Galaxy S21 Android 12 update or the GoCube 2×2 software, but following their troubleshooting guide and rebooting my phone did fix a connection issue. I'm leaning toward the S21 update personally.
Cube in initial state was not recognized properly. Spun it around a couple of times and that cleared.
Searching "GoCube 2×2" on Google Play, it's not in the first 10 even though it's named that. Not their fault, but yeah that's unfortunate. Here's the play store link.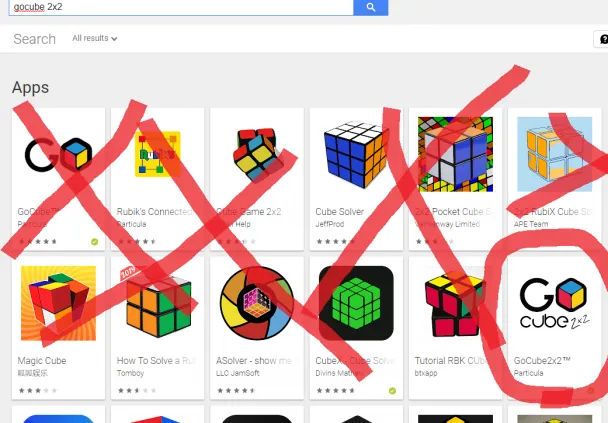 Overall difficulty: one phone reboot, moving the GoCube around a spin.
Would like to see
As noted, I'm colorblind and this cube is my nightmare. Would be nice to have 1) stickers that can be placed on the cube for people like me, 2) integration with the videos / solver. Would also be interesting if they could be raised stickers so you could do it blindfolded.
Price currently takes it from kid toy range to adult toy range.
Availability
Currently the GoCube 2×2 is available on the manufacturer's website, and on Amazon (latter we would get a commission for sales)
GoCube 2x2
The GoCube 2x2 is a Bluetooth connected smart cube with an app that teaches you specifics of how to move colors and sides around the space.
Product Brand: GoCube
Product Currency: USD
Product Price: 49.95
Product In-Stock: InStock
Cons
Connectivity
Lack of haptic or colorblind identification